Student Development, Valencia Intercultural Student Association Host Hispanic Heritage Month Events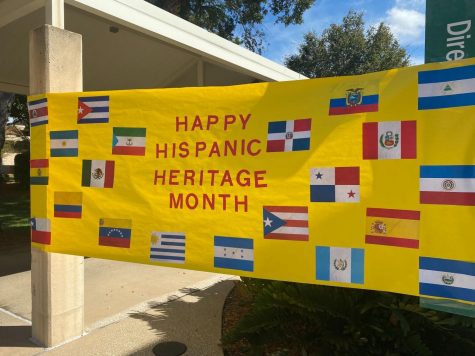 Valencia College celebrated Hispanic Heritage Month with festivities on multiple campuses. Hispanic Heritage Month was established in 1968 and spans from Sept. 15 to Oct. 15. The observation of this month was set to celebrate the histories and cultures of Latin American and Caribbean countries.
Valencia's Lake Nona campus kicked off Hispanic Heritage Month with a display of the Americas (North, South, & Central) and the Caribbean islands. Latin-American Students were encouraged to grab a sticker, write their names, and stick it on the map over their family's country of origin. Latin and Caribbean flags were displayed in the facility as a banner.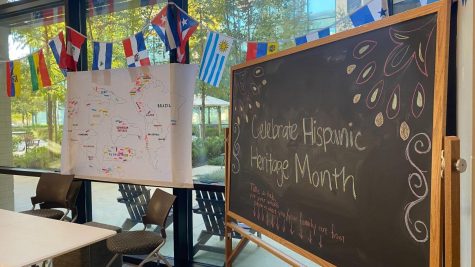 Valencia student and Lake Nona resident Anthony Diaz, 22, says "It was unexpected. I just came in to go to class like any other day and Bam! There was a map with a board. I looked up at the flags and it just made me happy, that's all I can say."
Valencia Intercultural Student Association (VISA) hosted a three-hour fair on Oct. 5 at Valencia's West campus. Latin American music played through speakers on the steps of the Student Services Building. Students and faculty danced to salsa, bachata, and more from popular artists such as Bad Bunny, Aventura, Pitbull, and Marc Anthony to name a few.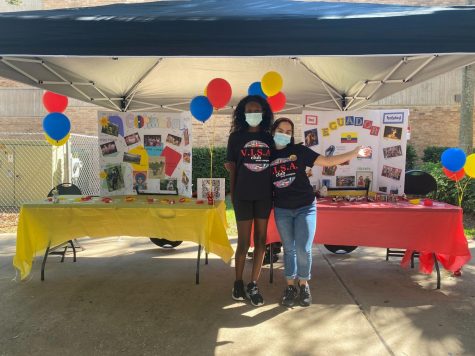 Throughout the patio were tables with students presenting information about different countries. Each table presented games where students engaged and received a mark on a notecard provided. After visiting each table and learning about the countries, students took their signed and completed card to the food booth to receive free food from ChimiKing Restaurant.
The food provided was themed with dishes such as arroz con gandules (rice and pigeon peas), empanadas (a fried turnover filled with meat and cheese), pernil (a traditional Puerto Rican pork shoulder), maduro (fried sweet plantains), and much more.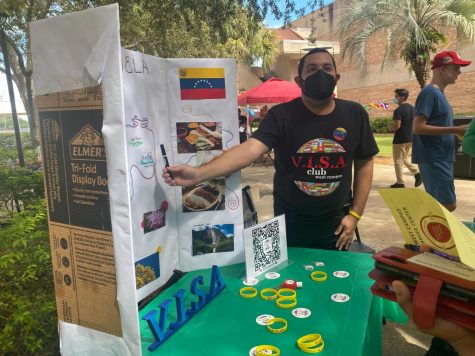 Valencia's Poinciana Campus also hosted a festival on Oct. 5. Latin American food and opportunities to learn about the different cultures in the community was provided to students. East campus did their part in the celebration as well. The campus' Student Development hosted an outdoor gathering with a live DJ and free food on Oct. 7 from 12 – 2 p.m.. Local vendors Tamale Co. and The Arepazo Grill food trucks served South American food like arepas and churros.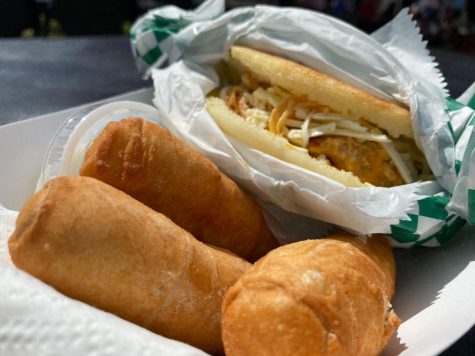 Valencia student and finance major Omar El Ashi is a Student Development member and shares this was his second time being a part of a Valencia College celebration. He says, "It's necessary and I'm so happy to be here. It's fun."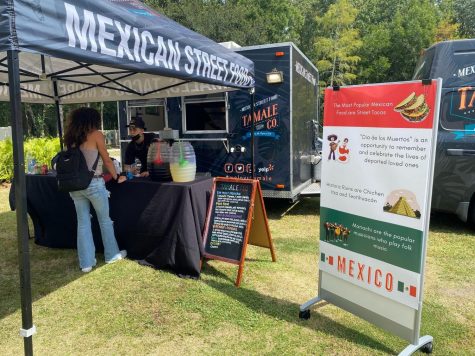 Valencia's Student Development looks forward to the future as they plan to continue celebrations for Hispanic Heritage Month every year. According to Student Development leaders, the purpose is to bring more cultural awareness and diversity to Valencia. The festivities brought students from all campuses together to learn about the histories and cultural ways of Latin America and the Caribbeans. Students enjoyed music, food, and a learning experience courtesy of Student Development and the Valencia Intercultural Student Association.