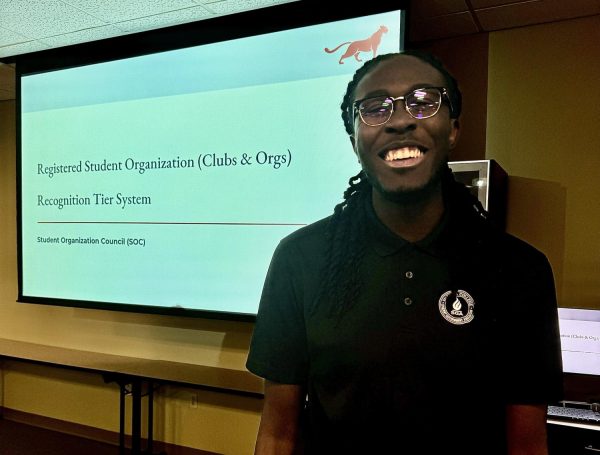 On October 12, an impromptu meeting of the newly-formed Campus Wide Student Organization Council (SOC) introduced club requirement updates, a new 3-tier system and provide a Q&A on future trainings. Around 50 student club and organization representatives attended through Zoom and in-person at East Campus' cafeteria conference room 112.  Campus Wide Student Government Association (SGA) Vice President Fritzson Louis, East Campus Senator Hilda Chan, Student Development Assistant Director Sunni Prevatt and other Student Development leaders composed the council and introduced a new registered student organization (RSO) recognition 3-tier system.
According to the SOC, every student club will begin as Tier 1 with minimum requirements of five members, a faculty advisor, updated Engage page, and 200 dollar funding limit. The tier will allow for room reservations and tabling at events, but does not make attendance at monthly SOC meetings mandatory.  A larger budget proposal and campus events would be available through Tier 2.
The performance-based system is aimed at growth and membership, while completing reviews toward internal objectives. Tier 2 clubs would require constitutions, SGA review, and campus events, while Tier 3 clubs adds on a yearly review of club objectives. According to SOC, any club not meeting their yearly review may likely remain a Tier 2 or receive a probationary period.
"I think we are in good hands, there are a lot of college-wide events. There is a lot of interest. Questions are being asked and it helps shining light on resources and support," says CW SGA VP Fritzson Louis. "The Dental Hygienist Club asked a Zoom chat question and Director Josh Austin had the opportunity to respond. I'm still learning, they are learning, we are all still learning."
Common questions asked of club representatives included marketing, time management training, and cost analysis for budgeting. Some clubs expressed difficulty with using Student Development's Engage portal. Earlier this term, a technical issue halted accesses to the primary website for club management and involvement. "(The technical issue) is affecting staff and faculty access to make updates," Assistant Director Sunni Prevatt explains. However, Prevatt does expect Engage to be back up shortly. Students are encouraged to use the verification links being sent out by Student Development to update and maintain their club rosters and contact information.
The Student Organization Council's next meeting will be November 16 at 3:00 p.m. Email your SGA or Student Development to be added to their meeting schedule distribution list.