Valencia College PJI Global Peace Week Welcomes Students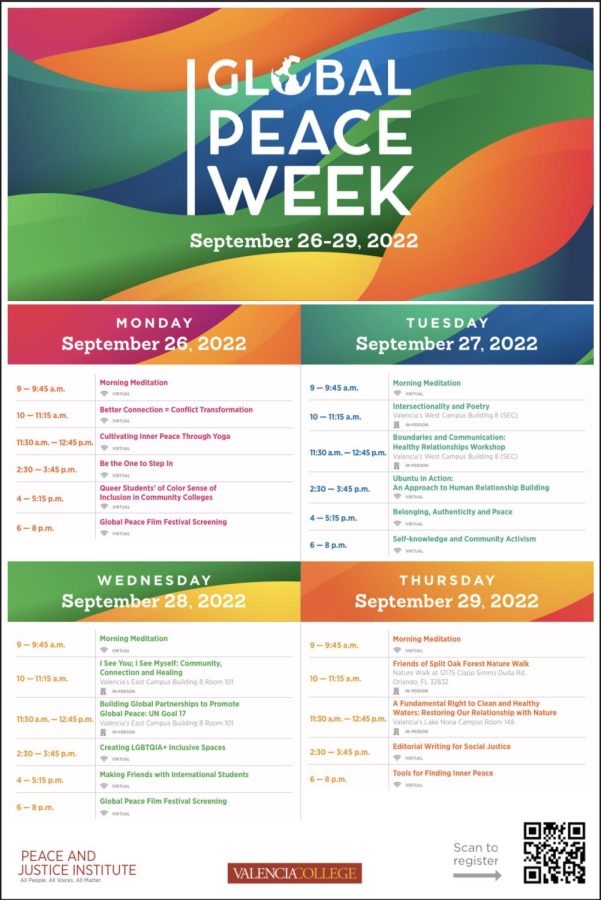 Women's rights' movements in Iran and in the U.S. War continues between Ukraine and Russia. Natural disasters such as hurricanes and drought impacting all areas of the world. Political parties continue to divide in the United States, UK, and other countries. Human rights are in constant limbo with matters of LGBTQIA+ rights, women's rights and racism on the table in the interpretation of law by policy-makers.
Valencia College's Peace and Justice Institute (PJI) aims to educate and inspire; to balance world issues with the tools necessary to manage fatigue, introduce inclusive and welcoming behaviors, encourage a global view, as well as be accepting of yourself and others in uplifting and positive methods.
For the first time since 2019, Valencia College PJI will host Global Peace Week in-person panels. All events on Monday are virtual, while Tuesday, Wednesday, and Thursday are split between virtual events and the East, West, and Lake Nona Campuses. Sessions and sign-up can be found on Valencia's Engage.
Topics include Monday, Sept 26, 4 p.m. virtual panel "Queer Students' of Color Sense of Inclusion in Community Colleges" which will "illustrate strategies that can help community college faculty, staff, and administrators create inclusive environments for their (Queer Students of Color)." Yoga and mindfulness sessions will also be available as well as a Global Peace Film Festival.
Lake Nona Campus Co-Coordinator Professor Jennifer Keefe talked about what to expect for this year's Peace and Justice Institute Global Peace Week. "I am hosting a screening of 'American River', which will be held over Zoom on Monday September 26 and a workshop entitled 'A Fundamental Right to Clean and Healthy Waters: Restoring Our Relationship With Nature' facilitated by Joseph Bonasia, Chair and Southwest Florida Regional Director for the Florida Rights of Nature Network, on Thursday at 11:30 a.m. at Lake Nona Campus".
---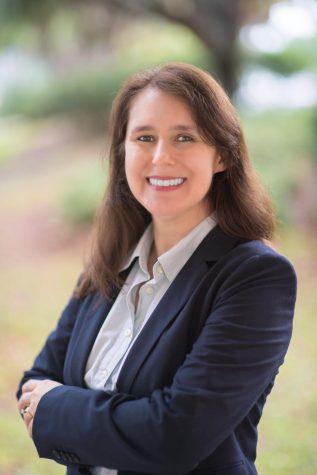 Professor Keefe has spent twelve years with PJI, having served at Osceola and Poinciana Campuses as needed. As co-coordinator, Keefe says, "My role includes planning and executing Global Peace Week and Conversations on Justice events, helping to find speakers and plan activities on the campuses throughout the year, and mentoring students in our PJI Distinction Program.
Keefe describes PJI is more than an organization, it's a mission. "I really believe in the mission, and I am proud to be part of a group that is so welcoming and working so hard to broaden our students' worldviews in positive ways."
---
Another focus of PJI is its PJI Distinction Program. The PJI Distinction Program is a year-long (two-semester) program students can self-enroll in through Canvas.
Through the program, students work one-on-one with a faculty mentor with the goal of learning about peace practices, and how they can create a more peaceful mindset for themselves and others as they move through their college experience and out into the world. Keefe says, "I tell my mentees that my goal is to help them become more informed about our world, more welcoming of others, and that maybe they'll go out into the world and teach someone else a thing or two about patience and acceptance."
Welcome to Global Peace Week, Valencia students. Learn more at valenciacollege.edu/PJI.