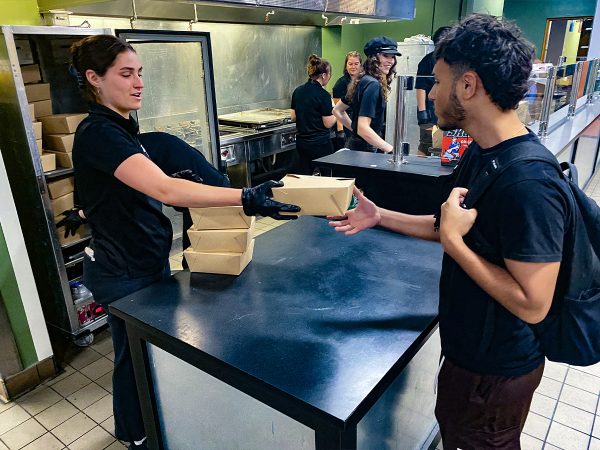 Editor's Note 10/1: Added correct title for Assist. Vice President Paul Rooney, Operations.   
Operations Assist. Vice President Paul Rooney watches as students quickly file through the Office for Information Technology check-in station at the East Campus Cafeteria on September 14. Droves of participants are handed boxes of 4Rivers meals free of charge as restaurant employees scramble to meet the demands of the Valencia "Food For Thought" initiative. Rooney shows a registration count of 130 meals served in a seventeen-minute span with more students funneling into lines. Started on September 6, the three-campus weekly food program has fed 11,372 meals as of September 28 to students, faculty and staff at the college. "It's really amazing to watch, 800 meals given out in a day!" gleefully remarks Rooney.
Student Affairs Vice President Dr. Lesley Frederick shares the drive behind the robust and hefty endeavor to feed Valencia. "During the pandemic, we surveyed students and found that 40% struggle with food insecurity and are uncertain where or when their next meal will come," Dr. Frederick explains. "'Food for Thought' was designed with the Big Idea at Valencia (College) that any student can learn anything under the right conditions, Through programs such as 'Food for Thought' and our new VCentials centers, we are working on creating the 'right conditions' where students feel engaged, supported and cared for so they can focus on their academic goals without worrying about where their next meal might come from."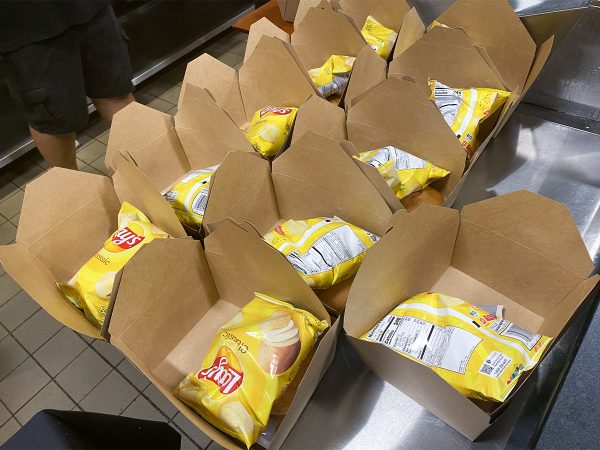 The right conditions aren't breaking the bank for Valencia College, the partnership creates a discounted meal price totaling about $10 per meal. 4Rivers, Domino's, and Tijuana Flats are the participating restaurants serving discounted meals to anyone with a Valencia ID. The services rotate across East, Osceola and West campuses on a weekly basis with the stalwart food trucks of last term adjusting their schedules according.
Food truck vendor Between Breads' Kevin Poveda-Jimenez is supportive of the program but feels the loss of business during his Monday lunchtime rushes on East Campus. "Business is slower," says Poveda-Jimenez. "When asked about complications with maintaining his business, he explains, "I rotate to West and Osceola on the days where ('Food for Thought') isn't being offered. It is great for students to know about the program. It's always good to know someone is eating." Student J.J. McCullough, 19, General Studies, purchased a meal from Between Breads during a recent "Food for Thought" event. McCullough says, "I'm not a fan of barbecue but knowing there is free food be helping sometime."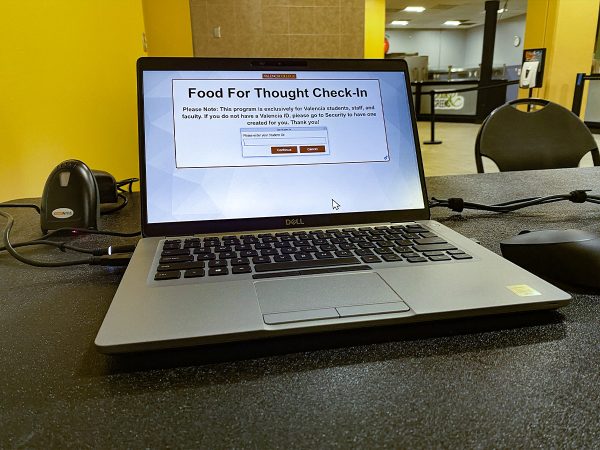 Campuswide SGA Vice President Fritzon Louis can be seen aiding the East Campus OIT check-in stations on Mondays. The quick scan of ID's allow for check-in's to take seconds, while providing critical information on the needs-based program. "It's helping students have 'food for their thoughts' and helps involve faculty and staff which is awesome. Most of the time, you see faculty left out (of benefits); they are detrimental to the student," continued Louis. "I think 'Food for Thought' is going to help a lot of students academically and even socially."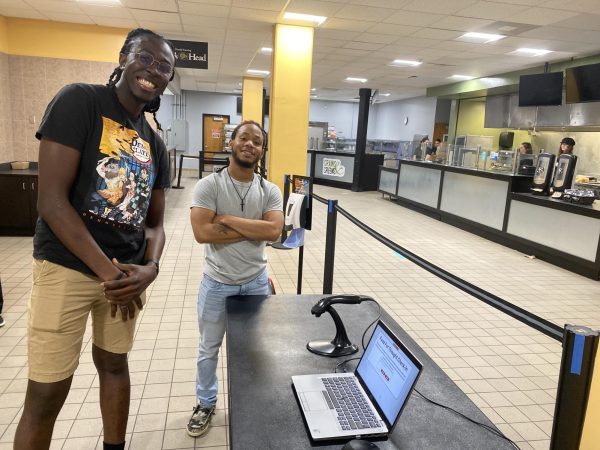 'Food for Thought' will be hosting an official survey later in the term to determine the impact and seek feedback from students. The program will continue through Fall term and end on December 6.
Read more student testimonies on 'Food for Thought':
It motivates me to come to school more. Fill my belly, and I'm willing to fill my mind.
— Sani Haynes, 22, Psychology
This is the first time I've been in the cafeteria. I have just one class on campus (East). I hope the food is good, because it's free.
— Quinn Jacques, 18, Theatre
I just think it's really cool and helpful.
— Alyssa Lopez, 18, AV Production
It's very kind (of the school). I also notice it is super convenient.
— Manny Ramirez, 22, Social Work
I came her during the winter semester when there were restaurants. I am glad they are doing the program now that Boar's Head and Pizza Hut left instead of having to drive out and get something different.
— Rick Gomes, 21, General Studies
On Mondays, I come to (East Campus) from 10 in the morning until late in the evening. It's nice to have a reliable meal and not have to pack. It's a really important resource.
— Rebecca Steele, 20, Environmental Science