Valencia College Hosts First Fall Grad Finale, Sign-Up Extended Until November 30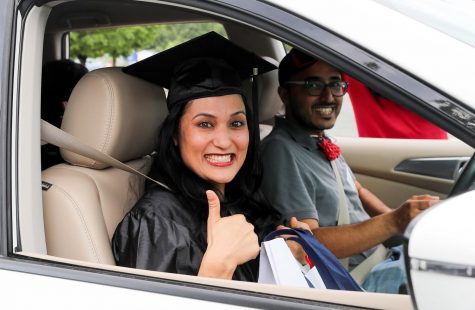 Valencia College is hosting its second Grad Finale and first Fall graduation on several campuses beginning December 9 through December 11. East, Osceola, and West campuses are inviting all summer and fall graduate students to celebrate with family and friends during the Grad Finale, an intimate graduation experience led by the campuses' leadership teams. Valencia College successfully hosted the first Grad Finale in Spring 2021.
The registration deadline has been extended. Graduates have until November 30 to register for the celebration, which will take place at the campus of the graduate's choosing on any day from December 9 through 11 between 9 a.m. and 5 p.m.
Valencia College Director of Conferencing and College Events Shauna Anstey is excited to welcome graduates to celebrate their accomplishments with their family and friends. "Come to any of the three campuses on any of three days at any of the times that are open," says Anstey. "One vehicle per graduate. So, whether they want to come in a Mini Cooper with just two people or if they want to rent a van and bring the whole family; it's one vehicle."
"We encourage people to decorate their car. This was the fun piece about it. A lot of families did decorate their cars, so they show up and they have balloons hanging out the vehicles", shared Anstey speaking of the success of the first Grad Finale last spring.
The Grad Finale will provide two opportunities for a photo opportunity. Upon the graduate's arrival, a professional formal photo by Grad Images will be taken and available for purchase. Family and friends are welcome to take their own. Senior administrators will be in cap and gown ready to take photos with each graduate.
Following the first photo, graduates will continue to drive on-site arriving at a second photo op where volunteers will assist graduates with additional photographs with their family and friends.
"While it was a completely different twist on it, there was also something really unique and meaningful at seeing the grads up close… Even though you are driving by in a car and it's not formal, it was real neat to give them something more personal and share with the families on campus," Anstey shared about witnessing graduates and their families celebrating the students' accomplishment.
Eligible graduates are encouraged to check their Atlas email for an invitation to register. Once registered, the graduate will receive a graduation box including their cap and gown.
According to Anstey, a traditional ceremony will take place in May 2022. Valencia College graduates of 2022 will experience the first traditional commencement ceremony since the pandemic.
For full information and location descriptions, what to bring, and to register for your campus' ceremony, visit https://valenciacollege.edu/campaign/promos/grad-finale.php.