'Trick or Treat' Event Brings Crowds to West Campus on October 27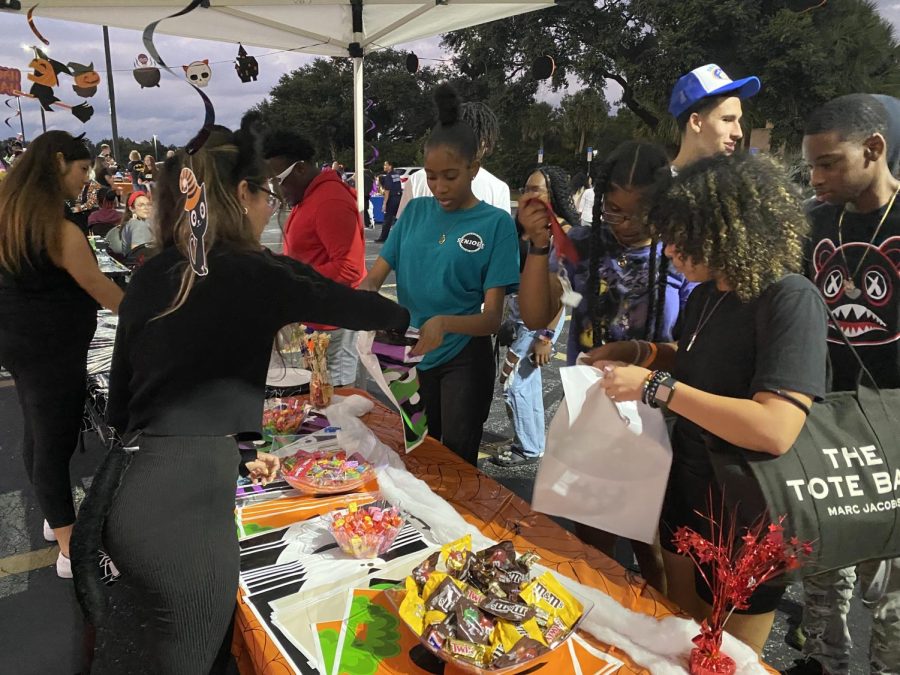 On Thursday, October 27, over 160 trick or treaters converged onto the West Campus parking lot outside the SSB for an evening of fun and entertainment. "Trick or Treat on Puma Street" hosted a live DJ from PressPlay Entertainment, a bounce house and facepainting from No Limit Event Rentals. Students, staff and family could paint pumpkins, trick or treat and enjoy complimentary pizza, SmallCakes cupcakes and drinks.
Family was the theme as many attended to share in the festivities including the Escaleras; Jorge, 16, and college siblings, Mariana, 23, UCF Health Sciences, and Valencia student Paola, 18, Culinary Arts. Each sibling produced a different take on a colored pumpkin at the painting tables and appreciated how welcoming the tabled organizations were. Meghan Burt, 32, Entertainment, and son Lucas attended as Snow White and Dopey explaining Burt's mother had made the Dopey costume by hand when Meghan was Lucas' age. Prior to dressing the part, they sat down and watched the 1937 Disney classic together. See both of their takes on the lovable character in the gallery below.
---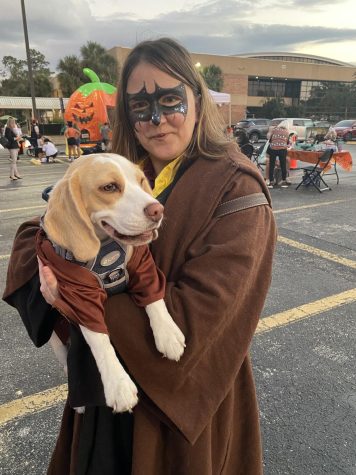 Student Development Program Advisor Nia Washington discussed planning the Halloween event; "It's an open space where we are welcoming community to enjoy themselves. We always want to make sure we provide that. It's really good to see Valencia families out here." Washington continues, "We had no expectations since this is the first time we have hosted an evening event this year and the first time since 2019 since we've hosted what was formerly 'Trick or Treat on Matador Street'".
Students and faculty enjoyed the dance music and costuming. Security staff and student Becca Preston, 37, Criminal Justice, donned a Grey Jedi outfit. No Jedi Master is complete without a trusty Padawan Rou, the duo  arrived with Ali Lovell, dressed in full Pride attire and facepaint. Veterans Services Office Work Study students and twins Esteban and Sebastian Pérez, 19, Nursing and Computer Science respectively, enjoyed socializing and handing out candy to the many children who attended. 
With the option for a safe and secure spot to entertain the children and students, the "Trick or Treat on Puma Street" was wildly successful, exceeding expectations in post-pandemic college life, and created a space for all to socialize, trick or treat, hang out, bounce, dance, and enjoy all the Valencia family has to offer. Check out more of the event highlights in the gallery below.