Machine Gun Kelly's new mixtape is as good as an album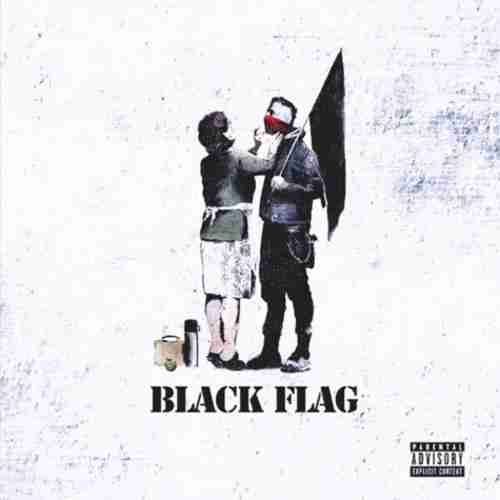 Machine Gun Kelly dropped Black Flag on June 26, marking his first new mixtape since the release of his debut studio album "Lace Up" late last year.
MGK released Black Flag during a month were many hip-hop artists were coming out with major studio albums including J. Cole, Mac Miller and Kanye West just to name a few, but that didn't discourage the Cleveland based Machine Gun Kelly from giving his fans a free mixtape.
"Because I know my shit's better, I don't give a f**k." said MGK when asked about dropping his mixtape when other MC's are releasing albums. "
Background:
Black Flag comes more than eight months after the release of "Lace Up" and is also MGK's eighth mixtape dating all the way back to "Stamp Of Approval," which was released back in 2006.
MGK teamed up with many artists from multiple musical genres for this mixtape such as Kellin Quinn of "Sleeping With Sirens," who helps Kells with the chorus on the track "Swing Life Away." Pusha T and Meek Mill are featured on the song "Pe$o," while French Montana lends a verse to "50 [Interlude]." Wiz Khalifa also makes an appearance on the mixtape in the laid back track "Mind of a Stoner,"
"Working with Wiz was sweet, just because Wiz really was excited about being on a project." said MGK about his collaboration with Khalifa.
Kells Favorites:
1. "Swing Life Away" is one of MGK's favorite tracks on the mixtape and I would have to say that it's one of my favorites as well, it samples a "Rise Against" song by the same name and features "Sleeping With Sirens" Kellin Quinn on the chorus. "Swing Life Away" could easily be an anthem for MGK's Lace Up movement, as the Cleveland MC lays out verse after verse describing everyday struggles.
"That was a song I had been in love with since I was a kid and I just knew I had to sample that shit," said Kells when asked why he chose to sample "Swing Life Away". "Rise Against was always one of my favorite bands when I was growing up and I just always had both sides in me; you know hip-hop and I have punk rock."
2. "D & G" was produced by JP Did This 1, who also produced the track "Breaking News," and features up-and-coming MC Sean McGee. "D & G" has one of the more mellow beats on the mixtape and has MGK chronicling his rise to the top.
3. "Street Dreams" is one of the harder tracks on the mixtape and takes MGK back to his roots. When listening to "Street Dreams" one can't help but feel nostalgic and think back to "Chip Off The Block," which was one of Kells first big singles. This track seems perfect for live show, especially considering it's one of MGK's favorites off of the mixtape.
"That Street Dreams just goes hard, that's just some all real shit." said MGK in reference to the track.
Honorable Mentions:
1. "Skate Cans" is quite possibly the most unique track on the mixtape, but that is by no means a bad things. This song seems perfect for MGK to play live during his "Raise The Flag Florida" tour, since it just flows from beginning to end. "Skate Cans" compares to "Half Naked and Almost Famous" since it is something you can easily put into your MP3 player and listen to while skateboarding around the town or even when getting ready for a night out.
2. "Raise The Flag" is the first track on Black Flag but it easily sets the tone for the rest of the mixtape. This song reminds me of "Her Song" in the way that it is mellow yet drives a point home. MGK does a great job as always of getting his listeners hooked from the very first track.
Track To Bump In The Car:
1. "Pe$o" has one of the best beats on the mixtape and is perfect for listening with heavy bass. Pusha T and Meek Mill do a great job on thier respected verses but producer Burd N Keys takes the cake on this track by providing a beat that can be blasted from the speakers of your car or on a sound system during a party. "Pe$o" could very well be MGK's next radio hit.
Conclusion:
Machine Gun Kelly's "Black Flag" has to be looked at as a breath of fresh air during a time where MCs are all coming out with studio albums. The mixtape features 14 full length tracks and includes verses from big names like Meek Mill and Wiz Khalifa. In a month where it could cost you at least $12 to hear your favorite rapper's new album, MGK has brought his fans an entire project for free.
Every song on Black Flag is something you can listen to over and over again. I would go as far as to compare it to Lil Wayne's Da Drought 3 in terms that every single track on the mixtape can be played on repeat and never get old. Like Da Drought 3 every song on "Black Flag" has the potential to be a hit.
Machine Gun Kelly will be promoting Black Flag during his "Raise The Flag Florida" tour, which hits Orlando on Friday, July 26.