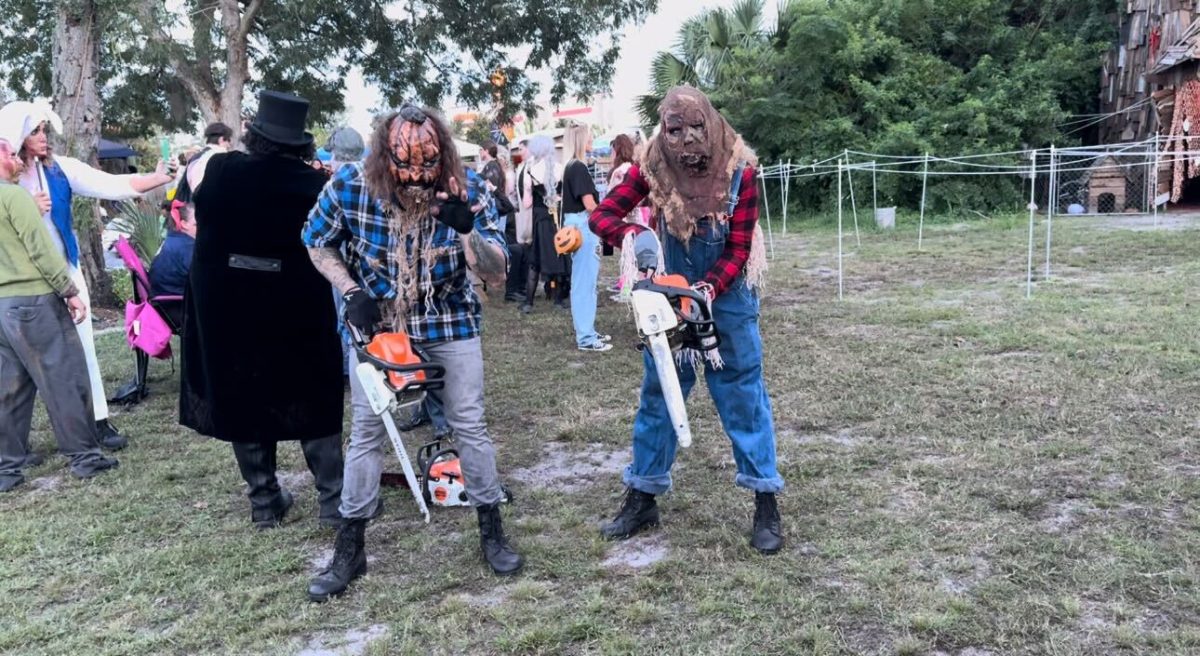 There's only one holiday that comes to mind when October arrives. It means the Halloween season has officially begun! And where could be a better place to celebrate than A Petrified Forest. This attraction, located in Altamonte Springs, has been entertaining Orlando residents for sixteen years. I had the privilege of being invited by A Petrified Forest team to experience their new scare trails with this year's theme being "Storytime Slayhouse" hosted by Mr. Snickersnee.
A Petrified Forest has quite the eerie ambience and succeeds in delivering a feeling of fright from the moment you enter. Whether you're walking around or waiting in line, scare actors are scattered across the attraction to enhance this thrilling experience. I was very impressed by the local talent with the attention to detail in their costumes and mannerisms as I interacted with them. This year, A Petrified Forest's "Storytime Slayhouse" features three scare trails: "Merciless Magic", "The Final Bell", and "Gore Seasons". Each scare trail can take up to 6-to-8 minutes to walk through.
The first scare trail "Merciless Magic" includes magical themes and components such as wizards, witches, and fortune tellers. Being in a forest environment gives this scare trail an advantage over the rest. The trees and walkways truly capture the elements of being in a supernatural world and I enjoyed the design of this scare trail the most. I was also entertained by the creative storytelling from the scare actors and their characters' individual backstories.
The second scare trail this year is "The Final Bell". This school-themed scare trail has a variety of classes like Home Economics and Woodshop in haunting way. Teachers and students are lurking around every corner to either warn you of the upcoming danger or invite you to participate in their horrifying course. "The Final Bell" was my personal favorite scare trail and scared me the most because I was completely unaware of what to expect next, yet I was excited to see more.
Lastly, "Gore Seasons" is a play-on words for Four Seasons. This scare trail features holidays throughout the year such as  Christmas and St. Patrick's Day, but with a terrifying twist. At the beginning, we are met with a grandmother who is very disappointed in us for forgetting the Thanksgiving turkey. But right when we turn the corner, we're jump scared by a dismembered turkey. Jordan Hulett, a first-year scare actor working in the Gore Seasons scare trail as Leprechaun, tells what inspired him to become a scare actor. "A lifetime of being called strange and weird, so it came about naturally", says Hulett.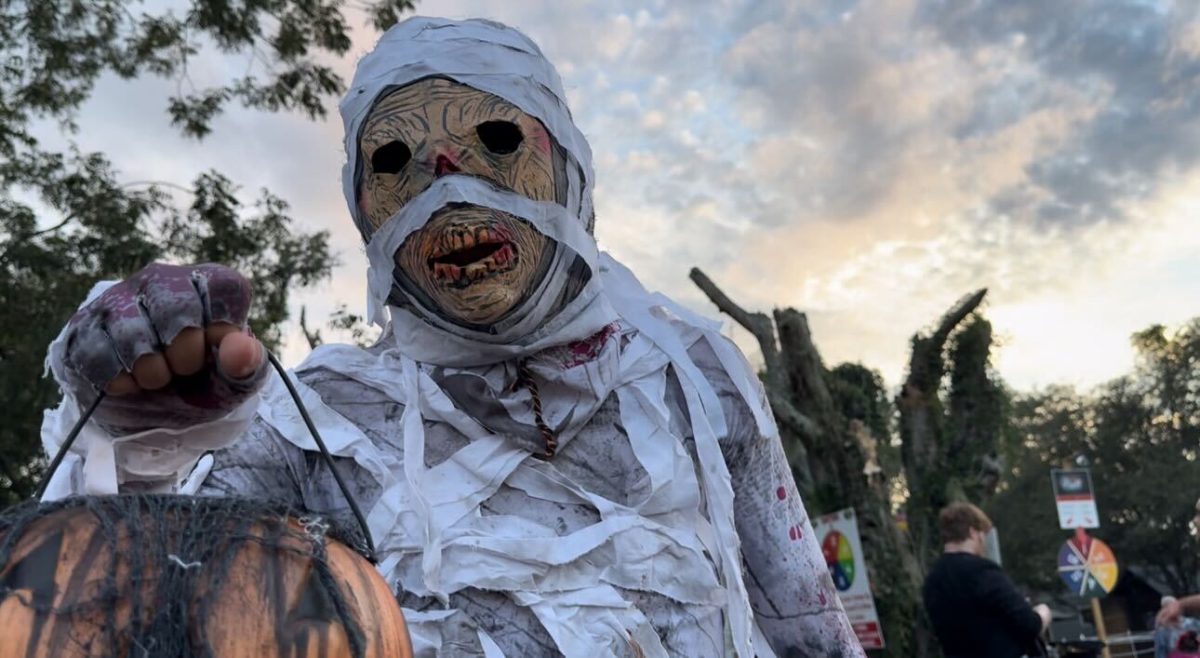 Not only are there scare trails at A Petrified Forest, but they also provide food truck and vendor services. Lisa Young, Valencia College parent, is working at one of the vendors, representing Happy Goats. "We do freeze dried candies, so it's almost like astronaut food… We also have barbeque sauce, and butters, and hot sauces", says Young. She also added her recommendation for students who would be interested in becoming a scare actor. "I know there's always things they can do and get involved… They're just looking to expand and expand, so they'll always need more help and students are always welcomed." One aspect I admired about A Petrified Forest was the commitment from the scare actors. They remain completely in character while giving a petrifying performance and you can clearly tell these individuals are passionate about their craft. Daniel Stoneburner, a former Valencia College student from 2012-2013, describes what patrons can expect from this experience. "I think one of my favorite things about A Petrified Forest is you're going to get the same kind of intense quality of scare and performance that you would get at a… perhaps more well-funded, without having to pay $100 to get into the door", says Stoneburner.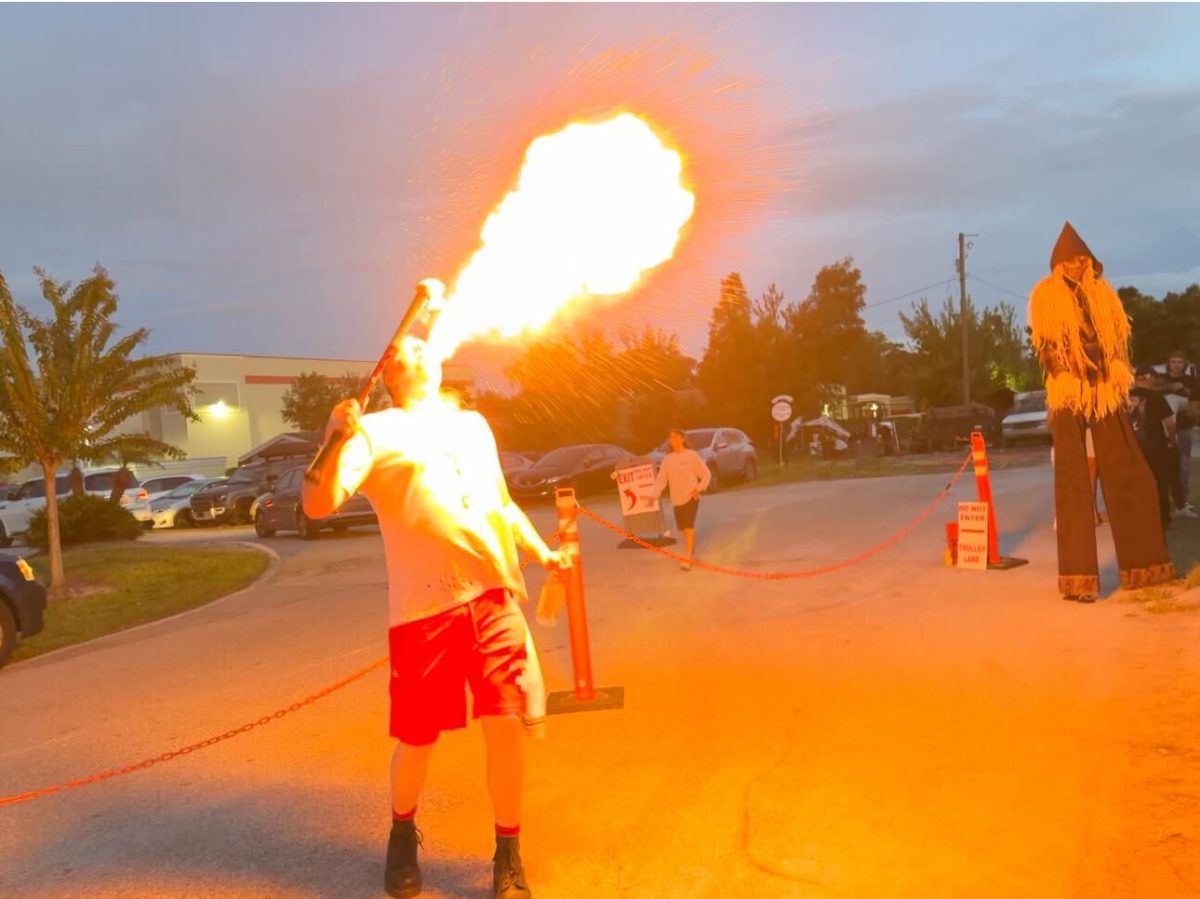 If you are looking for a fun way to celebrate this Halloween season without having to spend so
much, A Petrified Forest is the right place for you. This attraction continues this weekend, October 25  through October 26 from 7:30 until 10 p.m. and October 27 and October 28 until 10:30 p.m.
Tickets are av
ailable online and at their ticket booth start at
$34.98.