Kanye West does it again with his sixth solo studio album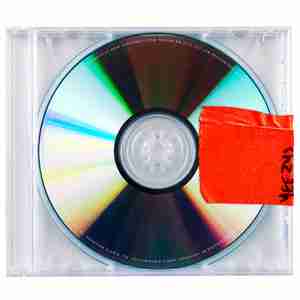 For god so loved the world that he gave us his one and only son, that whosoever listens to him should not think hip hop is dead and enjoy G.O.O.D music for the rest of their life.
The Rap God, Kanye West, proves he is no idiot on his highly anticipated sixth solo studio album- Yeezus- as he gives music listeners exactly what we need but may not want; laying narcissistic, sex driven, socialist lyrics precisely over driving dancehall riddims, echoing EDM sirens and bass lines, and thunderous rock drums creating what might be his best production to date.
Background:
Following his Saturday Night Live performance, many questioned if West had officially lost his mind as he screeches parts of "I Am A God" chorus (which are limited on this album) over the Schaffel-type beat giving the song an industrial emo-rock mashup, as he rants radical lyrics taking us back to his College Dropout days.  Prior to this performance, not many knew what to expect from West new album as the first dose of Yeezus, "New Slaves" was projected on 66 random buildings across the globe the day before.
West proves he is greater than everyone else getting GOD, a high power, to be featured on the 40-minute, 10-track LO alongside ex-groupmate Kid Cudi, Frank Ocean, Chief Keef, and Charlie Wilson as credited vocalist.  While the features are kept to a minimal, granting chicago-based rapper King Louie the only artist with a full verse on "Send It Up"; he reaches out to a vast amount of producers including electronic duo- Daft Punk, leader of legendary hip hop group Wu-Tang Clan- RZA, TNGHT which consists of Producer/DJs Hudson Mohawke and Lunice, and Mike Dean who has assisted West before on other projects. (Rick Rubin played clean up man coming in just days before Yeezus was due to help give the album substance and focus.)
Spotlight:
1. "Blood on the Leaves" puts West lyrical abilities to test, as he samples Nina Simone's cover of Billie Holiday classic "Strange Fruit"- a tale originally about racism and lynching, giving it a Yeezy twist comparing it to a bad breakup leading to a divorce.  While some may say West has changed since he first came onto the music scene, his hate for gold diggers has remained the same as he bashes lazy females who focus on the past and not the present.  Jay-Z might have killed autotune six years ago but West gives us his best 808 & Heartbreaks rendition showing that if the effect is used correctly it can be beneficial outputting that break up record every spiteful person needs.
"I'm in it" lives up to West motto "soon as they like you, make 'em unlike you" as he invites Agent Sasco and John Vernon (of Bon Iver) into his erotic nightmare; through raunchy-inappropriate lyrics and demonic vocals calling for the most inappropriate track on the album as West relates the black power fist to a sexual act with one of his female friends.  The orgastic production makes for the most unorganized DJ set; as west mixes pop-funk, techno and hip hop with a sample from reggae artist Kenny Lattimore.   Although West admits on the song, he is not ready to settle down, he might want to be careful because whether he marries Kim Kardashian or not he needs to remember "she got one of your kids, got you for 18 years."
Leave in the Corner:
1. "On sight" opens up Yeezus and is nothing short of a two-minute rant summarizing every reason why the media judges him.  West proves he has a split personality as he antagonizes everyone and everything they stand for over forcing them to hate him just so they could try and feel bad for him later on in the album.
Notable Mentions:
"Bound 2", "Guilt Trip" and "New Slaves"
Conclusion:
If you don't enjoy Yeezus, you should probably invest in some new headphones or speakers.  Have you ever heard someone go to a pool party without a change of clothes and have fun, or take a trip to Miami or Vegas without any cash come back and say they had the best time of their life?  I don't think so, of course you're not going to enjoy your self if you don't have the right tools.  If you are looking for a good rap album then sorry Yeezus is not for you as it does not contain trap beats or catchy hooks the genre has grown accustom.  However if you are looking for good music that consists of great sounds and technique where someone's  rapping, this is perfect as West pushes hip hop boundaries to another level allowing your favorite "rapper" to be a little more experimental.