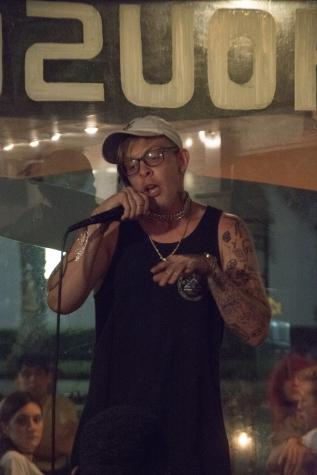 Austin's Coffee and Film is a small, hole in the wall joint situated in the heart of Winter Park. If you're walking down the sidewalk and you happen to scroll through your phone for thirty seconds, you're liable
to miss it, but the small café has personality in spades, not least of all found within its quirky shambolic set-up.  There's a haphazard display of mismatched chairs, sofas, and bar stools, with a couple of small tables. Even the bathrooms hold an indie, homespun charm: a bizarre crawl of misspelled text "MICK JAGGAR FINANCED THE KROP CIRCLES," Beatles lyrics, and Jean Michel Basquiat's Samo © image collide and flow to create a vaguely psychedelic mural.  Behind the counter is a young woman with severe ear gauges and a Rammstein shirt, cheerily serving vegan cookies and freshly brewed coffee. Austin's holds the charm and appearance of your hipster friend's first apartment, haunted by a healthy variety of people, ranging from the scraggly bearded to the erudite.
On Mondays at 9:30 p.m., Austin's plays host to an open-mic hip-hop night. On the small stage afforded the MC and DJ by the limited real estate of space, you'll see three men fiddling with mic levels and speakers. A man that could only be described as a nervous, Rhys Ifans doppelganger, is shaking next to the MC and DJ. "Are you gonna freestyle?" a cavalier young girl asks between giggles on the love seat; he nods yes and continues to play around with the sound levels and . . .  yep, we have liftoff.  The DJ begins to play an assortment of beats from artists like A$AP Rocky, Pusha T, and golden age Wu-Tang Clan. The MC lays two facts down for all those in attendance of hip-hop night: "No judging. And if you don't like what you hear, there are exits, that's what they're here for. Walk on down to Starbucks if you feel like heckling anyone tonight."
And, so it begins: a galvanizing call to arms for anyone brave enough to approach the stage with a hot 16 bar verse (or 4 or 32, depending on your confidence.)  The first contender is a lanky, bespectacled young man spasmodically stealing stage, rapping about anxiety and his skill set. There's no list for spots to perform at Austin's; rather, a line forms from the entrance to the patio with whomever decides they're going to confront the gallery of gazes forming in the seats. The reception towards those that wield the mic is warm, a momentary camaraderie with strangers forged in the light of individual expression.