Vans Warped Tour 2013: Preparing for the best day ever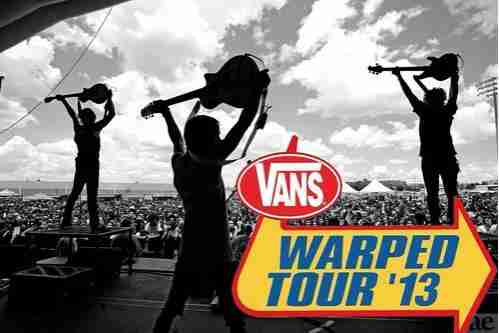 This weekend the annual Vans Warped Tour makes it way to Florida — stopping in Tampa and West Palm Beach before making its way to the Central Florida Fairgrounds in Orlando on Sunday, July 28.
Whether you are a newbie or an expert when it comes to Warped Tour here are some tips to get the most out of your experience.
The night before:
Warped tour is no three-hour concert — its an all day festival so getting a ton of rest the night before is essential. Be sure to check the weather forecast, you do not want to be over/under dressed. This is Warped Tour not fashion week so wear something comfortable. It it's going to be hot out, a simple pair or shorts and a loose top will work — if it's going to be a little cooler, grab a small jacket– nothing to big, you will be moving around all day and surrounded by a ton of sweaty people. Sandals are out the picture, they maybe comfortable but they are not safe– simple pair of closed-toe shoes will get the job done. A cheap pair of sunglasses is perfect- leave the designers shades at home. Therefore if you lose them or they end up missing, no one is sad.
Before you pass out for the night; be sure to set your alarm, charge all your electronics, and pack a light book bag – you do not want to worry about forgetting anything in the morning.
Here is a list of items you can bring
Sunscreen– this is an outdoor event, don't go home looking like a lobster–no one likes live lobsters.
Bug Spray– as the sun goes in, the mosquitoes will come out– better be safe than sorry.
Hat and Sunglasses– keep your self cool, while being cool.
Notebook– why pay for a schedule when you can make your own; plus you need somewhere to store autographs.
A Pen or a Marker– do I even need to say why?
Snacks– no one wants to rage on an empty stomach.  Remember everyone is not "normal" like you so don't get offended if your favorite band turns down your cookies.
Water Container– one sealed bottle of water. If the bottle is open, it will be emptied at entrance gate, but can be refilled inside at one of the free SIGG Water Hydration Systems.
Non-Professional Camera- would you rather tell your friends how much fun you had or show them?  Who knows who you might bump into for a photo-op.  Don't forget extra batteries.
Cell Phone– never know when you are going to have to make an emergency call; plus its 2013, who leaves home with out one anyways.
Money- drinks, food and exclusive band merchandise are not free- unless your lucky-
Ticket– if you forget anything else don't let it be this
Before you leave:

Be sure to wake up very early, gates open up at 11 a.m and the action is non stop from then.  A big breakfast is crucial — between the sun and moving around you will exert a vast amount of energy, so be sure to have some fuel into the tank. Double check to make sure you packed everything, this is not the time to have something wind up missing. Make sure to put on your sunscreen and check the weather one last time just before you leave the house to make sure nothing have changed.
Once you're there:
Get to the big inflatable board with set times as soon as possible — nothing is more important, this board dictates how you will spend your day. Write down all your favorite bands set times and stage so you know exactly where they will be. Map out each stage — some sets may run overlapping each other and you don't want to miss a good part of the performance because you could not find it. Many artist run-meet-and greets so locate your favorite band merchandise table to figure out signing times. Even if you and your best friends have known each other your entire life and are completely compatible, their is one band you like they dislike so find a good meeting spot for if you were to ever separate.
Remember stay hydrated — Warped Tour only comes once a year to your city, don't end your day early because you refused to take care of your body.  It's also a long day so pace yourself and take a break from time to time, but most importantly HAVE FUN – –you deserve it.
If you want to take your experience to the next level here a few tips:
Get to the venue before the lines are to long and find the "Skip The Line" banner– those who donate three-unexpired or dented- canned food items or $5.00 at the Feed Our Children NOW! tent located near the venue entrance will receive a jump the line pass.  (You can also drop off used cell phones for the same jump the line pass.)
Follow Warped Tour on Twitter and download the Vans Warped Tour Official App compatible with all Apple products for day of show updates on contests, signings, weather updates and more.
For any more question visit the Warped 101 section on the tour's website or hit me up on Twitter (@tru2ty),  who knows maybe we can catch a set together.