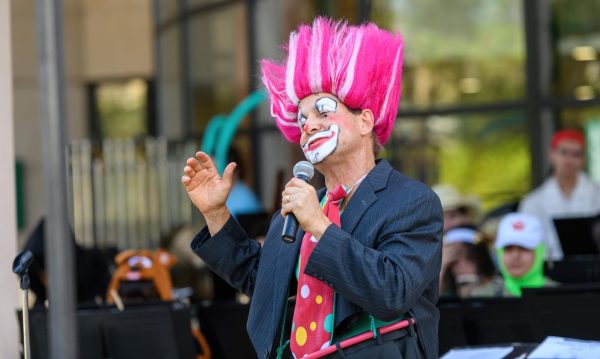 On October 27 and 31, Valencia College hosted their 11th annual Halloween Jazz Band Concert in the  East Campus mall area. It was also the first concert of the year directed by Director of Bands Jon Territo.
During the Halloween Jazz Band Concert, the musicians performed Latin music, modern jazz, and even music from movies. Territo, has been at the school for twelve years and his students performed music from James Bond films, "The Incredibles", and even "Pirates of the Caribbean". The students followed up with music from feature films like "Star Trek" and "Wonder Woman."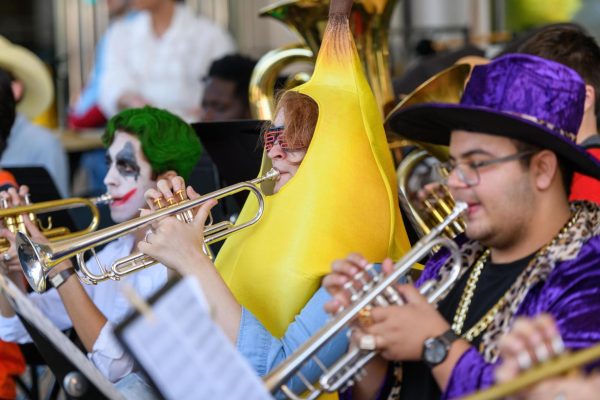 The musicians and Territo dressed in Halloween costumes to entertain the audience. Forty-five student musicians played various wind and percussion instruments in the concert. Many students from Valencia College attended as well as family members and friends.
Leilany Veloz, 20, Hospitality and Tourism Management, loved the concert. Veloz stated, "There were a lot of pieces I recognized." Veloz loves jazz and comes from an artistic family. 
Brett Taylor, 19, Audio Technology and Sound Production, plays baritone saxophone and was extremely excited for the concert. Taylor had a couple of solos and also played in the symphonic band. Taylor loved the fact they were doing "more the style of jazz I like, not the older jazz but more the modern." 
During the concert there were a lot of standard pieces and traditional music, but Taylor says it's extremely nerve-wracking to perform in a concert, especially in front of your friends and family.
Territo prepares his student musicians by telling them "real world stories and information." It's (the pep talk) to challenge them for what's to come so that way they can be ready for concerts like this.  Concerts like these prepare students for bigger and better opportunities they might have in their future, according to Territo. 
Territo acknowledges and loves that these concerts get "more and more fun every year." If anyone missed out on the Halloween concert, there will be more throughout the year.
On November 14, the Winter Choral Concert will be at 7:30 p.m.
On November 21, there will be a Music Department Holiday Show at 7:30 p.m.