Midnights by Taylor Swift Releases At 12:00 A.M. on October 21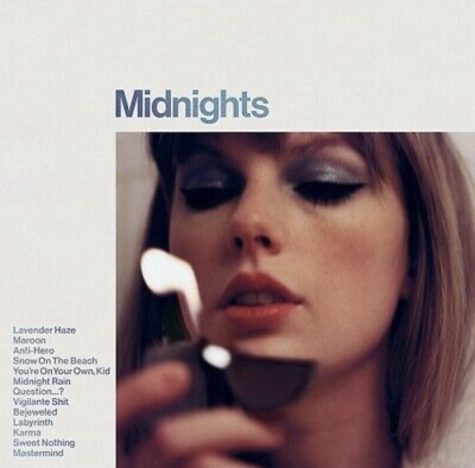 "Meet me at midnight." These few words welcome us back to Taylor Swift's pop resurgence. After releasing her ninth studio album "Evermore" back in 2020, Swift released her 10th album "Midnights" on October 21st.
When the album was released, Swift wrote on Twitter that "Midnights" is "a collage of intensity, highs and lows and ebbs and flows. Life can be dark, stary, cloudy, terrifying, hot, cold, romantic or lonely. Just like Midnights." Unlike her indie-folk 2020 sister albums, "Folklore" and "Evermore", Taylor returns to her pop roots with sounds and lyrics synonymous with past albums like 2019's "Lover", and 2014's "1989".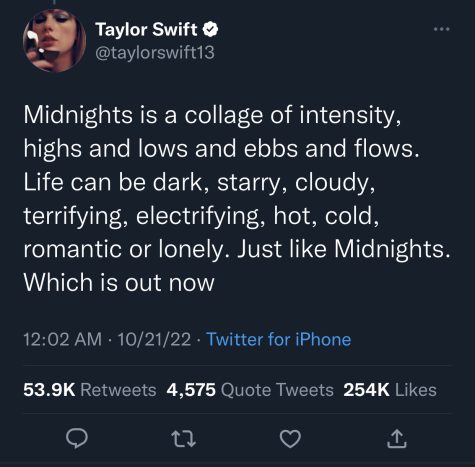 While those albums have polished lyrics of romance, this 44-minute album is messy, but on purpose. Working with long-time producer and co-writer Jack Antonoff, these 13 songs are much quieter and softer, but Swift captivates us with emotionally charged lyrics. Taylor's mature sound is noticeable on this album and covers a variety of themes that are not just about love.
In track 5's "You're On Your Own, Kid", Taylor reminisces on her youth and how she's grown as a person with lyrics,
"Everything you lose is a step you take So make the friendship bracelets, take the moment and taste it You've got no reason to be afraid."
Track 3's "Anti-Hero" dives deep into Taylor's insecurity with lyrics,
"I have this thing where I get older, but just never wiser 'Midnights' become my afternoons When my depression works the graveyard shift, all of the people I've ghosted stand there in the room."
In an Instagram reel posted to Swift's verified account, she explains that "…This song really is a guided tour throughout all the things I tend to hate about myself."
Swift's lyricism in songs reminds us that she's still able to bring us into her world of storytelling and can still remain at the top of the charts each time she switches genre. When listening to this album, Taylor uses synthesizers and auto-tune, things that she has never used before in prior albums. Taylor pushes herself to new heights and shows that she has grown as an artist by experimenting with a darker bedroom-pop sound. Each song is so sonically different from each other and it allows the listener to ingest these songs of "13 sleepless nights scattered throughout my life" and feel the raw emotion after each song. It's an album that engulfs you in it's dark, dreamy sounds and allows us to be introspective about our lives. In addition to the "Midnights" release, Taylor surprised everyone at 3 a.m. with "Midnights (3am Edition)" with seven bonus tracks. She wrote on Instagram, "Surprise! I think of 'Midnights' as a complete concept album, with those 13 songs forming a full picture of the intensities of that mystifying, mad hour. However! There were other songs we wrote on our journey to find that magic 13." The seven tracks are: "The Great War", "Bigger Than The Whole Sky", "Paris", "High Infidelity", "Glitch", "Would've, Could've Should've", and "Dear Reader." Three songs are credited by Aaron Dessner, who contributed to albums "Folklore" and "Evermore", but did not contribute to the whole of "Midnights". While some of the songs still deal with the theme of love like, "Paris" and "Glitch", Taylor explores the theme of pain with "Dear Reader", "The Great War", "Bigger Than The Whole Sky", as well as touching on mistrust with "High Infidelity." Like the original 13 songs, the additional 7 sound so sonically different, but feel like they were from the original to start with.
Taylor Swift writes about her vulnerability, and the listeners go on that journey with her as we look within ourselves and understand that we are growing and understanding ourselves as people.
As Taylor says, this album is "for all of us who have tossed and turned and decided to keep the lanterns lit and go searching – hoping that just maybe, when the clock strikes twelve… we'll meet ourselves."