Distinguished Motivational Speaker Presents at Valencia East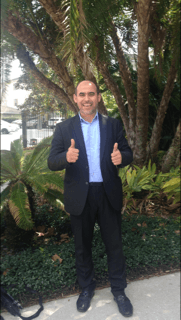 An extraordinary journey from Malaysia to the US, Bachir Djehich an author, professor, and motivational speaker has traveled the world to teach seminars. Djehich holds seminars on how to take control of your own life, and instilling confidence. Djehich has spoken at Valencia's East Campus on several occasions, most recently the week prior to Spring Break.
Djehich was born and raised in Algeria. He had aspirations to venture out beyond his own country, so he decided to embark on a journey immediately following high school.
"The opportunity came when I was in college in Algeria, I received a scholarship and was admitted to go to school in Saudi Arabia and I got my bachelor's degree," stated Djehich.
Djehich got his masters in Malaysia teaching as a professor for nine years, where he got married and had children. After inspiration and alot deliberation, he decided to relocate his family.
Djehich went to an American symposium in Malaysia that discussed the religious diversity in America, that gave him immediate inspiration to venture to the US.
"I fell in love with America, the land of dreams. At that moment during that symposium I knew I had to go. I knew that there was a freedom over there. I believe in the West they help failing people succeed, and they accept despite anything. There is still misunderstanding and miscommunication everywhere, but in America the community is really open," stated Djehich .
Though Jeheesh has exemplified the epitome of optimism, hardship is inevitable and he shared his toughest hardship he had endured.
"I went through divorce. I had three kids. That was really tough. When you get trapped with the negative mindset you're finished. When you remain in the negative side we drain our energy. But that hardship led me to what I am doing now. I learned a lot about relationships. I learned how to gain control of my emotions. I consider all negative experiences in life as not failure but feedback. Even though you go through challenges consider them as making you stronger. Not asking why me, but replying I'm ready for it" stated Djehich.
Djehich has taken all of his experiences of his life to create different tools, and seminars to teach others how to pursue a self actualized life.
"I'm a certified coach we have a set of trainings. I travel to different countries and teach my seminar NLP (Neuro Lingusic Programming), Coaching foundation. It teaches people how to do different styles of coaching such as life a life coach, business coach, or an executive coach. I have an online webinar 8 Steps for Publishing Success. How to use those steps to release your book. I have two seminars for secrets of success of relationships. We have life seminars, relationship seminars, business seminars, and executive seminars," stated Djehich.
Djehich has also published two books one in Arabic which discusses the religion of Islam, as well as one in English that will be released this year entitled Coach's Coach.
"I have dreamed to write books. I have released a book in Arabic about Islamic law and was published in 2003.  The book discussed how to apply Islamic law in life. This year's book is based on my training the coaching foundation, training people to become coaches. You have to break through the negative mindset of everyone. Because you cannot make success unless you open your mind. We discuss how to be an effective and influential communicator. We have different modules of how to coach and how to brand yourself, and your business. As well as the secrets to success in making more money," stated Djehich.
Djehich is always prepared for whatever life may throw at him, and is always aspiring for something, and that is success.
"Success is a journey, not a destination. As you continue moving through life and feel a positive change with you and those around you" stated Jeheesh.