'Olympus' film a nuclear 'bomb'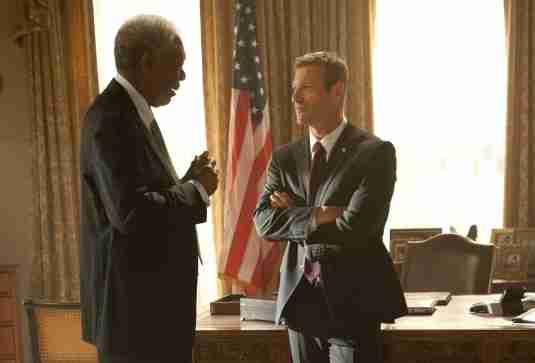 "Olympus Has Fallen" but I don't care.
Gerard Butler stars as Mike Banning, a former Secret Service agent who really wants to get back on the job. He gets his chance when a group of Korean terrorists attack and then gain control of the White House, and capture President Asher (Aaron Eckhart).
Now Mike must work against the clock in an effort to save the president, all while under the calm guidance of Morgan Freeman.
This is a pretty by the numbers action movie that only stands out because it so violent. So very, very, very violent.
Violence of course has its place in action films, but, the more violent the movie, the more interesting its plot should be, and this is a film whose plot is about as interesting as watching a slug slide from one side of the room to the other.
Nuclear weapons always seem to pop up in these films, and the terrorists always get the "inspired" idea to have them blow up while still in their silos, because what better way to show that someone is evil than have their main goal be the complete destruction of an ecosystem?
Butler is as good as he needs to be in this film about revenge and other boring stuff that I did not care for in the slightest.
The torture scene in the middle of this one hour too long movie is gruesome and not much fun.
Why the filmmakers decided to stretch this monstrosity out for so long is lost upon the viewer. It would have been a lot more interesting with a third of its screen time cut off, but editing is a lot of work, and sometimes things slip through the cracks.
Do yourself a favor and slip into a different movie. I promise you won't go wrong.