A Unique, Intimate Scare Experience At 'A Petrified Forest'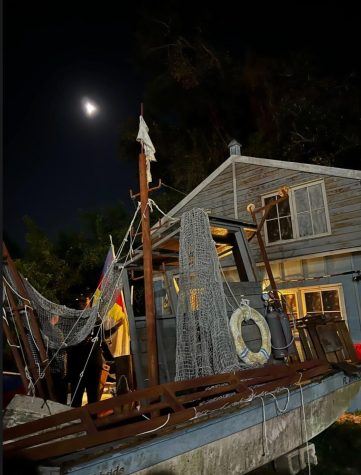 A typical argument about fall and winter in the south US is that the holidays just aren't the same without a noticeable change in the seasons. Unlike in the north, we don't get intense autumn colors from falling leaves in the fall, well, maybe a little, and we don't open our blinds on a winter morning to a snow-coated yard.
No, Orlando has to show its change in seasons a little more creatively. The theme parks do a pretty good job at it, as events like Halloween Horror Nights attract visitors from all across the country. These events and the standard residents hold them to not just keep their visitors on their toes but local haunted houses as well. One such haunted house experiences stepping up to the plate for over 15 years is "A Petrified Forest" in Altamonte Springs.
Each year has a different theme and this year is "Nature's Fury".
---
What to Expect
While the place does claim to be in the middle of a forest, there are warnings to not park at the Wawa just a short walk away, and traffic will rush as you wait outside an old wooden picket fence surrounding the property. From an opening of the fence, Mother Nature carefully steps out and into the street. Her stilts slowly dig into the grass as she makes her way around to guests waiting in line.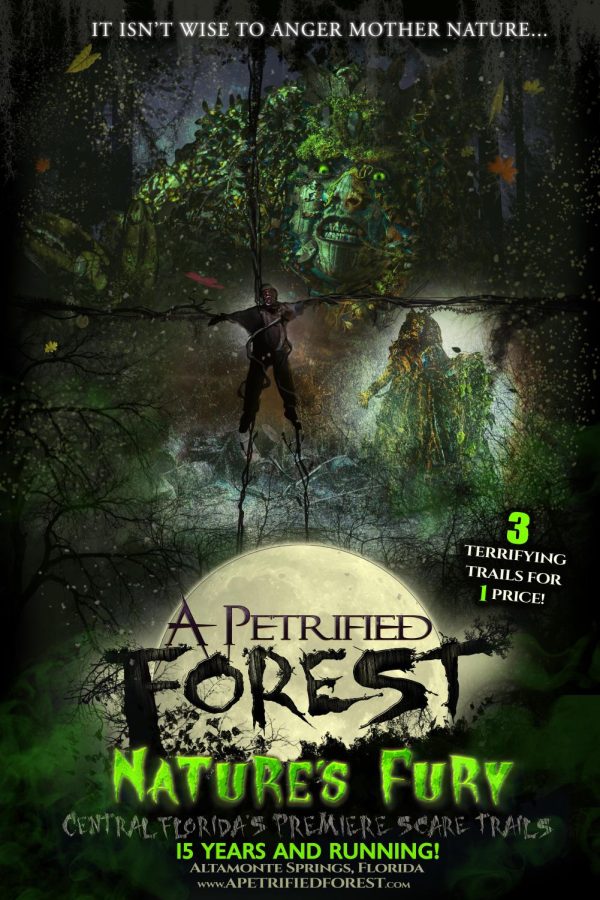 Other characters covered in makeup emerge from dark corners of the street with chainsaws. It's hard to tell what they're supposed to be, but guests don't seem to mind. Kids scream and run away giggling while older guests grin as the characters approach them. Scare buses pull up just next to the queue. An announcer on the old trolley reads out a script as visitors hop off, some going to the opposite side of the street to have a drink at the restaurant right across from us while their friends enjoy the haunted houses.
Once inside the venue, a DJ plays electronic music at the very end of the field, and scare characters run up to guests as teens run away shrieking and laughing. Every house should be open to visitors, but the line to the first house is already full. We choose the house at the very end of the yard, instead. It's empty, and the staff asks us to wait just outside. We're told they're waiting for a phrase that lets them know to start. We make friendly idle chat, still unsure of who is a character and who is in charge of guiding the groups.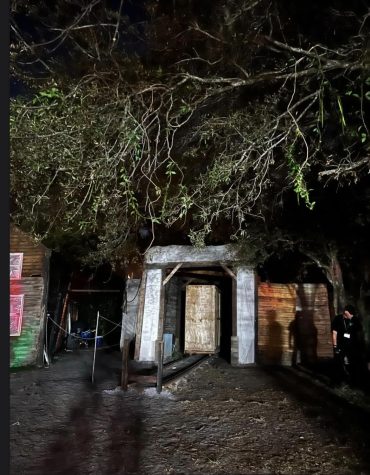 After a few moments of silence, we hear the phrase, and the people who were just talking to us politely trip over being nice and being in character. They politely speak, then correct themselves, and demand we enter a large wooded crate that separates each person into narrow stalls on wheels. They wheel guests a very short distance into the house and pathway, banging on the walls and doors all the while. We're told to exit the stalls and walk. We enter the dark pathway in complete silence. Sound effects are playing in the background, but no one is speaking. It's so quiet, even when passing characters who stand still, staring at us. I began to realize what's happened when I hear a character whisper to the other on opposite sides of us if the show had already begun. The other doesn't answer, and I empathetically tell them, "Yes, we've started". The young man and woman in tattered costumes apologize in surprise and promise to be scary the next time I see them.
---
Review
To be honest, the interaction witnessed was far better than any scare tactic they had in mind. I wouldn't have changed a thing. Haunted houses aren't scary for many goers. Sometimes, it really is about seeing how people interact with guests when they're caught off guard.
This isn't to say that everyone wasn't on their game once they knew we were on. Some of the characters in the houses showed voice acting skills with how well they cried, screamed, and pleaded to guests passing them by. "La llorona" made a cameo in one of the houses and while I still don't know why she was there, I was happy to get her "yes" between sobs when asked if that's who she was. Ultimately, the event was quite alright. Yes, there were moments when the staff was not prepared. There were even moments when staff members in charge of technical repairs were more intimidating than scare characters…  and that's what made it fun. This less than an hour-long experience was something more friendly, intimate, and captured the spirit of fall fun than a larger Halloween Horror Nights or theme park scare event can create for its thousands of guests.
Frankly, the themes varied greatly from one house to another, and I genuinely loved that. The three house themes were "Wretched Waters", "Extinction's Revenge", and "Invasion from Beyond". The warm conversations I had with line attendants made it all the more special. I even feel like a made a friend or two in the process.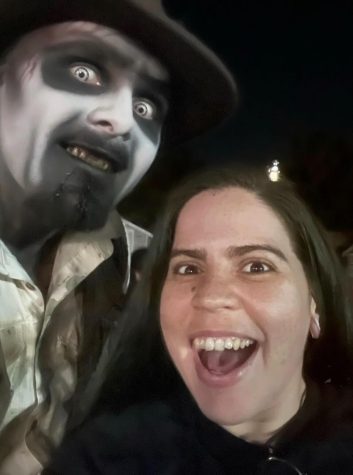 This experience runs select dates through October 29. Wait times are not long and merchandise stalls with a very friendly vendor, food and even a non-profit kiosk are as much a part of the appeal. Be sure to check out "A Petrified Forest" for pricing and availability.
There is no shortage of unique haunted house experiences in Orlando. If you want to stand out, there is certainly more than one way to do it. "A Petrified Forest" was a spacious backyard littered with junked cars scattered across barely-lit trails and that's just fine with me.
Leave a Comment