Marchers Take Over Lake Eola in Orlando
Thousands of people gathered at Lake Eola on Saturday to march in support of equal rights for everyone, specifically women, the day after the inauguration of Donald Trump.
The day began around 2 pm with a packed amphitheater and thousands of people standing behind and beside the full rows of seats. Orlando City Commissioner Patty Sheehan got the crowds attention and then it was announced that the speaking portion of the rally, focusing on empowering personal stories of the able, disabled, straight and LBGT women would last until about 3 pm.
After the final speech everyone marched in solidarity and unity around the lake.
Though it was a women's rally and focused mainly on advocating the rights of women in the face of the new administration, more than just women came out to show their support for the cause. Many men marched in solidarity with the women, and there was a huge LGBT presence. People came out to unite and represent a similar cause: equal rights for all.
"I want to stand up for women's rights," April O'Neal said, when asked why she was there. "I don't think that any administration is allowed to take away accessible healthcare [or] anything that has to do with a woman. It's our right, not Trump's, not any administration."
That sentiment was echoed by Amanda Johnson, a postpartum women's health worker, who said, "This is a big deal to me.  I think it is a huge issue in our country and I can't believe we're still having to do rallies and protests around women's rights  and women's right to healthcare." Johnson is worried that many women who depend on Obamacare for their healthcare will be left with few options if Obamacare is repealed.
Many marchers expressed concern that Donald Trump does not respect women.  Some feel as if Donald Trump has inspired a movement against himself with his public comments.   An artistic representation of that movement was Kate Elizabeth Davis's giant vagina.  Davis, a freelance artist, built a four-foot vagina that people could pose with during the event.
"I've constructed a giant vagina.  It is a bit of a self-portrait," Davis explained.  She marched because she believes in women and humanity, and she thinks "we can rise above" the Trump administration. As for the vagina, she said she wanted to "share the joy with everyone," exclaiming, "Take back vagina."
Demonstrators took aim at President Trump, bearing signs that mentioned his "tiny hands," and showed him as a puppet being controlled by Vladimir Putin, and chanting things like, "no Trump, no KKK, no fascist USA."
All in all, people of all walks of life came out in support of women to show President Trump that the people will be heard.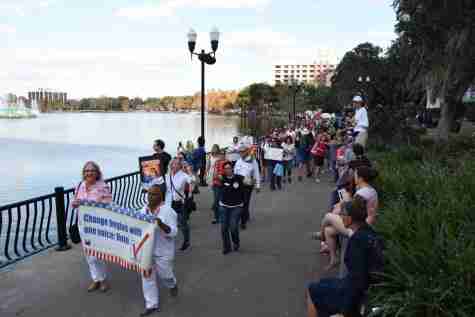 View Comments (2)