Valencia offering classes for students to 'GET FIT'
This Fall the faculty and staff of East Campus Health and Physical Education launched a new program to serve or students. GET FIT is designed to encourage our students to get involved in an active lifestyle early in their Valencia experience.
When students enroll and successfully complete one of our three primary fitness classes which assist them in the design and implementation of their personal fitness program, we then offer the students free access to the Fitness Center until graduation.
During that period they have access to further assistance and instruction from our faculty and staff in all aspects of their health and fitness needs. The goal is to engage students early on and provide the facilities and assistance they need to continue enhancing their personal health and outcomes throughout their Valencia tenure.
Decades of empirical evidence has shown us that a physically active life style and healthy choices have positive effects in every aspect of our lives and performance, including school performance. In the past few years studies in every age group have shown that regular exercise, active lifestyles, and healthy practices positively influence test results, GPA, retention rates, graduation rates, student satisfaction surveys, and virtually every performance category we can monitor.
In keeping with the current trend in higher education— promoting student success and new student experience, opportunities and curriculum, numerous colleges and universities are now including or incentivizing regular physical activity and exercise in their new student courses. They have made this commitment after numerous empirical studies at multiple institutions have revealed the results mentioned above.
Simply put, our students are more successful in every aspect of their educational experience if they are involved in a healthy and active lifestyle. To that end , we designed GET FIT.
Fitness and health transcends every discipline and vocation. Regrettably, many students at Valencia and other schools do not reach their goals or finish their degrees. Health obstacles, sedentary living, unmanaged stress, and poor lifestyle choices are all too often  contributing factors. We address each of those issues and more in our GET FIT classes. With GET FIT we hope to improve those outcomes and help make our students more successful and their experience at Valencia even richer.
We all value our precious contact time in the classroom and there never seems to be enough minutes to share all we find beneficial to our students, but I would simply ask that you consider taking a few moments and  share the attached information  with your students and post it on their blackboards. It literally could change their lives.
Each semester in our fitness classes we request exit feedback from our students regarding their experience and each semester we hear the same phrases— "this class changed my life", "everyone should take a class like this", "I feel so much better now"  and more.
We want each and every student who passes through our classrooms to have an improved outcome in every class and improve their likelihood of success, here at Valencia, and throughout their future endeavors.
---
GET CREDIT FOR YOUR A.A. IN ONE OF FOLLOWING COURSES:
HLP 1081C FITNESS AND WELLNESS 3 cr.
HLP 2550C CONCEPTS OF PERSONAL TRAINING 3 cr.
PEM 1131C WEIGHT TRAINING 2 cr.
EARN A GRADE OF "C" OR BETTER AND YOU CAN ENROLL IN GET FIT AND WORKOUT DURING OPEN FITNESS HOURS IN THE EAST CAMPUS FITNESS CENTER UNTIL YOU GRADUATE FROM VALENCIA. FOR FREE! THAT'S RIGHT, FOR FREE.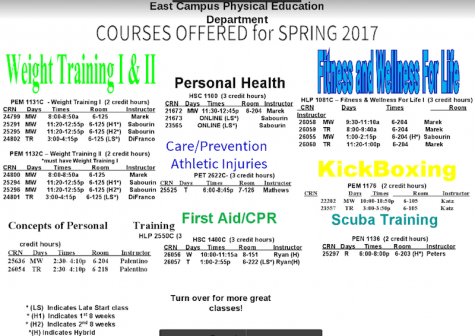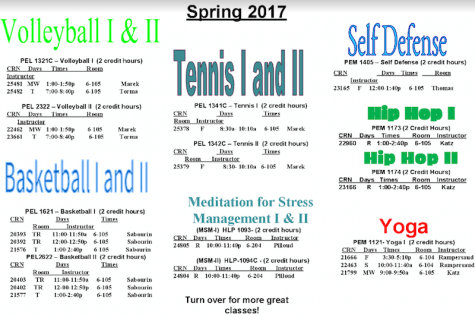 ---
Leave a Comment