Lake Nona Campus Celebrates Fourth Year
If you love being greeted with the beat of your favorite tunes and sniffing the savor of sizzling fried chicken, then you'll soon find walking to class quite the treat.
Valencia's Lake Nona campus (LNC) is celebrating its fourth year of existence and will be holding a dedication day filled with food and events on Sept. 20 from 11:00 a.m. to 2:00 p.m in the main hallway.
The event is open to the Valencia community and Chick-Fil-A, sparkling cider, and cake will be provided. Updates about LNC and a toast in honor of its progress will also be held during the event.
Flashback to four years ago when the sleek, modern, three-story building was just opening its doors to the community's ever-growing student population. Being only 13.7 miles away from Valencia's east campus and 15 miles from the Osceola campus, it's no wonder that LNC has become a nearby haven from the overcrowded campuses.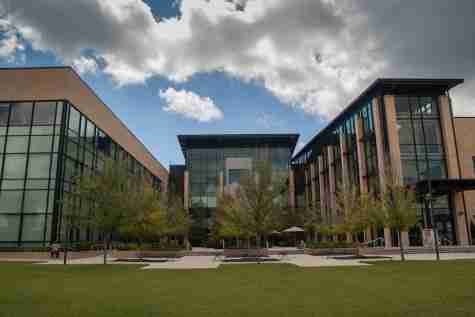 Brittany Bhulai
Though smaller than Valencia's other locations, it maintains a healthy balance of steady growth and a spacious feel, refusing to compromise to shoulder bumping, swamped hallways.
"This year we welcomed 3,000 students to campus," said Lake Nona's Founding Executive Dean, Dr. Mike Bosley. "We average 8-12 percent growth each semester."
The location, which is adjacent to Lake Nona's Medical City, is an added draw to those pursuing science-related majors.
"Medical City provides our students with opportunities to both volunteer and intern at a variety of medical facilities," added Bosley.
With all this potential, it can hardly go without question that Lake Nona plans to expand. When the LNC building opened it was designated to be the first of four on campus; a ten-year timeframe was given for the construction of the remaining three.
Current plans, according to its executive dean, are that proposals for the second building are being discussed, hopefully to materialize within the next five years.
With the current progress LNC has made thus far and with all the future holds, this dedication day will certainly be one worth attending. Allow yourself a breather in between classes and join in celebrating the fourth of many years to come at Lake Nona's beautiful campus.
View Comments (1)