'Shark Tank' Event Showcases Inventions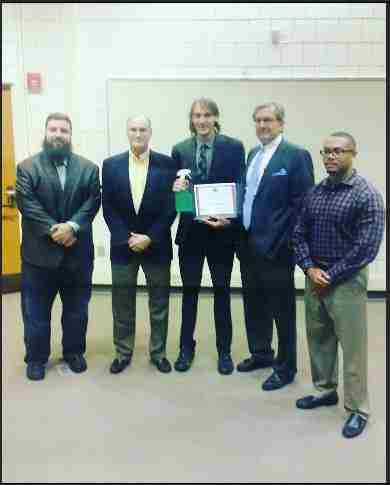 Let's face it…dog poop stinks. Not to mention cleaning it up! But what if there was an easier way to get rid of the horrific substance?
This past Tuesday on the West Campus, the business club Phi Beta Lambda hosted their first "Would You Survive the Shark Tank?" event. This event allowed contestants to create their own business idea. One finalist, Charles Hammond, stood out.
Hammond, who has a major in bioengineering and a minor in business, invented a product called "DoGone." "DoGone" is a green liquid substance that, when sprayed on dog feces, breaks it down in a way that allows the feces to absorb in the grass without killing it. It actually gives grass nutrients!
Sounds too good to be true right? According to Hammond, it's not! He already has people in his neighborhood trying out his product. They all said it worked. He's even applied to the actual Shark Tank hit television show. He has people working for him, and on top of all that, he has a patent.
Although Hammond seems to have an amazing invention, he still had four judges to convince at the Valencia event. The panel, East Campus professor Jerrid Kalakay, Business Advisory Council member named Nichalas Rawls, attorney and entrepreneur Jonathan Shirley, and West Campus business professor Dr. Barry Bunn assessed the contestants.
The judges asked Hammond some tough questions after his presentation, but Hammond kept his cool and he answered each question with confidence.
"Is this liquid substance harmful to dogs?" asked one of the judges.
"It doesn't hurt dogs if they run through or lick the spray," stated Hammond. "If they started drinking the whole bottle, then it would have an effect on them. But besides that, no." Hammond responded.
Hammond ended up winning the "Would You Survive the Shark Tank?" event. He was able to leave home with a certificate and a brand new tablet.
When asked what sparked this brilliant idea, Hammond replied, "One day I was walking and I stepped into dog feces and I wanted something to change that."
Congratulations Charles Hammond!
Leave a Comment