Arctic Monkeys pack Hard Rock
In a blaze of British indie-rock glory, the Arctic Monkeys packed the Hard Rock Live to sold out proportions.
Friday night, the Arctic Monkeys came to the Orlando venue as part of their headlining international tour in support of their recent release "AM" with supporting act The Orwells.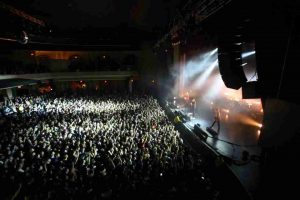 According to the Hard Rock ticketing office, the show had been sold out for more than three months, so that assured a full house. The line for entry was at least a quarter mile long with people waiting ever so patiently for the doors to open in the cold rain.
Supporting act The Orwells are an indie-punk band from the suburbs of Chicago. The members of the band are young, having only graduated high school in 2013. But regardless of age, they put on a great show.
The vocalist Mario Cuomo seemed to embody the great Robert Plant (Led Zeppelin) at times with his mannerisms and on stage antics. At the climax of his escapade, he pulls out his hair and even wraps the mic cable around his neck, but only for a few seconds.
The crowd was ready for the main act to take the stage — and after a long setup — the lights go out and the crowd cheers in excitement. Then you see four dark figures walk on to the stage and the crowd goes wild.
After a brief "Hello," from frontman Alex Turner who was wielding a 12-string electric guitar, the bass drum starts kicking and the band erupts into "Do I Wanna Know?," the leading track off their most recent album.
Normally a four piece band, they were joined onstage by a keyboardist/guitarist. The group's Brit rock sound echoed through the hall creating more excitement with every song.
Turner then states that the next song is "for the ladies," and after a howl from all the ladies in the audience, they kick into "I Bet You Look Good On The Dancefloor" which appears on their debut album "Whatever People Say I Am, That's What I'm Not." They also played the obvious crowd favorite "Fluorescent Adolescent" that got the whole audience dancing.
They wrapped up the night with an encore set of "One For The Road" and "AM" single "R U Mine?"
(All photos courtesy of Hard Rock Live Orlando.)
Leave a Comment