West Campus Career Fair And Block Party Came Dressed To Impress on March 28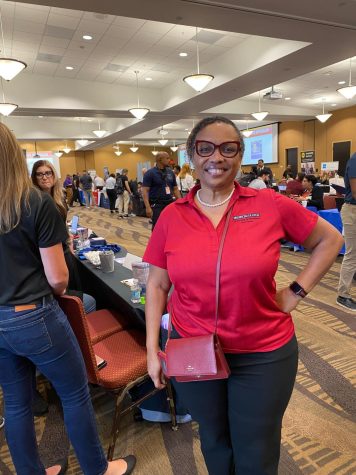 On Tuesday, March 28, Valencia College hosted the Spring 2023 Career Fair & Block Party on West Campus.
Students donned professional suits and dresses, nice shoes and put on makeup and fixed their hair. With resumes in hand, hundreds of Valencia students entered the West Campus Special Events Center with a goal of employment in mind. With 49 companies attending, the event filled up during the 10 a.m. until 2 p.m. hours.
Facilitators provided raffle sheets and gift bags as attendees took advantage of the proximity for so many well-known company names and college resources to elevate their options for summer employment. A DJ and pizza lunch offered a lighter touch and social outing to the less than stressful job hunt and networking event.
Michelle Terrell, Internship and Workforce Services Director, explains, "This is our first in-person career fair since 2019. We wanted this event to be something exciting but beneficial for students, faculty and employers. The students can connect with employers for internships, part-time and full-time employment but also have a fun experience."
Students had the opportunity to use professional clothing provided by the school, as well as have photographs taken by Proshots Event Photography @ProShotsEvent for LinkedIn and professional profile pictures. Fresh breath strips, hair ties, and shoes were also available. 
Organizing a 49-company job fair wasn't easy, and Terrell says the real challenge was rebuilding connections.
"Coordinating everything, rebuilding the connections for companies where we no longer had one. We had to really reach out, find new contacts and make sure we invited them."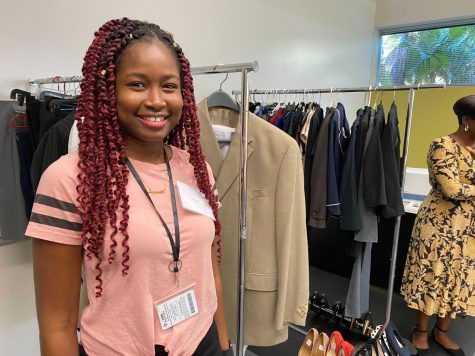 Volunteer and student Marc Layana Regis, Criminal Justice, 19, helped suit up students in professional attire. "It's beneficial to students, because they get to learn about interviews and can get a job. They can see use professional attire and learn helpful tips, as well as resources that the Career Center provides," Regis encouraged. "I value the help I've gotten for my resume and cover letter." 
Valencia alum and working student Siamak Erami, '22, AA in General Studies, is currently pursuing a Bachelor's of Applied Sciences of Computing Technologies and Software Development. He volunteered through his role in Career Pathway – Tech Express, a program aimed to connect students pursuing A.S. degree pathways. Erami says, "I think this is a pretty good event, I went to another event at East Campus with four tables and felt very underwhelming. There's a lot of good companies here today. It was pretty cool to see a congressman's office staff and Siemen's." 
Christine Moran, West Campus Career Center Coordinator, finds more than employment in the face-to-face exhibition. "It's beyond just traditional opportunities such as internships and fill-time positions," Moran noted.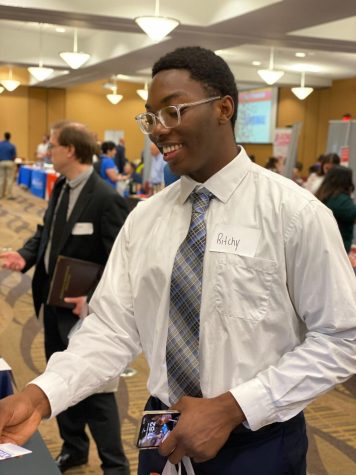 "We are getting deeper relationship where we hadn't before. Companies are expressing interest in helping prepare our students with resume development, reviewing resumes, feedback and mock interview events. Moran continues, "Through the fair, the Career Center was able to have an employer offer to present at a future Wednesday resume building workshop."
Nike, Inc. Talent Teaming and Development Manager Jim Murphey says the fair helped recruit for the local Nike stores. "We are sourcing for two stores within ten minutes (of West Campus)," continues Murphey.
"We offer experience in retail and as one of the best manufactures in the world… you get internal exposure to internships, design,  finance positions; an entire view of career opportunities." Murphey hopes the stores can come once or twice a month to provide students a chance to work for their company.
Ngoc Nguyen, 21, Business Accounting, observed, "There are a lot of opportunities to see many people explaining stuff about their companies; it gave me a chance to see what I need to do for jobs."
Ronald Pasteur, AST for Apartment Management Technician, simply stated, "This is one of the best fairs I have ever been."
There will surely be more to come of these programs and fairs with COVID-19 mandates gone and students continuing to make their way back to campuses each new term.