March 28 Ilyse Kusnetz Writing Festival Aims to Focus on 'Ourselves'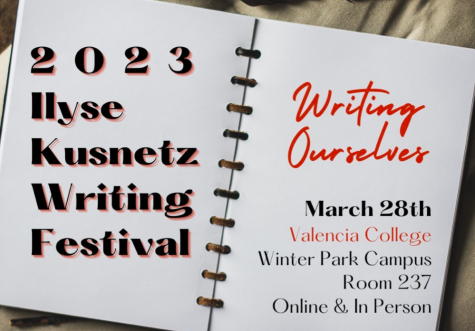 On March 28, Winter Park Campus hosts the "Ilyse Kusnetz Writing Festival" in Room 242 starting at 4 p.m. The festival honors former Valencia College Professor Dr. Ilyse Kusnetz, recipient of the 2014 T.S. Eliot Prize for Poetry "Small Hours", and her many contributions to the literary arts.
This year's theme is "Writing Ourselves" with the goal to introduce autobiographical writing as a means to explore a sense of self. According to the event website, "writing is the process of taking what is internal, perceived or believed, and making it real in the world as text." Writing Center Director and published author Stephen Narain explained the concept of this year's theme.
"We see a lot of chaos in the world," says Narain, offering there are two ways to see the world; experiential and as a society. Narain continues, "Modern writers reach a place, the edge of comfort… it's crucial to learn how to navigate past it. It's important for students to overcome writing (obstacles) to be able to better understand themselves." The goal of the festival is to do just that.
Events will begin with a 4 p.m. writing workshop by English Professor Michael Wheaton. Wheaton is a publisher of "Autofocus" literary magazine, host of  "The Lives of Writers" podcast and editor of "Autofocus Books".
Submissions this year include a story from an Iraq War veteran as well as other contributors.
The event will include a reception from 5 p.m. until 6:30, followed by a "curated open mic" after the workshop with readings of submissions.
Visit Winter Park Writing Center for more information on the event or email out to Professor Stephen Narain.