Phi Theta Kappa Attends Florida Regional, Earns 'Five Star Chapter'
The Alpha Phi Zeta Chapter of Phi Theta Kappa represented the Osceola, Lake Nona, and Poinciana Campuses at the Phi Theta Kappa Florida Regional Convention from March 3 through 5.
Phi Theta Kappa Florida Regional Convention was held at Embassy Suites in Boca Raton and featured workshops, presentations on community service, research, leadership and more. Students also had the opportunity to talk with representatives from transfer colleges and universities.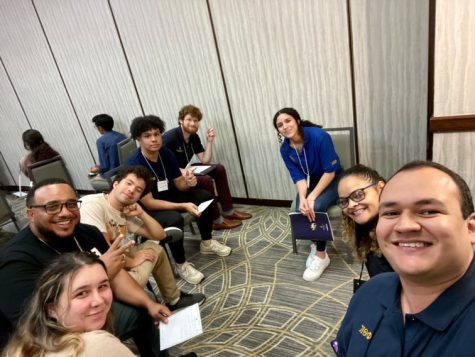 According to the Phi Theta Kappa website, PTK honor society was recognized by the American Association of Community Colleges (AACC) as the official honor society for two-year colleges in 1929. More than 3.8 million students have been inducted since 1918, with approximately 250,000 active members in the nation's community colleges. Membership requires a one-time payment, 12 credits, class enrollment, and a cumulative GPA of 3.5.
Chapter representatives included Public Relations Officer Eduardo Vergara-Munoz, Hospitality and Tourism Management, and VP of Service Aleyna Mahadeo, Nursing. Professor of Mathematics and Chapter Advisor Dr. Melissa Pedone also attended.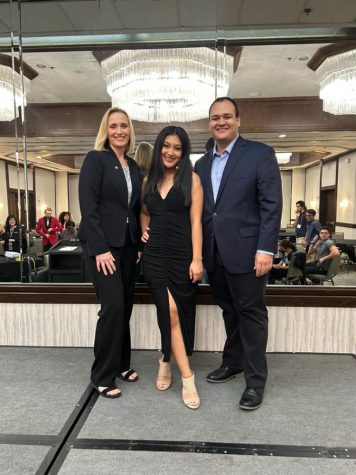 Mahadeo attended closing activities on March 5. "We spent hours together socializing after the conference activities and learning about each other," says Mahadeo.
"I am feeling sad now that it is almost time for the event to end. This was so fun, I am sad that this is the last night."
Vergara-Munoz said, "I am so grateful to have had the opportunity to attend the Florida Regional Convention. I learned so much from the different organizations that are present here, especially 'Be The Match'. From them, I learned how small acts of service can save lives. I want to thank Valencia College, Phi Theta Kappa, and the Phi Theta Kappa Florida Region for providing me the opportunity to attend such a meaningful event." 
Be The Match is an organization that manages the national bone marrow registration database and matches patients with blood cancer disease with donors. They were selected as the Florida Regiona's service organization for the next year and Valencia College's Phi Theta Kappa chapters will be working with them on future service events. According to a 2021 report, Be The Match provides medical services and research with 68% of every dollar and have facilitated over 110,000 transplants since 1987.
While at the convention, Alpha Phi Zeta  competed in a variety of awards competitions. The chapter was named a "Five Star Chapter", the highest rating given by the Phi Theta Kappa national organization. Alpha Phi Zeta was elected to the regional position of Communications Hallmark Chapter and will fulfill the responsibilities of that position for the entire State of Florida through the next academic year. 
Two chapter art entries, pictured, were also recognized. 
Congratulations to the winners and achievements of Valencia's Alpha Phi Zeta chapter and Phi Theta Kappa.