Valencia 'Comes Out' During Orlando Pride Event on October 15
Valencia College's Gender Sexuality Alliance and Valencia Pride clubs joined together to walk in "Come Out With Pride" on Saturday, October 15. The nine-hour event at Lake Eola Park and Downtown Orlando featured kiosks, vendors, performances and a parade. Over 23 students, faculty advisors and supporters composed the Valencia College Gender Sexuality Alliance group as they marched around Downtown Orlando's Lake Eola Park from Orange St., turning left first onto Central Ave., then onto Summerlin Ave., before finishing in the Thornton Park district on Robinson Street.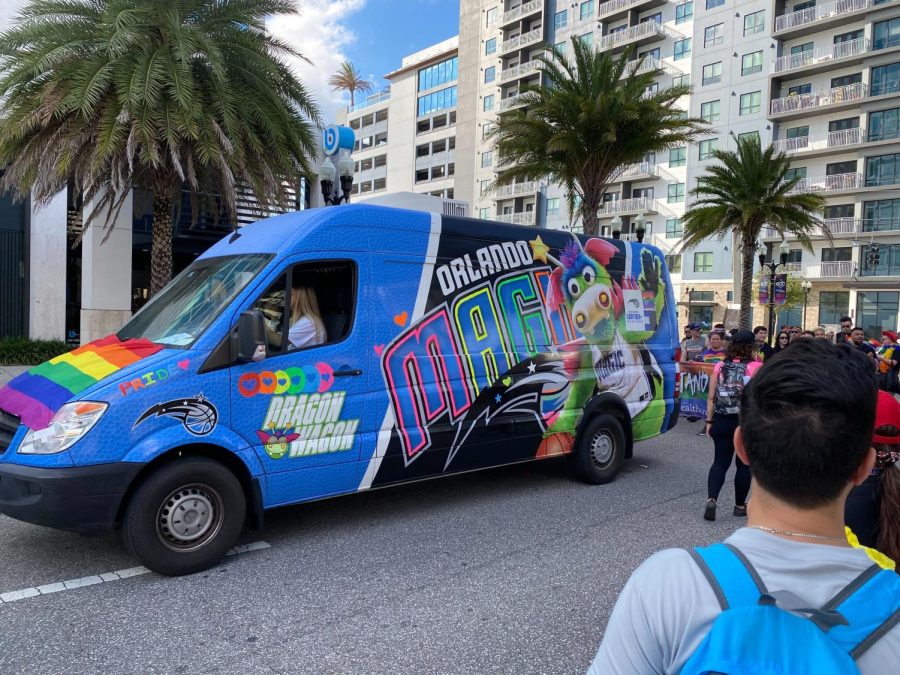 Orlando's Pride 2022 event "Come Out with Pride" is hosted by Come Out with Pride, Inc, a volunteer nonprofit organization "inspired to make an impact in Orlando's LGBTQ+ community." The Saturday event drew hundreds of thousands to the public park spaces and roadways as hundreds of businesses and organizations participated in  the Pride parade around 4 p.m.
Valencia Pride Advisor Emile Buckley, a Lake Nona Librarian and New Student Experience Facilitator, has attended pride events in the past including in St. Pete, but this is the first time attending an Orlando pride event. "This is huge, this year especially. I live downtown, I love to see all the rainbow flags and support."
"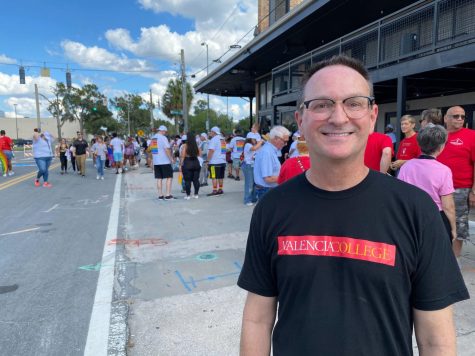 You can see everyone in the community coming out to support. It's important for students to see that. There is nothing but love here."
— Professor Jon Taylor, GSA Advisor
Professors Jon Taylor and Jen Danilowksi are GSA's Faculty Advisors and coordinated the GSA participation. Danilowski says, "It's inspirational. Students get to do this and are surrounded by a community that cares and inspires us to be open, honest and vulnerable." Taylor explains, "It shows our students that they are accepted and have a place at the table, the community supports them. There's over 150,000 people here. You can see everyone in the community coming out to support. It's important for students to see that. There is nothing but love here." Taylor continues, "One of the purposes of the GSA is a safe and inclusive environment where students can be themselves, meet other people, network and make friends, to have a space in Valencia College to call their own."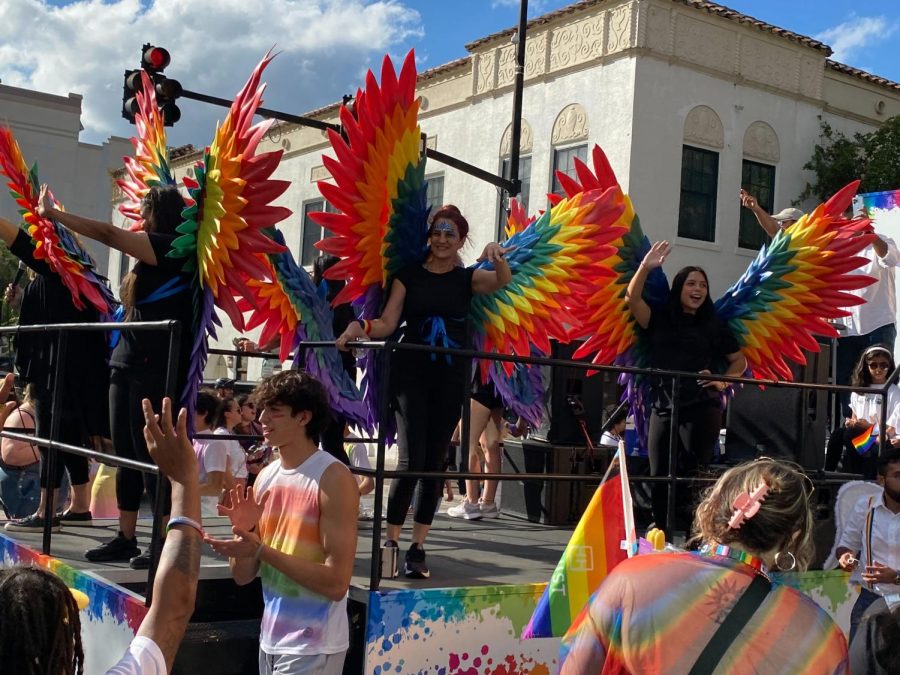 Gender Sexuality Alliance (GSA) President Stephanie Navarro-Niño, 21, General Studies, found out about GSA at Club Rush two years ago. The group renamed itself to Gender Sexuality Alliance from Gay Straight Alliance, Navarro-Niño reflecting,  "We decided to change it this year to have a broad, more spectrum meaning for the community." Gender Sexuality Alliance founding member and Discord moderator Jade Quinones, 20, Digital Media, participated in this year's Pride event. Quinones says, "(Advisors) Jon and Jen have been tremendously helpful for students in being able to achieve whatever they want to achieve; feel comfortable in their skin and in the environment at the school."
Navarro-Niño explains what "Come Out With Pride" means for her:
"I came out to my mom. It was a really great coming out. She knew a bit about what my sexuality was. I'm bisexual. She said whoever I love, whoever I pick, she will be happy for me. My dad was a different story, a bit more traditional. He was a little bit harsh but is coming to terms with it," Navarro explains.
Navarro-Niño emphasizes, "Don't be afraid (if you choose to come out), you can get advise. You can come to advisors, someone who knows. There will always be someone who loves you, and supports you."
Professor Jen Danilowksi describes coming out as a personal journey. Everyone has a different story. Danilowski emphasizes, "When possible, be yourself. Don't lie. Sometimes it is necessary to hide to survive. I'd never be able to answer if a student asked me if they should come out."
Buckley provides hopeful words, saying, "You have a community here at Valencia and you have faculty, staff, other students who have been in your position before and can support you along that way. If you have not been to Pride in the past, everyone is welcome. Anyone part of the LGBTQ+ community, allies, families; people of all ages. Join us in the future."
LGBTQ+ members under 25 have access to organizations such as the Zebra Coalition and the Orlando Youth Alliance to help. It's important to know, there are resources for anyone choosing to come out as gay, queer or any form of sexuality.