On September 14, East Campus Counselors Hosted Suicide Prevention Exhibit
Trigger Warning: Suicide and Suicidal Ideations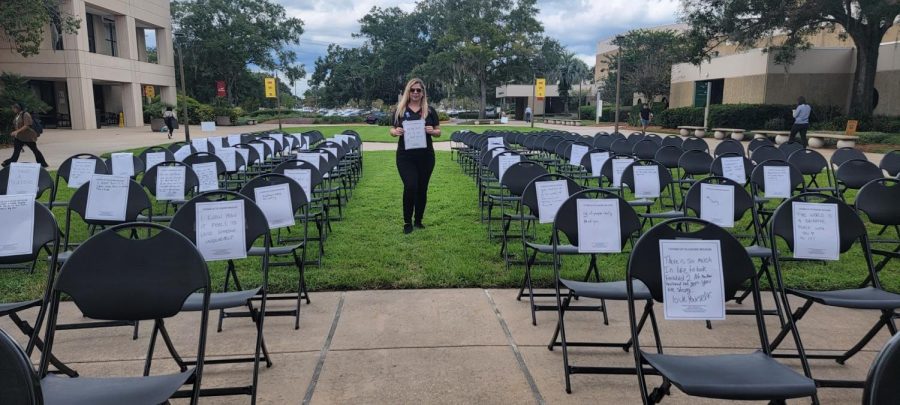 September is Suicide Prevention Month and Valencia College remains active in the fight against mental illness and the tragedy of suicide. On September 14, Valencia College East Campus Counselors hosted "Stand Up to Suicide", a visual interactive exhibit of 126 chairs for the number of individuals who commit suicide each day, a statistic that translates to one every eleven minutes. Students and faculty could walk the exhibit and add a note of encouragement or hope to those struggling with suicidal ideations. The message provided stated "I stand up to suicide because…" with room for additional words to be added by attendees. An estimated 24,000 college student suicide attempts are made each year, and 1100, or 1 in 22, complete the act.
Throughout the month of September, college clubs, organizations and programs will be continuing to bring resources to students, especially post-COVID era and with the hectic pacing and stressors of pursuing a college education.  Valencia East Campus Counselors set up chairs and a booth with an option to draft messages to those struggling.
The counselors explained each campus has counselors who either are assigned to it or regularly visit. Some students felt heavily impacted and have experienced suicide or suicidal ideations personally.
Kiarah-Nyree Wade, 18, AA in Nursing, recalls a difficult time when her mom almost died giving birth to her little sister. "If I lost her… it put me in a spiral. I wanted to give up. I had thoughts of ending it, but seeing my little sister even being born premature, I held her in my hand and heard her breathe. Seeing her so happy, made me not want to give up." Wade offered encouragement, " There's life to look forward to. You have to find that self-worth, life in different aspects. You are going to make it. You have to keep fighting, no matter the issue, you have to take risks so you can feel better about yourself."
Kevin Churray, 34, Information Technology, is a veteran and former Navy submariner, and talked about his military experiences. "For me personally, it's weird. What do you say? I was in the Navy, but never served overseas. I was deployed on a sub," Churray continued,  "I know people are impacted by it. People who served in Afghanistan, Iraq, they are dealing with a lot more than me."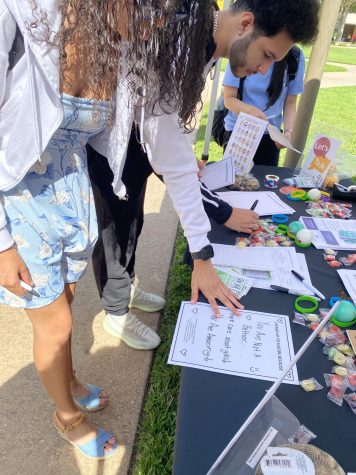 Valencia East Campus Counselor Steve Tullo says, "When students become aware (of help)," he says, "we believe they will make it in. Reaching out is the biggest and first step. One of the biggest elements in suicide is that people don't feel they belong. But when they do get that sense and that they matter, it reduces the likelihood."
"Stand Up to Suicide" is part of the Suicide Prevention Month programming. The purpose of the event is to unite the Valencia campus community during suicide prevention month as we want to highlight the importance of purpose and a sense of belonging to college, community. Numbers by death has grown, statistically loneliness has increased. This event shared how to be part of the culture of standing up against suicide. It asks,  "What can you do to be part of the larger societal group to support those who have struggled and stand up to suicide?"
Valencia Counselors focus on overall well-being with supporting data from the Center for Disease Control and Prevention (CDC), SAMHSA Substance Abuse and Mental Health Services (SAMHSA), National Alliance on Mental Illness (NAMI)  , and Active Minds. American Counseling Association. We use reliable resources.
Valencia College club Active Minds, a chapter of the nonprofit, spans over 600 colleges. Leah Basaria, Active Minds' advisor, tabled the event and had this to say: "Active Minds is dedicated to promoting mental wellness, suicide prevention and de-stigmatizing the 'ask for help'. People think they need to suffer in silence, and that's not true. There are resources available. We are here to connect them to those resources. 988 is a fantastic idea, I'm super glad it's being implemented than a whole 1-800 number. It has driven up the number of calls to the Suicide Prevention Hotline."
Other resources on mental health can be found here.