Six-Year Anniversary of Pulse Nightclub Attack Marred With Continued Gun Violence, Hate Crimes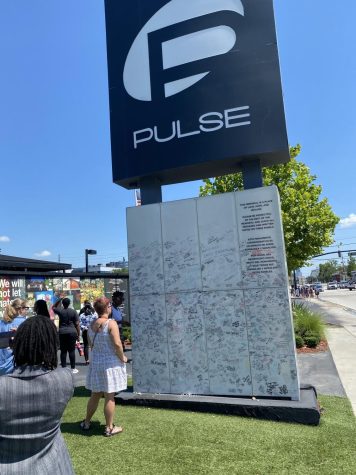 On Wednesday, June 8, Valencia students and staff from across the various campuses arrived at the Pulse Interim Memorial site for a guided walk with onePULSE Foundation. Transportation from the different college campuses allowed students and opportunity to see the memorial days before the sixth anniversary of the nightclub shooting. On June 12, 2016, a gunman entered the nightclub and attacked the patrons of the popular Orlando nightclub, murdering 49 patrons. For the U.S., the attack remains the deadliest against LGBTQIA+ and the second largest terror attack after 9/11.
Of the 49 killed, seven shared close ties with Valencia College; Amanda Lizzette Alvear, Oscar A. Arancena Montero, Cory James Connell, Mercedez Marisol Flores, Juan Ramon Guerrero, Jason Benjamin Josaphat, and Luis Omar Ocasio Capo. The former Orlando nightclub has a large interim memorial wall constructed around the building with images, mementos and keepsakes shared. A group of around two dozen students, staff and faculty attended the Pulse Interim Memorial site and were led around the decorated wall and spaces by Carley Matthews, Educational Programs Specialist for onePULSE Foundation. Many of the students were part of Student Development or the Student Government Associations of their respective campuses.
Matthews explains how she became involved in retelling the tragedy and preserving the memories of the victims. "I was fifteen when the tragedy happened. I just remember feeling a lack of hope. I was raised Christian so seeing my immediate community responding a certain way because of where it was and who the victims were, then seeing the broader Orlando community have a different response; it really launched me into a crisis of faith. I was like, maybe I am queer, maybe I am not, but I am certainly Christian and I knew historically how the church had treated queer people."
"One thing I appreciate about the onePULSE Foundation is faith community council where we bring leaders of the faith community together to talk about the issues and talk about how to remember our 49 angels in a positive light and reflects who they are. For a lot of queer people, holistically, faith is oftentimes a part of us. We get pulled away from, removed from our community because of our identity. That is what community and social issues I fight for," Matthews summarized. Matthews has worked as an intern for onePULSE Foundation and Remembrance Week, including the annual 4.9K CommUNITY Rainbow Run. In March, Matthews became the Educational Programs Specialist.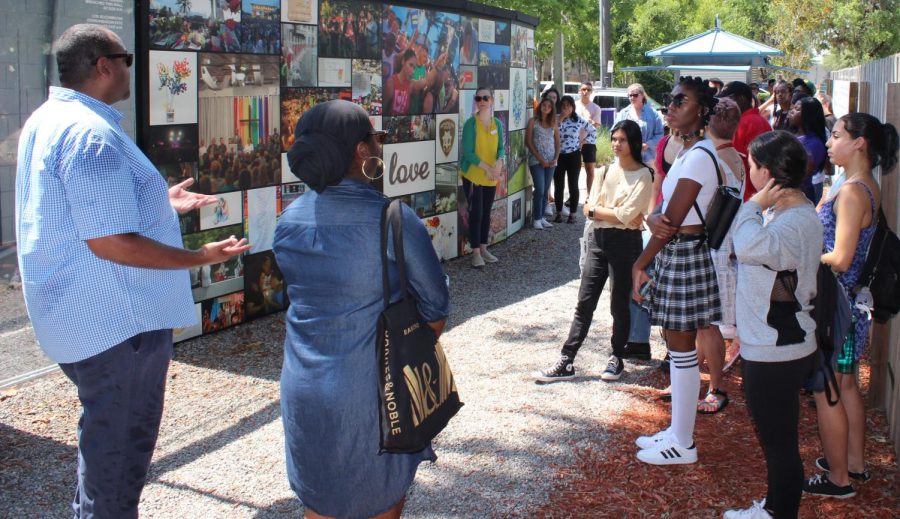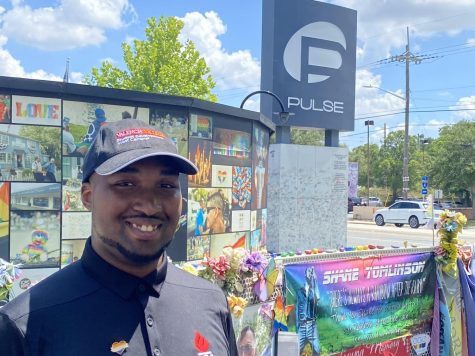 Ty'Jon Streets, Student Government Association President at West Campus, reflected, "I thought it was going to be a little more gloomy because of the situation that happened on that day. Upon coming here, what I really learned instead of a situation that could have divided Orlando, or the country in general, actually just unified people." Streets continued, "You come here and see how much love is given to the victims; not only them, but to the movement itself and what has transpired. People of all walks of life honor these people. Despite all the tragedies that may happen, as long as you have love in your heart, you can unify and come together as one."
Serena Ball, 22, Digital Media Fundamentals, was also a first-time visitor of the memorial site. Ball comes from a family of police officers and inquired about the first responders. Ball remarked, "It makes me wonder. How did they honor any of the first responders? What fire engine was here first? What ambulance? Who was the first unit to respond? Who was the first cop to go inside?" Ball notes the resentment the some of the BIPOC community has had with police and asked if onePULSE was aware of the controversies. Carley Matthews answered, stating, "We focus on the victims who were here."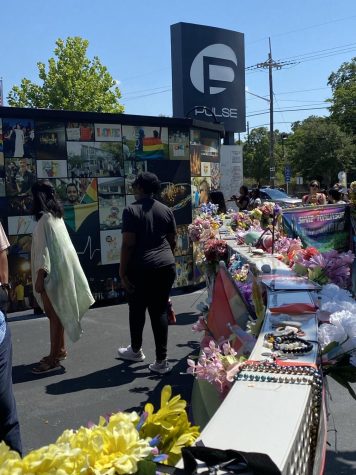 Alina Siddiqui, a Valencia College Counselor, attended the Pulse Interim Memorial for the first time this year. "I think there are a lot of students here whom it is their first time as well. It's a lot to take in. What immediately jumped out to me and broke my heart was this is one of the tragedies related to hate and gun violence. And as much as this happened in 2016, almost six years ago, we are not that far away from other tragedies related to gun violence. This breaks my heart to be here; not just for the grief that this memorial represents, but the grief that we continue to experience in this country."
I just remember feeling a lack of hope. – Carley Matthews, Educational Programs Specialist, onePULSE Foundation
Hate crimes continue across the U.S. according to reports from the Department of Justice. The Biden Administration has sought to stop hate crimes against Southeast Asians, Pacific Islanders and Hawaiians through the COVID-19 Hate Crimes Act after numerous assaults on citizens during the peak of the pandemic. Attacks on the gay community continue as well. In 2020, a man torched a dumpster of Queer/Bar,  a gay nightclub in Seattle, after seeing the word "queer" outside.
Another two recent attacks include the May 14 Buffalo, New York, supermarket and the May 24 Uvalde, Texas, Robb Elementary school shootings. The Buffalo supermarket shooting left 13 dead after an 18-year-old live-streamed his attack and posted a manifesto online saying he had targeted the predominantly Black community. On May 24, an 18-year-old entered Robb Elementary School in Uvalde, Texas, killing 19 children and two teachers. These two recent events have spurred rallies and protests addressing gun access and gun law reform while targeting Republican politicians receiving campaign funding through the National Rifle Association.
"March for Our Lives" organizers hosted over 450 demonstrations across the country on Saturday in protest over inactivity from national policy-makers on background checks, "red flag" laws for better gun control and limiting age of access to semi-automatic weapons from 18 to 21 years old. March for Our Lives is a youth-driven organization created from the events of the Marjory Stoneman Douglas High School in Parkland, Florida, in 2018.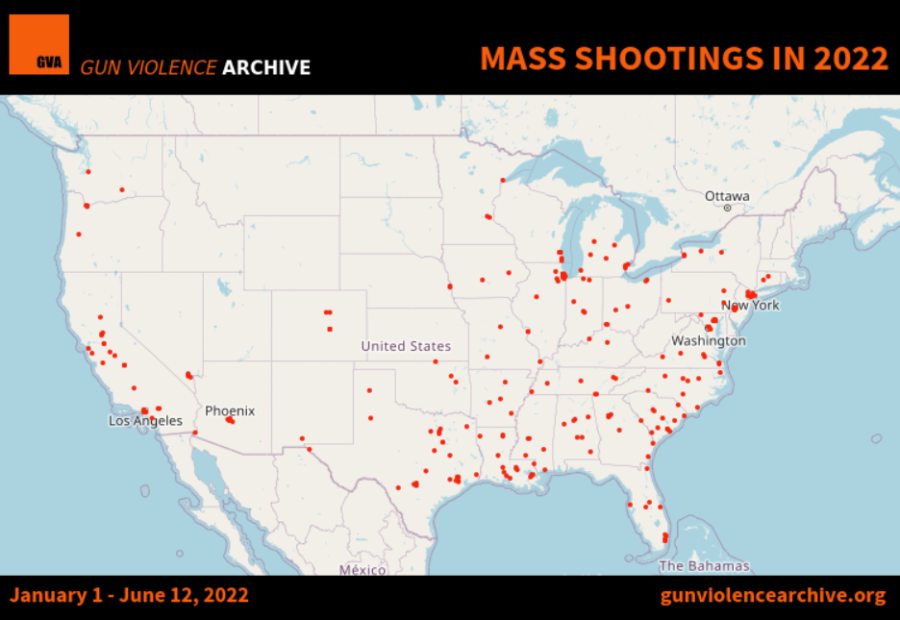 According to Gun Violence Archive, there were a total of 611 mass shootings in 2020. This year already has 260 reported incidents with some analysts projecting it may become the worst recorded. With so many mass shootings, the question remains; what can be done to reduce the number of killings, school shootings and targeting of minority and LGBTQIA+ communities?