Valencia Dance Theatre, Dr. Phillips High School and Yow Dance Hosts "3 in Motion" on February 4
Valencia Dance Theatre, Dr. Phillips High School Dance Magnet Program, and Yow Dance will host "3 In Motion" in the Valencia College's East Campus Performing Arts Center on February 4 at 8 p.m. This is the first Valencia Dance performance of 2022 and the first live performance since COVID-19 hit the United States in early 2020.  The performance  will include 11 separate pieces, creating a myriad of choreographed visual art sets. Some dances have been created by the students themselves.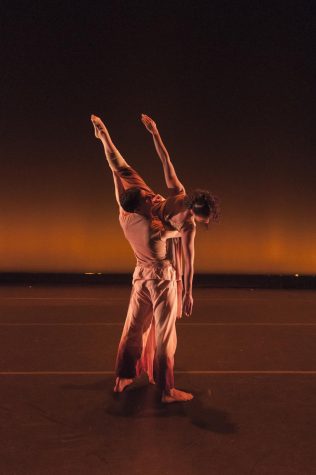 Yow Dance is an Orlando-based modern dance company founded by artistic director Eric Yow. Director Eric Yow spoke about some of the obstacles setting up this multiple group event. Yow says, "This collaborative show celebrates one of the longest educational relationships I had had in this community, so it holds great meaning to me." The groups have worked together for 17 years.  "There are always some challenges when rehearsing any large group of performers," Yow explains. "Add the pandemic… and it was remarkable to see the dancers' heart and vigilance shine through. We delayed working on partnering." Yow noted that any concerns with exposure had the performer staying home. Through it all, Director Yow says that it is "amazing to see how art can persevere".
Valencia College student Megan Bannatyne, 21, pursuing an A.A. in Dance Performance, explains, "We have been working closely with the Arts and Entertainment Department along with the college's administrators on ensuring that the show is not only successful but also COVID-19 safe. We have socially-distanced seating as well as require masks for all of our guests and dancers to keep our faculty, students and audience as safe as we can." Bannatyne continues, "The administrators of the college have been extremely helpful in setting up the show and working through tech rehearsals. It takes a long time to plan a show. We usually go back-to-back from planning and executing one show to another. We are just very grateful we work alongside people who want us to succeed."
The Associates in Arts in Dance Performance is typically a two-year program. This means many of the troupe haven't performed on the Valencia PAC stage. Dancers have worked tirelessly since August to prepare for this performance. Jedion Dumas, 21, A.A. in Dance Performance, talked about the audition and selection process to be involved in the Valencia Dance Theatre. Dumas says, "(Practices) are six days a week… It can range from three hours to an hour and a half."
Jose Morales, 28, A.A. in Dance Performance, sees the performance as a chance to reflect, quoting Misty Copeland of the American Ballet Theatre; "'I may not be there yet, but I am closer than I was yesterday.''' Morales continues, "I do think this is something that we as performers abide by. We are always pushing forward… never staying stagnant at whatever level we are at. Personally, I always look forward to the next day and work harder." On June 30, 2015, Misty Copeland became the first African American woman to be promoted to principal dancer in American Ballet Theatre's 75-year history.
Interested in the art of dance? The RSO Valencia's Dance Club is hosted on East Campus and meets the first Friday of every month. Email [email protected] for more information. All degree types are welcomed to attend.
Tickets are on sale for "3 In Motion" at $12 for adults, $10 for military students, staff, and seniors. You can purchase your ticket here.