Valencia's West Campus Hosts 'Veterans Voices' Panel on November 9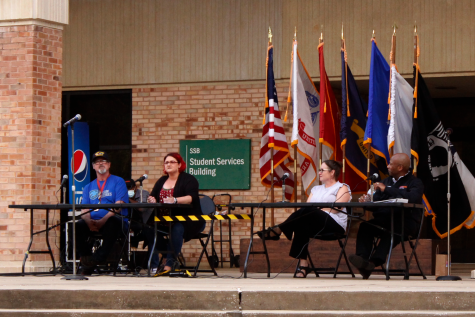 On November 9, the Valencia African Heritage Association partnered with Valencia's Arts and Humanities Department to host "Veterans Voices – Valencia Celebrates Veterans on West."
The event was held at Valencia's West Campus at the SSB Patio and featured military veterans and civilian guests reading from poet and Army veteran, Elizabeth Jackson, an excerpt of "Herakles" by Euripides, followed by a closing discussion panel.
Sarah Lockard, Veterans Voices Director, remarked, "I am very happy to be honoring veterans and honored to be putting on this event." Event organizers Christa Menninger and Julie Montione sat down with Valencia Voice and explained the motivations behind the panel.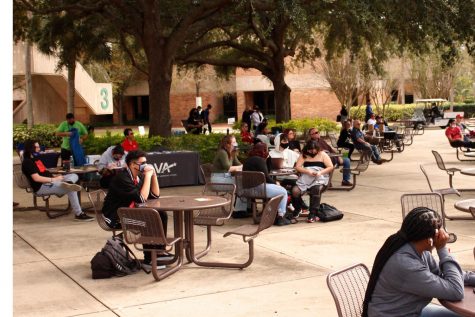 Menninger stated, "The idea, what we do, is bridge the gap between veterans and civilians and provide support for all people who experience trauma. Open up the conversation and this [event] let us do that."
This is Menninger's first Veterans Voices event and she discussed why a 2,500-year-old play helps open communication. "People can feel a little more comfortable about trauma when talking about plays. How can I work to be a Theseus as a non-traumatized individual and be a resource for Hercules in helping people move forward?" she explained.
Euripides depicts Hercules as winning a victorious war against the kingdom of Orchomenus in Boeoti, later marrying Megara, and having children. The excerpt discussed how Hercules was driven to madness by the goddess, Hera, resulting in the deaths of his wife and children. Hercules would go on to atone for his family's deaths by completing the 12 trials, later ascending to become a god. The tragedy works to show how one thinks about and experiences trauma.
"I have supported Julie for four years and every grant is about giving students and veterans, space. We can use these texts to help them," said Ana Caldero, Dean of Arts and Humanities on West Campus.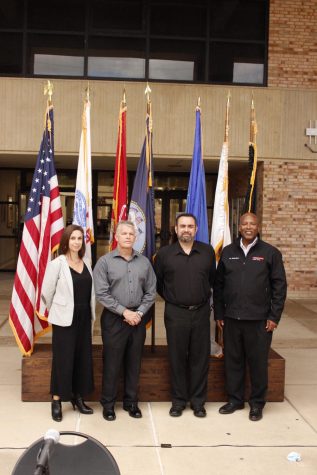 Readers included Rachel Hunter; Executive Dean School of Public Safety, Jeff Goltz, a 20-year Law Enforcement and Air Force veteran; actor and entertainer Stephen Lima; and Dr. Joseph Richardson, Valencia Vice President For Student Affairs and Air Force veteran.
Goltz spoke to the audience commenting that not only military veterans experience trauma, and that his participation and takeaway from the reading addressed how First Responders and EMTs also struggle with trauma when they observe a harsh environment or difficult events. "I thought 'what a great event and would love to be a part of it'," Goltz explained.
U.S. Army veteran Elizabeth Jackson, LCSW, recited a self-written poem "I Stand Here In Between." Jackson was inspired to write the poem after visiting another Veterans Voices event. The poem addressed the conflict of a veteran never fitting in or being unable to find a "sense of peace, sense of balance."
Students in attendance had new perspectives on connecting with veterans after the panel. "It gave us information on how to reach out to veterans. My great uncle was Army and passed before I was born. I think it does relate to me," said Dayquan Grady, 18, Associates in Business.
Professors of Humanities Sean Lake and Julie Montione were recipients of the National Endowment for the Humanities "Dialogues on the Experience of War." This grant offered the opportunity for the development of discussions around ancient literature and recurring themes of trauma and war still relevant today.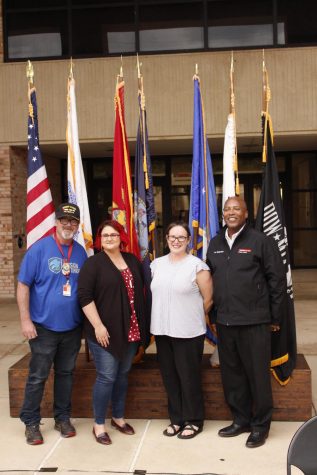 "I have supported Julie for four years and every grant is about giving students and veterans, space. We can use these texts to help them," said Ana Caldero, Dean of Arts and Humanities on West Campus. "Valencia College does an amazing job of being inclusive to veteran needs, making sure all staff are aware that veterans are non-traditional and can bring unique things to the classroom," she added.
The Endowed Chair recipients also purchased Greek and Roman antiquities which will be displayed for further storytelling opportunities.
About 35 guests attended with vendors from the Florida Department of Veterans Affairs, African Heritage Association, and Valencia's Veteran Services. Light refreshments were provided.