Orlando Burger Week With The Voice
*This story will be continuously updated as more burgers are reviewed.

Orlando Burger Week is currently underway. Up until the end of March 3rd, you can enjoy signature burgers from 30+ different restaurants for only $5.

In light of the week, we sent a Voice writer to as many participating eateries as we could to try a burger and review it honestly. Here is what the staff had to say about their experience:

The Sixth Barrel Burger at Roque Pub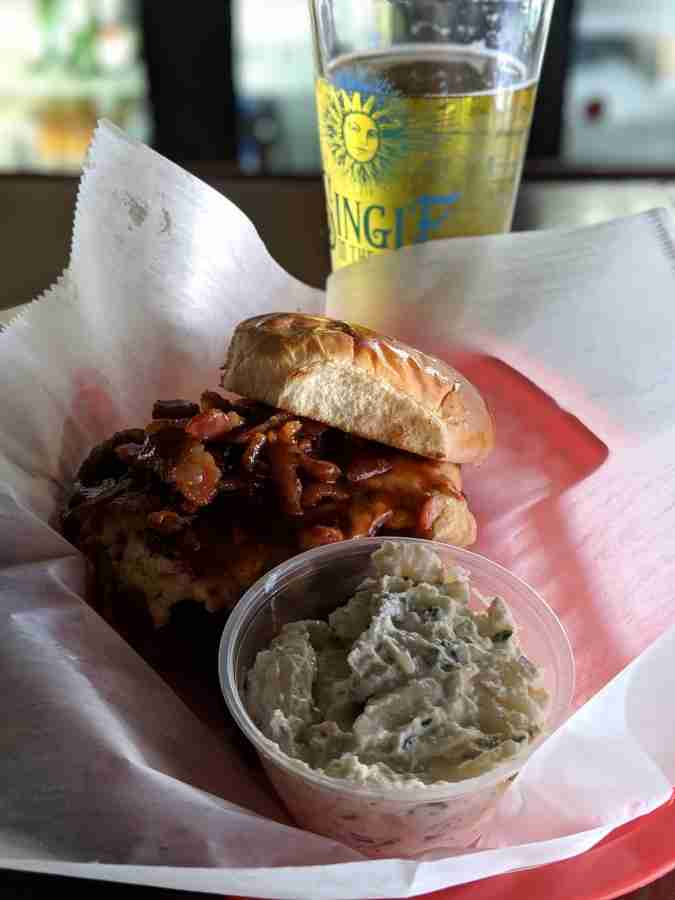 Don't come for the burger, do come for the beer.
Roque Pub makes the most of its strip mall location with dark décor, a lot of sports television, and options for pool, darts or just listening to the juke.

The Sixth Barrel Burger was simply presented in a plastic basket with wax paper. The sweetness from the orange blossom BBQ was the predominant taste. I didn't catch any pimento flavor, but the cheese added some salty balance and the bacon pieces were large and tender. I had mine with a side of serviceable potato salad.
Although I wouldn't return for the burger, I'd recommend the pub for the selection of sports and beer. A half dozen TVs were broadcasting rugby and college basketball during my visit and I counted over twenty taps and perused a beer menu with selections easily running into the hundreds.
-Rob McCaffrey, Faculty Advisor
I'm not much of a meat eater so I wasn't too excited for this. I'll try a new burger but it has to be a great one for me to finish it.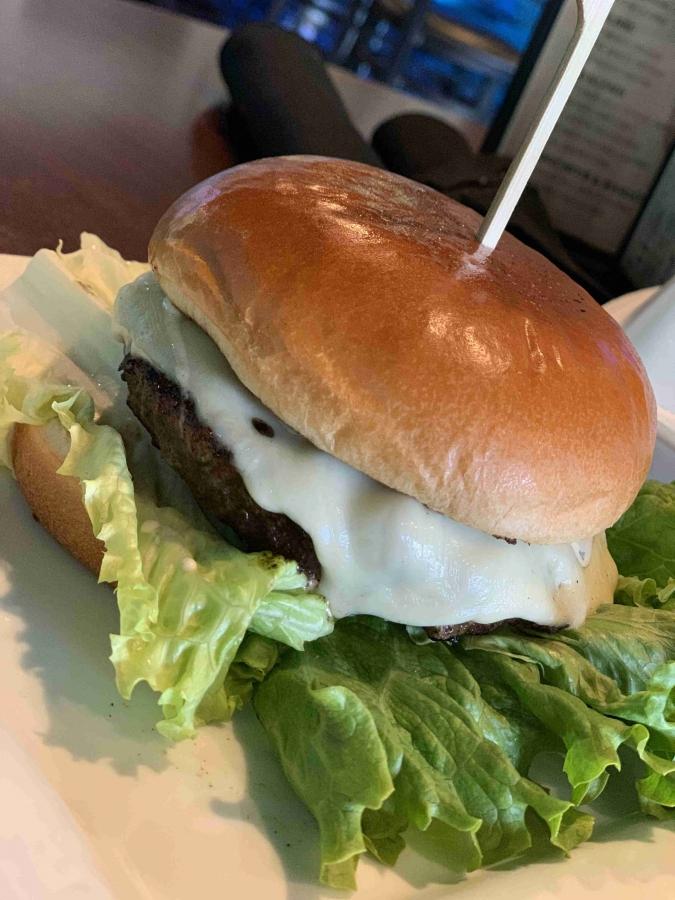 Eastside Bistro is a snazzy restaurant in Avalon Park, with an "all shades of blue" theme inside. I especially liked the outdoor bar.
This burger contains a cajun ranch sauce and swiss cheese that I really enjoyed, despite the fact that I am not a fan of swiss cheese. The flavors mixed well and if you ask for your meat well done, you get it really well done. It definitely wasn't the best burger I've ever eaten, but it is now on my list of "will eat" burgers.
-Jessica Silva, Managing Editor
The Streetcorn Burger at Sideshow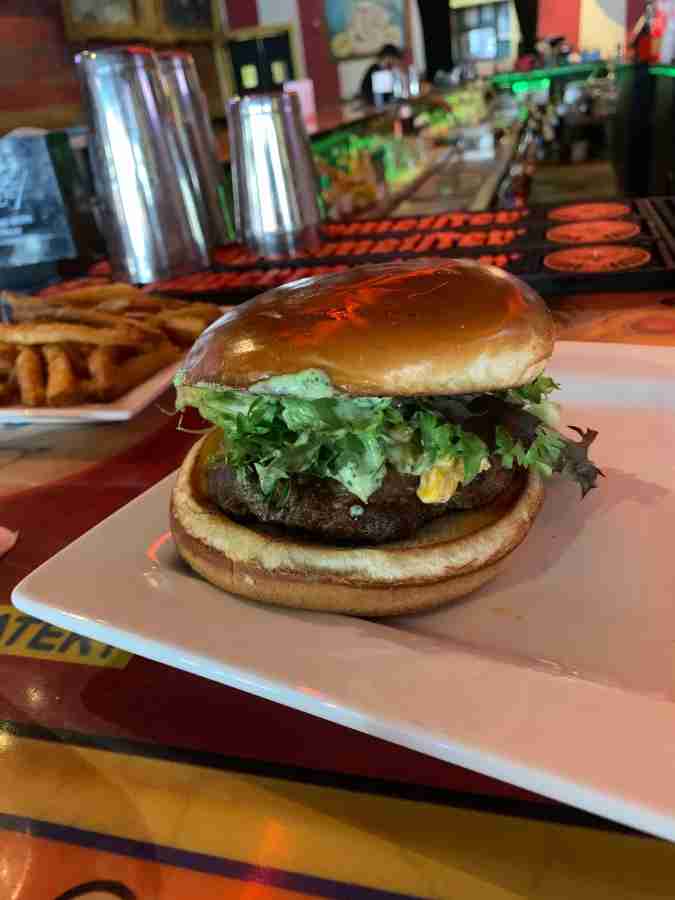 This past weekend I went to a bar called "Sideshow" to try their "street corn burger." Sideshow is located downtown right next to Orlando's new bar/restaurant district Wall St. and is known for their circus theme, featuring things like trick mirrors, and a large endearing (or unsettling) clown head.
The corn street burger was prepared with mixed green lettuce, cilantro, and of course corn. While I probably wouldn't have picked it out of a menu of other burgers, I really liked it! The cilantro added a little kick, the perfect amount if you ask me, and the corn was present but not overwhelming. I suggest that you part ways with the extra $1.99 for their extra crunchy fries.
-Kevin Friedman, Contributor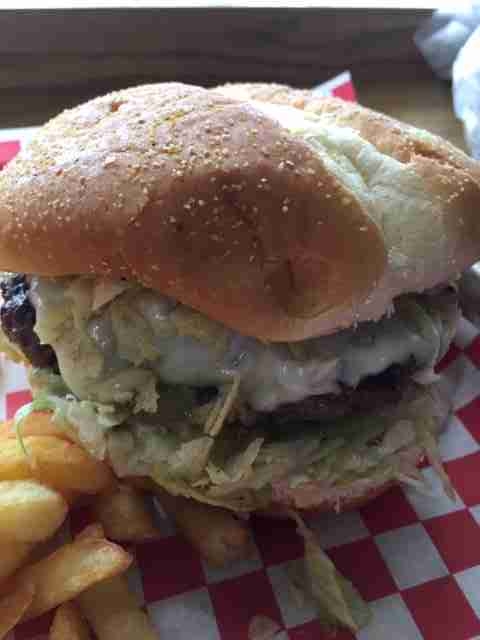 A last minute decision diverted me to Junior Columbian Burger. What a happy accident.

I tried the listed #OrlandoBurgerWeek passport burger – the Cheeseburger. Quite frankly, the description did not do this burger justice.

The burger I had was easily one of the most flavorful burgers I've had in recent memory. This was not just a cheeseburger, but a tower of sweet, texturized, juicy delight. This quarter pounder came loaded with lettuce, tomato (I had it taken off), sautéed onions, Swiss cheese, crunchy potato chips, and garlic, pineapple, and pink sauce (a mix of ketchup and mayo) served on an oversized, doughy bun. The burger was prepared to a perfect medium, but was super messy – a 10-napkin attempt for me. Post meal towelettes would have been useful.

Because I went on a Tuesday, I stumbled upon the weekday special – the cheeseburger, but with fries and a refillable fountain soda for $5.99.

The fries, Cajun style, were just average, but the portion was large, and it satisfied as a good accompaniment.

The ambiance was casual with lots of tables and window bar-height seating. In addition to the $5 burger, the menu included several other weekday specials for $4.99. There was also a sauce bar. An extra feature were sodas from Columbia, Brazil and Venezuela for only $1.60 per can.

I plan to return to try the beef empanadas and Oreo churros.

Junior Columbian Burger is just south of UCF at the corner of East Colonial and Alafaya Trail tucked in the back of a strip mall behind the Denny's and next to YouFit.

-Rebecca Newman, Faculty Advisor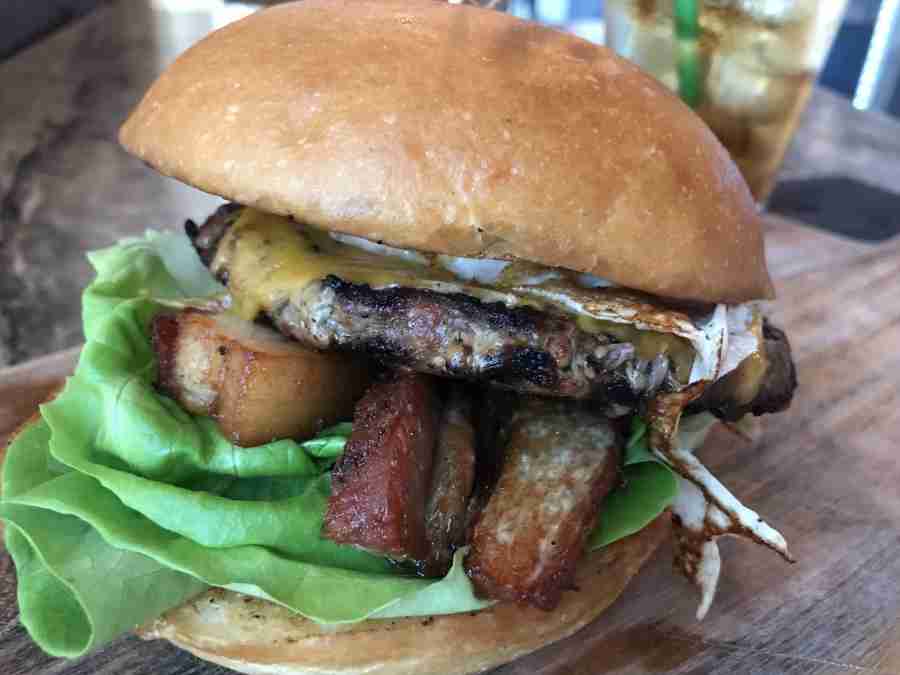 Finding the restaurant was an adventure because it was located inside the Castle Hotel and lacked a sign indicating its entrance. Do not let the mirrors in the lobby fool you. Just take a left after the main entrance, enter through the archway, follow the antlers, and you will find the Antlers Lounge.
Recessed lamps circled an elaborate chandelier, creating a luxurious ambience. Warm candles played nicely with the dark wooden tables and the metallic cushioned chairs. Of course, framed antlers, small and big, were the main theme for the décor.
The Farmer Burger was set upon a wooden tray, a skewer maintained it propped and assembled. While the plating was minimalistic, the flavor was everything except minimal. The pork belly was cooked perfectly; it wasn't tough and the fat, which could have been easily obliterated, remained intact. It complimented the burger rather than competing with it. However, the tomato aioli was the component which brought the meal together, for it provided a needed brightness to the dish.
Regardless of the bizarre location, the burger was an object of great enjoyment. I would return for seconds.
-Bianca Morales, Managing Editor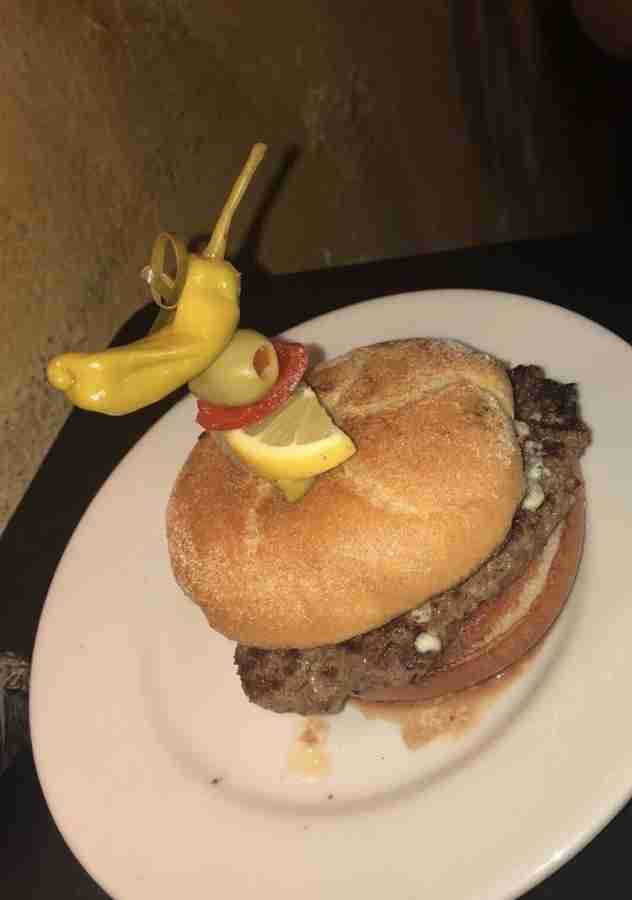 The Bloody Mary Burger at Maxine's
If you decide to go to Maxine's, you probably won't want to wear a Pogba jersey and vans. While I looked out of place in a romantic environment, I did enjoy the great jazz music playing live as I took down the Bloody Mary burger.

Maxine's on Shine had a nice ambience, and would be a great place to take a lady to. She would need to be focused on her dish though, because trying to eat the Bloody Mary burger is a bloody mess. Thankfully it was just my younger cousin sitting across from me and not a beautiful woman. It was so hard to keep together, but worth every bite.

Personally, I would have liked my burger to be cooked a little more. But with the peppers, bloody mary garnish, and melted blue cheese on top, I managed to clean my plate with ease. I had the burger with a side of seasoned steak fries.

I usually like my burgers old-fashioned, just a well-done patty with lettuce, tomatoes, & cheese. Stepping out of my comfort zone for the Bloody Mary burger was more of a success than a regret.
-Justin Maldonado, Contributor
The Classic Cheeseburger at 5 & Diner
I'm a big fan of cheeseburgers, so I definitely wanted to critique one for Burger Week.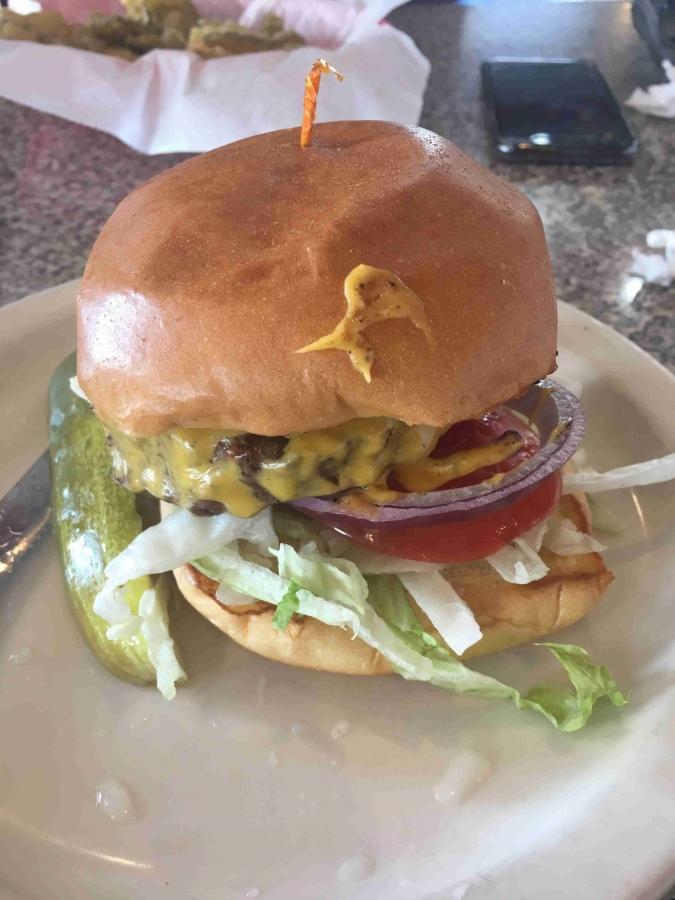 5 & Diner is a 50's themed restaurant in Avalon Park with breakfast, lunch, and dinner options. Inside are old-fashioned booths, decor, and pictures on the walls of celebrities, including Elvis Presley and Marilyn Monroe.

I went to try their classic cheeseburger with American cheese, lettuce, tomato, and onions on a medium well patty, and a slice of pickle on the side. On the Burger Week passport, it says the fries are included with the $5 burger. When I got to the diner, the sign inside said it was an $1.99 upcharge, so I went without. I was pleased to see the size of the burger with its half-pound patty and cheese melted over it, and I was even more pleased after I tried it.

Take a break from your busy schedule, and go back in time to eat burgers and sip on milkshakes at this small town location.
-Nicole Marsden, Writer
A double burger with bacon, veggies, and swiss cheese on a bed of seasoned fries, was the delicious option from Beth's Burger Bar that left me wanting to go back to try the rest of the menu.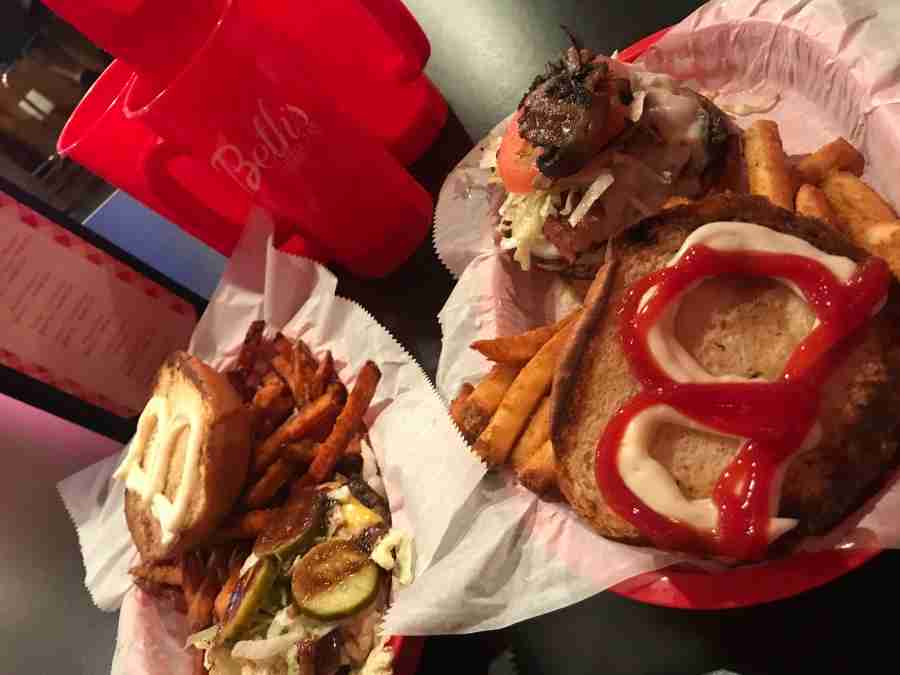 At Beth's, a generous amount of each ingredient is served and you can customize your own burger by adding another piece of juicy meat or crunchy bacon, as I did. Vegetables are fresh and nicely cut and the bun is slightly toasted which makes the burger even tastier.

The restaurant's retro decor and bar, where people can order a drink while they watch sports, gives Beth's an entertaining and active ambiance. Undoubtedly, a nice place to visit if you're around the Universal area.

From a Mac&Cheese burger to a Peanut Butter Burger, Beth's restaurant will make sure you remember their burgers for their tastiness and the nice "B" signed on the bun with the sauce of your preference.
-Nelly Ontiveros Cervantes, Writer
TheChicken Tikka Sandwich at Charcoal Zyka


It's not everyday that I eat at a restaurant that isn't well known. However, trying new things is always satisfying. That's exactly how I would describe Charcoal Zyka.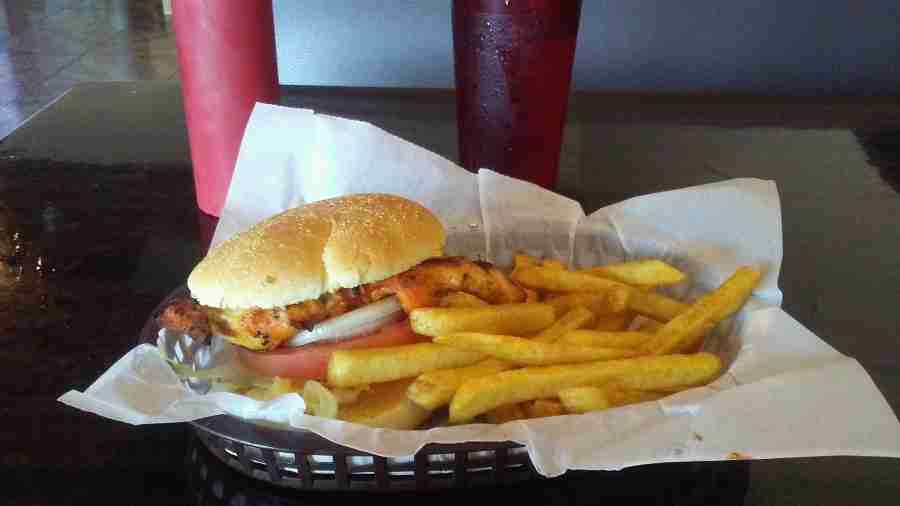 The restaurant itself felt calm, having good customer service. But that wasn't the only thing good about it.
The Chicken Tikka sandwich with the side of fries were a great bit to eat. The fries were crisp and golden, having great seasoning to them.

The chicken within the burger alone surpassed those fries. The chicken tasted very juicy. Combined with sesame seed buns, onions, and lettuce; it was a great burger to have. It took 10 minutes to wait for my order. It was worth the wait.
-Ketlaire Cajuste, Writer
The Double Smokehouse Bacon Cheeseburger at Fuddruckers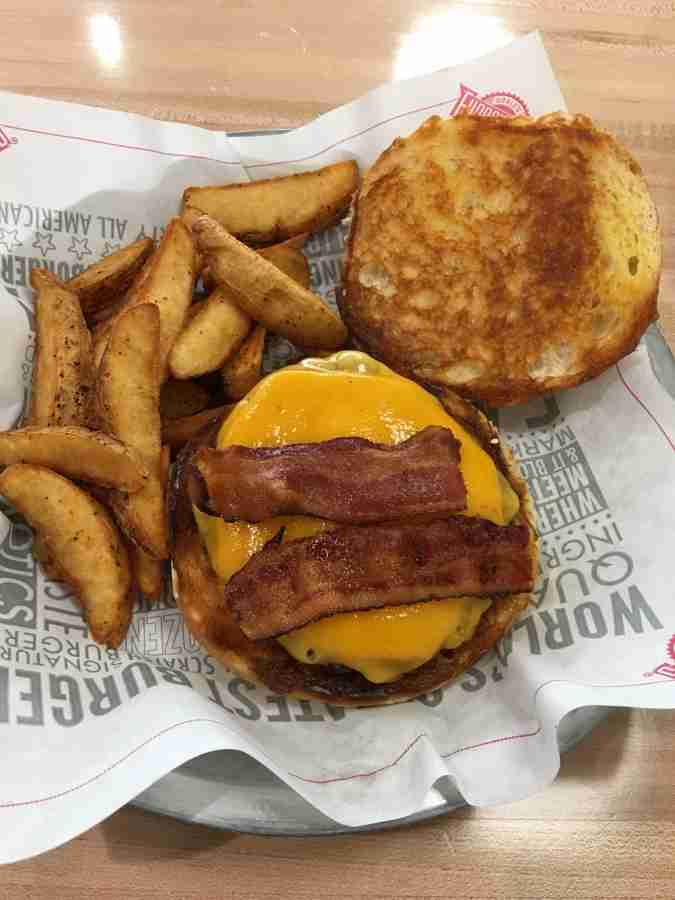 I hadn't had a burger in some time so I went to Fuddruckers and tried their Burger Week burger: The Double Smokehouse Bacon Cheeseburger. This was also my first time eating at Fuddruckers so it was extremely exciting to try a new restaurant that had the unique 1950's diner themed atmosphere.
I ordered the $5 special burger and I decided to make it a combo since I was super hungry. However, even though it was a combo, the price went up to $9.
I asked for a medium-well cooked burger with no additional toppings other than the bacon and cheese included with the burger, fries for the side and a fountain drink.
I really enjoyed this Burger Week burger since it was cooked to my expectations and the bacon added a little extra flavor to it too. I would definitely recommend Fuddruckers to everyone, however, I would not recommend ordering a combo since the price will increase.

-Katie Gilfillan, Writer