Study Abroad Opens Eyes
In our society, where every day we are connecting more with people of different cultures and different races that speak different languages, we are often encouraged to open our own borders, to become more globalized citizens. Studying abroad is one of those things where you are presented with these expectations and are recommended to read all these books and journals to prepare, but these things will never compare to the experience itself.
I can only speak from my 10-day excursion, which does not amount to the experience of the average four-month journey that a normal study abroad semester would take, but I would like to think that the small taste of France and Belgium I received was enough to open my eyes.
When we arrived at the hotel in Paris it was very small. The elevator shaft could only fit two people and not comfortably. Our keys were not your typical room key you'd find in America, where you insert the key into a slot, the light flashes green and then it would unlock the door. These keys were straight out of an antiquities store; endearing, but I struggled every time I tried to get into my room.
We were only in Paris for two days and we tried to fit in all the touristy stuff we could. The morning after our first official night in a foreign country we got up, ate breakfast and left to finish exploring Paris. We didn't experience the warmest welcome in Paris, which came as no surprise. We were told Americans were treated a certain way, but it's one thing to be told and another to experience it first-hand. I am a fairly opened minded person, so most cultural differences among people don't shock me. I was expecting no culture shock, so it came as a surprise to me that something as simple as what I would consider your "typical" hospitable attitude in America was not often found in Paris. In the afternoon, we took a metro to the train station. Destination: Strasbourg, France.
Everyone was extremely excited for Strasbourg solely because we wanted to experience another side of France; not the crowded, average city side.  While we were in Strasbourg, we visited a lot of interesting governmental institutions like the French Parliament, the U.S consulate, the Council of Europe, and the European Corps. One of the perks of going abroad as a class is that you have access to different environments than you wouldn't if you travelled on your own. It's not that people are not allowed to visit these institutions, but they are usually not the go-to tourist spots. Next stop: Brussels, Belgium.
We spent our last three days in Belgium and it could not have been any better. The people, the food, and the weather were all great. The Belgian Parliament was beautiful and the European Commission and Parlamentarium was a great learning experience.
The whole time there was such a surreal feeling; it all felt like an illusion from the moment I got on the plane to Paris to the moment I got off the plane in Orlando. They say you learn a lot more about yourself when you travel abroad and that statement cannot be truer. I realized that I could get over the fact there was no air conditioning in 90% of places I went into, or how everything is a lot smaller in Europe, or that the Internet connection was not always great. It makes me happy and relieved to see that I can get over the small luxuries I am spoiled to have living in the United States but it's interesting to see that the one thing that was hard for me was how cut dry and unwelcoming some people were. I also understand I can't blame the entire city for the actions of some people. The way I see it, these learning experiences prepare me for what life may throw at me one day.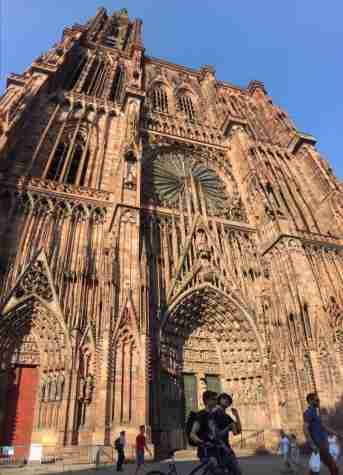 If you are interested in studying abroad take this amazing opportunity that is offered at Valencia. There's is a wide range of courses you can pick, from College Mathematics, to Environmental Science to Humanities. For more information and a list of all the short-term study abroad programs provided go to http://valenciacollege.edu/international/studyabroad/ .