UCF Basketball Preview: Wings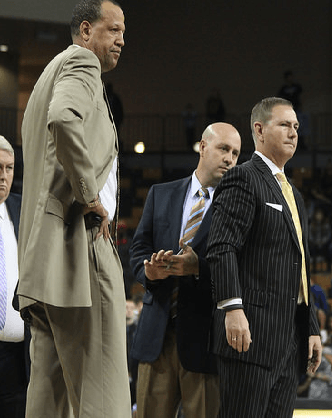 Donnie Jones stressed this preseason that the his UCF Knights wanted to focus on two things in recruiting to elevate their play this season; getting bigger and more athletic. That is clearly evident with Shaheed Davis returning and the arrival of transfer A.J. Davis and freshman Chad Brown.
Let's take a better look at the forwards on this roster.
---
#33 Shaheed Davis
Senior
Forward
6-9 • 210
Warren, Ohio
E. Florida State
2014-2015 (Junior)
-Appeared in 24 games and made six starts in first season at UCF.
-Averaged 4.4 points and 3.0 rebounds per game.
-First career start came vs. Bethune-Cookman (11/30).
-Posted a double-double in his first game as a Knight with 11 points and 13 rebounds in win over Stetson (11/16).
– Named to the American Weekly Honor Roll for his performance vs. Stetson.
Prior to UCF
-Played two seasons of junior college basketball before signing with the Knights.
-Went to Polk State College in Winter Haven as a freshman.
-Played sophomore season at Eastern Florida State College in Melbourne.
-Averaged 11 points, five rebounds, and 1.8 blocks per game at EFSC.
-Helped lead EFSC to a 24-7 overall record and the conference title.
---
#3 A.J. Davis
r-Sophomore
Guard/Forward
6-9 • 215
Atlanta, Ga.
Tennessee
2014-15 (Sophomore)
-Sat out the season due to NCAA transfer rules.
2013-14 (Freshman)
-Saw action in 25 games with one start at University of Tennessee.
-Shot .400 from the field and averaged 1.3 points and 1.6 rebounds in 9.4 minutes per game
-Averaged 8.1 minutes off the bench in eight SEC appearances.
High School
-Graduated from Buford High School in Buford, Ga.
-As a senior in 2012-13, he led the Wolves to a 25-7 overall record and the Class AAA state semifinals, where he scored a team-high 21 points.
-Was a third-team selection on the 2012-13 Gwinnett Daily Post All-County Team.
---
#21 Chad Brown
Freshman
Forward
6-9 • 230
Deltona, Fla.
Deltona HS
High School
-Played at Deltona High School in Deltona, Fla.
-Rated as a four star prospect by Scout.com.
-Scored 14.7 points, grabbed 15 rebounds and blocked 9.4 shots per game as a senior at Deltona.
-Helped lead Deltona to the Class 6A Regional Finals.
-It was the program's first trip to the Elite Eight.
-Named Third Team All-Arena selection by Orlando Sentinel.
-Also earned First Team All-Area accolades from Daytona Beach News-Journal.
Leave a Comment