Kevin Hart bringing "What Now?" tour to Amway Center in Orlando Florida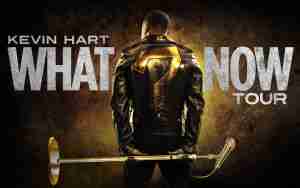 Comedian Kevin Hart kicked off his "What Now?" tour last week in San Antonio, and will make his way to Orlando at the end of the month for his latest stand-up tour.
Hart will play two shows at the Amway Center in downtown Orlando on April, 24, including a show at 7 p.m, and the second show at 10:30 p.m. Tickets for the first show are sold out and limited tickets are available for the second show, and may be purchased through ticketmaster.com. Tickets range from $62.50 to $128.
He most recently appeared in the film "Get Hard" with co-star Will Ferrell and can be seen in "Ride Along 2" next year in the sequel to last year's $100 million hit film. Hart has announced in recent interviews that this tour will be his final stand-up film special.
Hart has released several stand-up specials, including "I'm A Grown Little Man" and "Laugh at My Pain." He recently hosted "Saturday Night Live," and, held the position as Roast Master for the "Roast of Justin Bieber" on Comedy Central.
Hart other central Florida dates include two shows in Tampa, at the Amalie Arena on Friday, May 06. Tickets for both shows are still available.
Ty is a college student at Valencia College studying Journalism and Digital Media. He loves hearing new artist but hates when they stop and harass him to take their mixtapes while he is enjoying his day. Follow him on Twitter @Tru2Ty.