Back to Baxis: Jarren Benton
Funk Volume artist talks Outkast disappointing him, giving up on producing, next project and more
April 24, 2014
Before the internet, hip-hop was a genre that one could generally guess an artist hometown or region, based off their style , lyrical subjects and supporting cast.
However, every so often one would not conform to blend in with the local sound and try to create a lane of their own.
We caught up with Atlanta-based rapper Jarren Benton, who is signed to independent record label Funk Volume, to discuss touring with Tech N9ne, Outkast's Coachella's 2014 performance, choosing rapping over producing and much more.
Ty Wright: What's up man? Thanks for talking to us.
Jarren Benton: Nothing much, just chilling. Thanks for having me.
Ty: How is the "Independent Grind Tour" with Tech N9ne going?
JB: Shit is going dope so far, everybody has been showing us a lot of love. Tech be pulling them in. I performed at some of the venues with Hopsin and Dizzy [Wright], but majority of them are bigger than before. We been shutting shit down with Tech."
Ty: What can someone who has never seen your live show expect going in?
JB: What you can expect: I got a crazy ass drummer who is stupid with the sticks, and a DJ that fucking sucks. Thats pretty much it. Look for me to give you an energetic performance, my drummer to just kill it, and my DJ Slick James to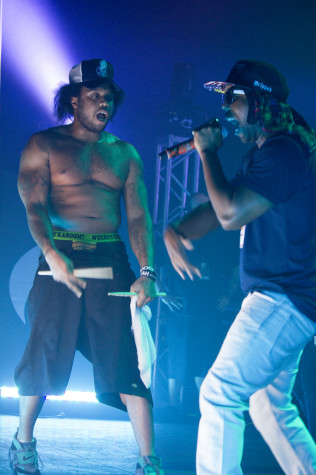 Ty: You mentioned Hopsin and Dizzy; how did a dude from Decatur, Ga. manage to hook up with Hopsin and the Funk Volume Team?
JB: One of the homies saw the "Skitzo" video, and they end up reaching out to me. And when they reached out to me we just kind of established a pretty good relationship. I fuck with the way they rock; and after that we made it official.
Ty: Your were in talks with some majors, why go the independent route?
JB: It really was just the chemistry. It wasn't so much I just want to do independent, versus the major. The chemistry that I built with Funk Volume was genuine and just felt right.
Ty: Their is a video on the web where Ness Lee says that: "What people may not know, is that Jarren makes some bomb beats," can you see yourself producing some of the tracks on the next joint coming out?
JB: You know what — just for sake of a big middle finger to Kato — I just might have to. I started off producing, and stopped maybe four-years ago. I'm actually fire at it. Once you hear it, you are probably going to be like: 'Oh shit, why did he quit.'
It's just easier for me to get beats. I'm so critical and hard on myself that I usually just sit at the computer and MPC for so long trying to get that perfect sound, so it prolongs the project.
Ty: What made you want to put the production for other people to the side, and switch over to the artist side, so that people could hear your bars and what you got to say?
JB: I don't know. Once I stopped producing and I began to meet other producers I was comfortable with, it just made my transition easier. The beats I use to make would always fit the certain mood I was in, so that would just bring it out sometime; I was always rapping. I would tell myself that I want to do a project, but I would just lack on getting it done. Once I got other producers, I could stop being lazy.
Ty: You have no problem stating where you're from. Can you speak on growing up on the East Side of Georgia and how it influenced your music?
JB: Growing up in Atlanta didn't really effect my style, because most of my influences were cats from the East Coast and West Coast. Growing up in Georgia was actually kind of hard because of the type of music that most of artist were doing at the time. It was not the type of shit I wanted to do, as an MC. The only main Atlanta Influence I had was Outkast.
Outside of that, it was dope as fuck. That's home to me. But as an emcee, it was difficult to blend in because they were on a one-dimensional type of sound. Georgia is like that until today — one certain sound that would just be at the top of Georgia. It's Atlanta, they just want to fuck with the same type of shit all the time. I hate it.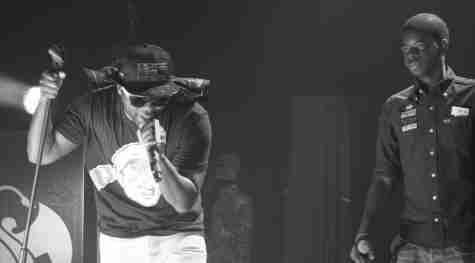 Ty: You're an avid supporter of Outkast — even wrote a piece on them for Complex Magazine — did you happen to catch their first performance at Coachella?
JB: Yea man, I was actually on the bus with the homie watching that fucking shit.
Ty: What you think of it?
JB: It was bad, and that sucks because I look up to Andre [3000]. I understand that he's been away from the stage for a while, but it seemed like he didn't put forwards any effort. At one point, it just felt like he was defeated.
Ty: Their going to be out out touring all summer, as an artist and a fan what do you think is missing from that show?
JB: It was just lacking effort on Andre's part. It felt like he was just lacking effort and not trying to give a show, which is crazy because he says shit like he idolizes Prince. I went to a Prince concert six-years ago and it was one of the best concerts I have ever been to. The fact that Prince has been doing it way longer than him, and he idolizes this guy — Prince does not shit on his fans, he comes out and give a fucking show — that's what you do?.
You got people out here watching you, who love your craft, and love what you're doing, and the fact that you went out there and showed no effort is devastating. At one point it felt like he thinking 'Fuck it, I don't care.' That's just like a big fuck you to the fans I feel. But in another part, you never know what the person is going through, so it hard to judge because it might be something externally.
Ty: Does things like being married and having kids factor into your rap life?
JB: I have been doing this since before I had them, so it wasn't really that big of a transition to be honest with you. If it was some shit where I had kids and then decided to rap, then the transition would have probably been difficult. But the fact is I was doing it before they was here.
They came into here, this is daddy's fucking world.
Ty: I understand that you use to rap under the name "Apocalypse" before switching over and using your government, why the switch and where did the name Apocalypse" come from?
JB: I was never able to figure out and come up with a cool rap name. One night, I was just like fuck it, I'm about to go with my real shit. At the time I was going by Apocalypse, I was just going with some straight underground, backpacking shit.
Ty: Do you still consider yourself a backpack rapper, and would you get upset and be offended if someone referred to you as one?
JB: Naw, I wouldn't be mad at that. I wouldn't necessarily consider myself a backpack rapper, but I have grown from elements of it.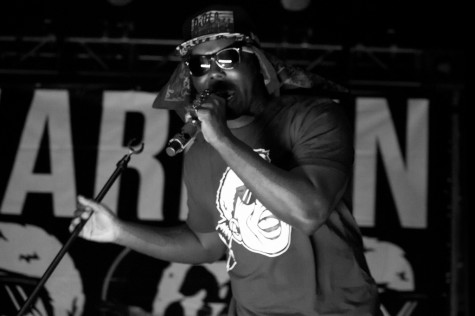 Ty: Your last album "Grandma's Basement" has been out for a while now, what's the reception and feedback you are getting on that?
JB: It's been dope, they have been showing a lot of love for it. I always hope and expect for the best but you just never know. So far, everybody has been showing a lot of love for it at the shows. After this tour I am actually about to go work on a new project.
Ty: The project shows a very personal and dark side of you, is that the route you would like to continue with or do you see yourself going back to the way you approached some of your earlier works.
JB: In my mind, I have an idea where I want to try and make it more diverse. I kind of want to reach out to the rock world and see where that goes. I'm not going to experiment to far left where people will be taken back from it, but it definitely going to be some experimental tracks on their for sure.
Ty: Do you have any influences in the genre that caused you to want to do that?
JB: A lot of shit. From old school stuff like [David] Bowie and Portishead, to Arcade Fire. It's tons of stuff really. I know I don't have that voice to go into that direction but I am for sure going to do some experimenting and see where it goes.
Ty: Are you an artist who writes songs while you're on the road, and do you have an idea of who you may like to work with on it?
JB: I got a couple in mind but I don't want to say, because last time I reached out to work with some people they didn't even show up to the studio. I want to hear how the music sound — I haven't really started recording — but once I see the direction the music is going, it would kind of put me in mind to say: 'Oh, so-and-so would sound good on this.'
I have been on the road a lot and have been able to network with a lot of artist. Everyone is being super cool, I have been able to establish better relationships, and I am in a better place so the feature game shouldn't be to tough this time around.