Tech N9ne brings 'Independent Grind Tour' to Plaza Live
A rapper that spits rapid-fast aggressive lyrics, paints his face, draws a hardcore cult fanbase, and is named after a semi-automatic handgun, just doesn't sound like the guy you want to walk up to and attempt to start a conversation with.
Kansas City rapper Tech N9ne brought his "Independent Grind Tour" to Orlando Thursday night, performing at the Plaza Live — his first time ever at the venue.
"We like this place, so don't do anything stupid. We're trying to come back here next year," said the show's hype man to the crowd, before exhibiting his utterly disgust for another Orlando venue which Mr. Tech N9ne has performed at in the past.
In attempt to get a feel for his audience, Mr. Tech N9ne disguised himself under a red Jabbawockeez mask and wandered throughout the Plaza venue; grabbing a few drinks at the bar and even catching the entire set for opening act Psych Ward Druggies.
By the time it was his turn to take the stage, Mr. Tech N9ne had did a complete outfit change. Dressed head-to-toe in a black mechanic outfit with white face paint, the independent rapper out of Kansas City Mo. displayed his showmanship in his 90-minute set.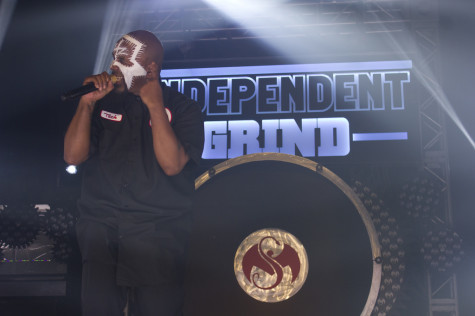 Quite interesting, fan were more into actually experiencing the moment  instead of recording it on their smartphone. For most of the show — despite when Mr. Tech N9ne encouraged female audience members to climb on top someone shoulders and display their breast — if one was to look out into the audience all they would see is "strange" people with their face painted, dancing, raging and moshing, not being distracted by technology and the outside world.
Mr. Tech N9ne was accompanied by Strange Music labelmate Krizz Kaliko, dressed in similar attire minus the face paint. The two put on what appeared to be a choreographed hip-hop show; non-stop motion, timely stage exits and arrivals between songs, and synchronized dancing.
While his pop locking skills; Motown like moves; and machine gun type flowing were entertaining, he was at his strongest during his more intimate sessions of the set. He let the crowd in on his sensitive side as he introduced popular single "Fragile," which features Kendrick Lamar, ¡MAYDAY! & Kendall Morgan. While none of the artist were their to assist in the performance, Mr. Kaliko would help provide backing vocals — much like he did the entire night.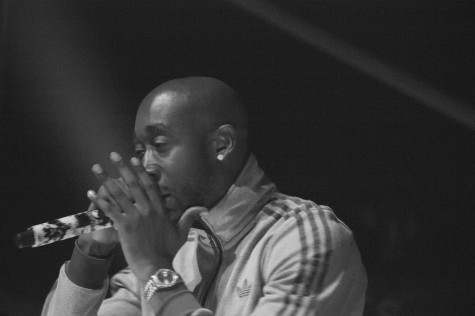 Rapper Freddie Gibbs, out of Gary, Ind., acted as the main opening act and had no problem demonstrating to everyone why he is called Gangsta Gibbs. Throughout his set, he would get everyone of the audience to scream "f*** the police" every chance he got. Mr. Gibbs took a more simplistic approach, gaining the attention of the crowd with less attention to the production aspect, but more on his bars and Acapella flows.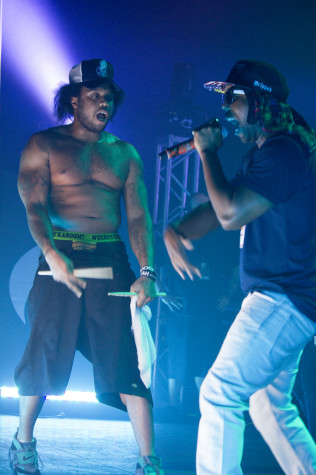 Funk Volume's Jarren Benton also served as a support act for the "Independent Grind Tour." He was backed by "the worst DJ ever," who kept his identity hidden behind a full-face mask; and a crazy-haired drummer. He wasted no time on the turn up, quickly heading to the guard rails to get close and personal with the crowd. Mr. Benton is a very charismatic artist. He commands the stage, while giving fans the opportunity to perform on a big stage, even if it's only as his hype man.