Local artist turns to art for freedom
Vizshua, is an extraordinary upcoming artist who is currently promoting his new comic book,  with a griping dream and a deep passion to reach out to other people with his artistic abilities.
During Orlando Anime day Vizshua sold his art and promoted his manga series,'BlankZero',while having his friend Kai dress up as the main character from the book, Kori.
"My dream is to become an artist, trying to be as widespread as I can be with my art and story reaching out to people," said Vizshua.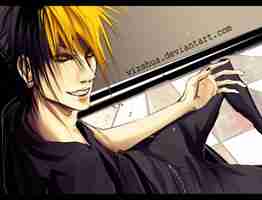 The event gave him a perfect outlet to present his art to a crowd of people that will appreciate and share the love for anime as much as he does.
Anime means a great deal to people, for people who aren't naturally blessed with the skills of drawing art looks towards artists such as Vishua to display their inner artistic vision.
To Vizshua his descriptive art and manga are a really big deal because they   are a great venue to express himself through other people.
Blank Zero is Vizshua's up and coming manga; it takes place in a world that has been forced out of balance. Kori, who is the main character that also plays the protagonist that spares the last piece of the gang lord king's plan. The story takes place under a government that is spearheaded and rules tyrannically under the a guy imposing as the messiah.
The messiah will stop at nothing to catch Kori and the resistant forces. It's a world  that is filled with humans and demons, more than Kori's life is at stake within this universe. There is no set destiny instead of the choices and the paths of Kori and those who are around him can change the imposing fate of destruction that be falls this world.
If you want to see more of Vizshua 's art work and follow his progress please visit http://vizshua.deviantart.com.
Leave a Comment