Solar Bears continue to bring back old faces from 2000-2001 IHL team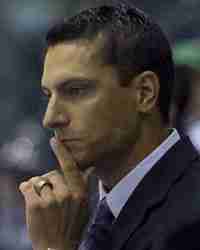 Brad Tapper was named assistant coach of the Orlando Solar Bears on Wednesday, adding to the recent trend of bringing back familiar faces from the 2000-2001 Turner Cup.
Tapper joins the Solar Bears after spending the past three seasons as the assistant coach of the Florida Everblades, where he won the 2011-2012 Kelly Cup.
"Brad is a great addition to the Orlando Solar Bears coaching staff and organization," said Head Coach Vince Williams. "He will be a valuable asset to the personal and professional growth of our players."
Tapper made his professional debut with Orlando, playing in 47 games for the Solar Bears during their 2000-2001 Turner Cup Championship run. He is the second member of the Turner Cup winning team to join the coaching staff, after new head coach Vince Williams.
The Solar Bears begin their season on Friday, October 18 with a two-game series against their in-state rivals, the Florida Everblades, before returning to Orlando for their home opener on Saturday, October 26 against the Gwinnett Gladiators.