Zai Zai's food truck gives students choices, cafeteria alternative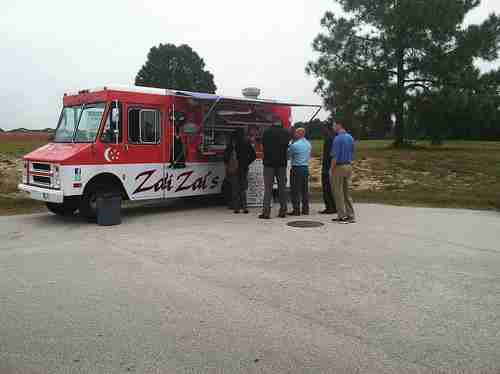 WEST CAMPUS — Zai Zai's Asian Fusion is giving students something to think about when it comes to eating lunch.
The red truck with the black cat painted on its side is parked just outside West Campus on Metrocenter Blvd., serving as the epicenter of many businesses.
"Not only do we serve a mix of Asian food from Singapore, but we also offer Southwest cuisines along with Mexican and Caribbean dishes," said co-owner Zai Albino.
Open Monday through Friday from 10:30 a.m. to 2 p.m., Zai Zai's has lived at its Metrocenter location for about a month.
Albino, who moved to Hawaii from Singapore in 1995, started cooking when she was little and now contributes to the food truck scene in Orlando, which has been seen as a large expansion for many of Central Florida's foodies.
Valencia students have a range of choices from pulled pork to Philly cheesesteaks or maybe even chicken quesadillas, all for about $7 each.
Curry chicken and Singapore spring rolls, which Albino says are at a high demand, tend to attract repeat customers for Zai Zai.
"Cooking is my passion, I never learned how to cook, I just did it. I love cooking," Says Albino .
Albino runs the food truck with Fred Chavez, a graduate from Arizona Culinary Institute, who specializes in Southwest and Mexican dishes.
With Central Florida having a large Caribbean community, Dominican dishes such as sancocho–a stew that has rice, beans, plantains and different kinds of meat varying from chicken, beef or pork–are cooked fresh to order.
"Our goal is to provide the best food and make the customer happy," said Chavez. "We know that there are people around us that only have 15 minutes to eat lunch, but with us, five minutes is all they will have to wait."
"People always want fresh food and even though we open at 10:30 a.m., we're here an hour early prepping the food and making sure everything is fresh to order."
Along with the water and soda offered at the food truck, coffee is also a choice. The variety offered at Zai Zai is an Indian filtered version called "pulled coffee," a sweet milky coffee comparable to a cappuccino.
A variety of international food is also made, and special requests are accepted. So, if you're in the mood for a burger, chances are that could be done just for you.
According to Albino, "If you call ahead, we'll have the food ready when you arrive."
Call 407-233-7919 to order take out from Zai Zai's food truck or just walk right up after class.