Coffee shop creates oasis for students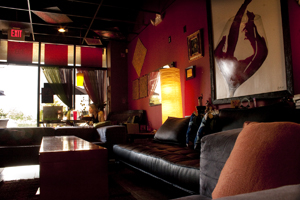 Story by Will Santiago
[email protected]
Do you ever just want to drink coffee and read a book in a relaxing environment somewhere other than school?
Achilles Popal, owner of the The Coffee Shop, hopes that students at Valencia Community College will find just that.
The Coffee Shop is an Art Café located on Wilshire Dr. in the Metro West area and it has been open since August 2008.
Growing up in Germany, Popal, 36, had an idea of opening a coffee shop in Orlando but not just any coffee shop, he wanted to open an authentic one.
Mission accomplished.  The Coffee Shop displays the art of local artists throughout, and there are several couches to sit and relax, and there are authentic dinning tables so you can sit and enjoy eat both inside and outside.
Along with art, there are two plasma televisions where you can watch television or play Nintendo Wii.
"I wanted something comfortable for everyone," said Popal, "everybody is welcomed, and everybody can come."
The Coffee Shop also host numerous events in an effort to garner more business; Saturday is movie day with free popcorn.
As for the future, Popal hopes to host a cultural talent show, but currently there is no set date for that.
After hours, The Coffee Shop hosts private events and can be catered to fit any budget.
The Coffee shop offers Seattle's Best Coffee, smoothies, German beer, homemade Paninis and pastries, soda, wine, fresh sandwiches and many more choices. The prices vary, but are reasonable.
The Coffee Shop also offers free Wi-Fi, free printers, free fax for customers and Valencia Students get a 10% discount with their Valencia student ID.
"I like the Coffee Shop because it is very eccentric and has a cool vibe," said Jennifer McAllister, a new customer and fan of The Coffee Shop. "I also like to support independent business."
The Coffee Shop sure is an independent business, Popal mentioned that he did everything by himself and that he didn't plan it.
Open 6 days a week until 8:00 p.m. and closed on Sundays, The Coffee Shop hopes to become another place for Valencia students to chill out and relax before and after school.
For more information on the Coffee Shop you can visit the website www.achillesartcafe.com.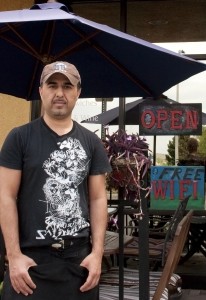 photos by Shannon Scheidell
photo 1 the interior of the Coffee Shop
photo 2 Achilles Popal, owner of the The Coffee Shop, outside his store