Lions continue unbeaten streak; Watson scores 1st of season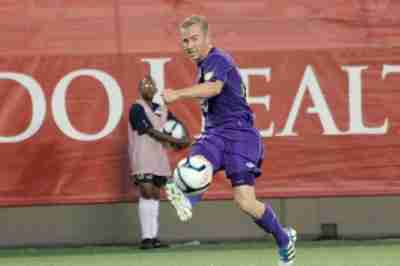 "No blood, no foul" was the motto for the referees in an extremely physical match that looked more like a football game than a soccer match.
The Orlando City Lions were able to pull out a hard earned 2-1 win over the visiting Charlotte Eagles, Saturday night at the Citrus Bowl in front of about 6,700 fans.
Jamie Watson scored the first goal of the match in the 13th minute collecting a pass from fellow midfielder Kevin Molino just outside the box and shot the ball just outside Charoltte keeper Eric Reed's outstretched hand.
"It felt good to finally score. Its been long enough, hopefully this is a step in the right direction to get me started, but more importantly we got the win," said Watson.
After being called out by their coach for what he called a "flat performance" last game, Orlando City came out much livelier against the Eagles, making most of the attacking runs in the match. Forward Matt Luzunaris sent an off balanced shot that hit the left post in the 10th minute and Watson almost added another goal late in the half, but Reed was able to make a spectacular save on the play.
"We were better tonight. We showed a lot more energy, passed the ball quicker, ran around more, the simple things but they are much more effective when you do it properly," said Lions head coach Adrian Heath.
Luzunaris made his next shot on goal count. In the 53rd minute he was on the receiving end of a Jerome Mechack lob which he headed off the goalpost and into the net.
After not being able to establish much of an attack early in the game, the Eagles got on the scoreboard in the 78th minute when defender Scott Jones put the ball in the top left corner of the goal on a shot from just inside the penalty box. Other than a shot by midfielder Miguel Ferrer that sailed just over the goal, the Eagles didn't really challenge Lions' keeper Miguel Gallardo.
With the win, Orlando City keeps their season unbeaten streak alive. They have two days rest before facing off with the MLS' Sporting Kansas City FC on Tuesday in the next round of the U.S. Open Cup.
Orlando City also unveiled their mascot at halftime of the match, a three headed lion named Roary.