UCF wins despite missing head coach, key players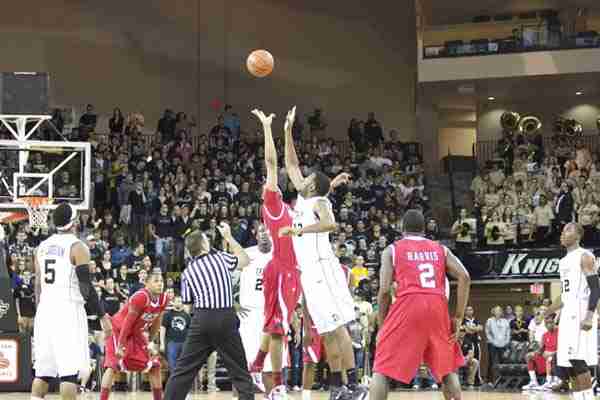 Despite missing head coach Donnie Jones for the last three contests, the UCF Knights managed to extend their win streak to five games, following the 74-63 win over the Houston Cougars Wednesday night at the UCF Arena.
UCF guard Isaiah Sykes earned his second double-double of the season, scoring 21 points and pulling down 14 rebounds. He was one of two Knights with a double-double, as big man Keith Clanton finished the night with 18 points and 13 boards.
"I didn't know he had it in him," said center Josh Crittle. "It really shocked me and got me going."
Sykes' back-to-back dunks late in the second half sparked the Knights and clinched the game for UCF.
"The crowd was unbelievable," said Sykes. "It gave us energy."
UCF recently found themselves down another player, as Dwight McCombs was suspended due to university policies. McCombs is the second player the Knights lost this month. They will also finish the season without guard Jeff Jordan, who decided to leave the program due to what he said were "personal reasons."
With McCombs gone, Crittle has now stepped into the starting role.
"I know I was going to have to play some more minutes," Crittle said. "Just go hard and get your mind ready to play."
Senior A.J. Rompza was named C-USA's player of the week on Monday, and had five assists and four steals against Houston.  The game was just his third of the season, but the 80th of his career.
The game against the Cougars marked the arena's seventh largest crowd in school history, with 7,862 in attendance.
"I love the fans," said Crittle. "They're like my sixth man, like that energy boost you need in the second half. They're always here, they're always ready to support us; they're the best fans in the world."
The Knights will have their head coach back for the next game, as they look to get back into a regular routine with him.
Up next for the UCF Knights are the Marshall Thundering Herd. Jones was the head coach of Marshall for three seasons before coming to UCF. Jones led Marshall to their first post-season appearance in 22 years before joining the Knights in 2010.
The game will be the seventh meeting between the two schools, as UCF owns a 4-2 record over Marshall. The last meeting was in Orlando, and was one of the largest crowds in school history, with 9,904 in attendance.