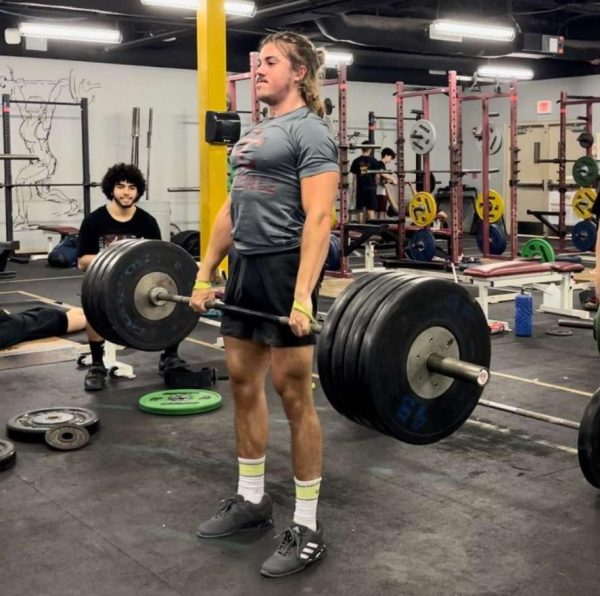 Despite there being 27,000 USA Weightlifting members across America, weightlifting is not an official NCAA sport, meaning these athletes have to find different ways to continue their weightlifting careers after high school.
Scholarships for weightlifters are rarely offered, even to top athletes. Valencia College student Julian Sykes, a 2022 FHSAA state champion and 2022 Florida Dairy Farmers Mr. Weightlifter (award given to the top FHSAA athletes of each sport) said, "If you are at the top of your sport in any other sport, you get way more opportunities."
Sykes added, "When it comes to weightlifting you don't really get any offers."
Sykes noted that Tim Tebow also won the Florida Dairy Farmers award, the Mr. Football award in 2005, and went on to receive a full scholarship and play football at the University of Florida.
As he must pay for college on his own, Sykes must come up with a different path to try and pursue both a weightlifting career and a college-level education. He is currently working two part-time jobs while also attending Valencia College, all off this in addition to lifting for Team Florida St. Cloud and Team Florida Elite, an exclusive team for the top lifters in the state of Florida.
Nick Pippin, like Sykes, is also completely self-funded. He was a FHSAA lifter, but coming out of high school the only scholarship offer he received was from an out-of-state college that would only cover a portion of tuition. He decided not to go to college, and instead is focusing solely on weightlifting for Team Florida St. Cloud. He is working a full-time job to pay for it.
When asked if he would've decided to pursue a college education if he were to receive a better opportunity, Pippin said, "If I lived in that state, I would definitely consider going to that college and doing weightlifting there."
The cost of college isn't the only thing these self-funded athletes have to worry about. Weightlifting itself has many expenses. Gear such as specialty weightlifting shoes, straps, and singlets all come out of pocket, and when combined with membership fees for USA Weightlifting gear, as well as memberships for gyms for personal workouts; all create a major financial toll on these athletes' wallets.
Pippin says that his biggest financial burden is his food. He follows a specific diet to try and achieve peak physical shape, and ingredients can get very pricey.
Dylan Hayes went a different route. Instead, he decided to get into coaching and is currently a coach for the St. Cloud High School weightlifting team, as well as for Team Florida St. Cloud. He also competes as an athlete as well for Team Florida St. Cloud and Team Florida Elite and is currently attending UCF and working a part-time job. When asked about what opportunities that were given to his teammates and athletes he has coached, he said that the most he's ever seen was "an offer to pay for their books or… give them a meal plan".
Hayes continued, "I don't know if any school gives out a full-ride scholarship to anyone."  Instead of getting an athletic scholarship, Hayes decided to pay for his tuition through academics and uses the Bright Futures scholarship to pay for his college.
When asked about his goals for weightlifting, Pippin talks about reaching the Olympics one day as a natural athlete. Sykes hopes to make it to the World Weightlifting Championships in his age group, as it is one of the most competitive.
These athletes are still doing their best to further their academic and weightlifting careers. Despite this seeming like a daunting task, Sykes is confident he can achieve it, especially after winning the USA Weightlifting National Championship this year and narrowly missing an opportunity to qualify for the World Championships.