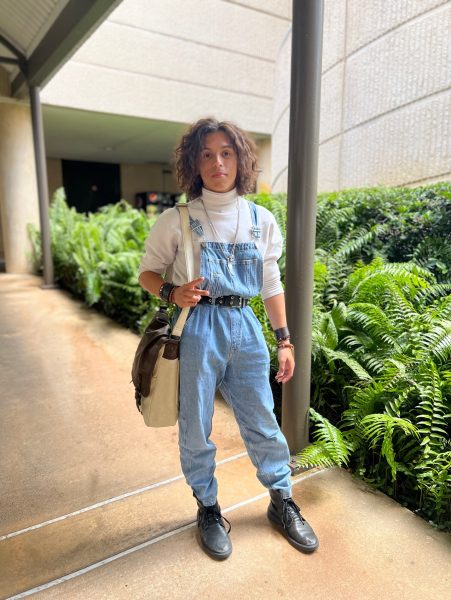 Did you know denim has been a popular fabric for over 200 years? Over the decades, the material gained new styles and conquered the world. Now, it is a mainstay in fashion spaces and the look has made its way to Valencia College.
David Osirio spent high school in Milan and brought the style of the world-renowned fashion capitol with him in his denim ensemble. Osirio says, "It makes me feel like I am showing myself to everyone, my style makes me approachable, and it defines me."
Student Government Association Delegate Junior Joseph, 23, predicted the rising trend, "Over the summer, I bought a pair of denim overalls.  I was like, 'Man, no one wears denim overalls, so let me get a pair of these.' I thought people really should start wearing overalls again… I stop wearing them and Boom! Everyone is wearing overalls this fall. It is great to see."
Denim is a Puma favorite!
Whether it is jeans, denim jackets, overalls, or other clothing items, they can be both fashionable and practical for the various activities and events Valencia College has to offer.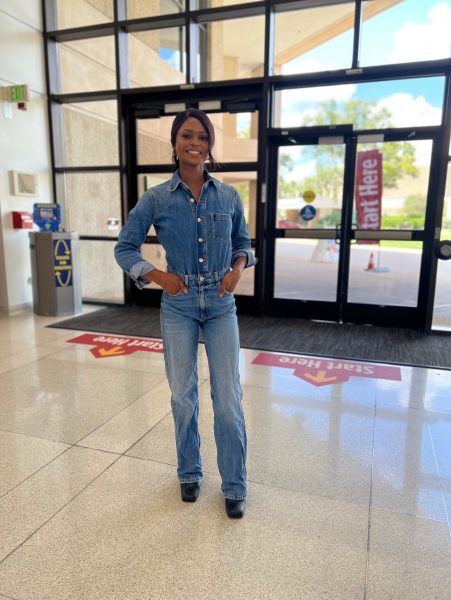 Jasmine Taylor, 25, Nursing, describes her choice in denim as fashion chic. "I want people to look at me as a professional woman in addition to being stylish and unique," says Taylor.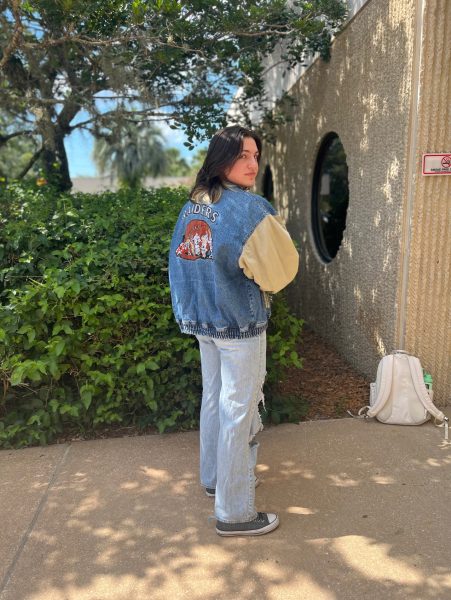 Rylee Franze wears a denim family heirloom. Franze's dad is a fan of the former Oakland Raiders, now Las Vegas Raiders. The jacket shows popular kids' show "Looney Tunes" characters and offers even more nostalgia. Franze says the piece is a welcomed addition to her wardrobe after years of "borrowing" it from her dad.
---
Denim Origins
Where did jeans come from? It all started in the South of France in 1792, where denim was defined as cloth for making clothes for sailors or field workers. In 1851, 59 years later, the German Levi Strauss brought denim to American territory. The fabric had a few adaptations to be more comfortable, durable, and lightweight.
During the California Gold Rush, John Davis, an American tailor who sold clothes to miners, noticed that denim could be a great ally and teamed up with Levi. The duo made a few more essential changes to the fabric, inserting zippers and pieces of metal in the pockets, making the material firmer and ideal for those who needed to carry their mining tools or even gold.
Denim only became a popular fashion piece in the 1930's. This happened because denim was an indispensable piece for cowboys in movies. Denim became popular in Hollywood, and consequently, in the world.
In the 70's, hippies started using tie-dye models with faded wash and bellbottoms. In the 80s, rock stars, models, and artists transformed fabric into a high-fashion item, taking it to a whole other level.
Denim has established itself as a classic fashion staple that will never go out of style and it can be customized through various styles, washes, and cuts, allowing individuals to express their unique fashion preferences. Students are wearing denim across Valencia Campuses, combining comfort and versatile fashion for their everyday lives.