Come Out With Pride 'Evolves' With Its Second Pride Prom at Orlando Science Center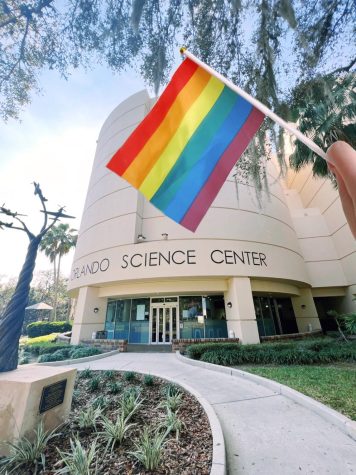 Come Out With Pride will be hosting their second Pride Prom at the Orlando Science Center on April 28.
Come Out With Pride is a nonprofit organization that advocates for the LGBTQ+ community in Orlando. According to their website, part of their mission is to "produce annual events that foster a sense of community and encourage LGBTQ+ citizens to live openly and with pride".
The event will take place on April 28 and promises a fun night for people of all identities and walks of life to come and be their authentic selves. There will be traditional prom activities such as music, dancing, and entertainment. Both alcoholic and non-alcoholic beverages will be available for purchase. RuPaul's Drag Race Season 14's performer and personality Kerri Colby will be the headliner for the Pride Prom and a VIP lounge offers Meet & Greet opportunities.
Additionally, there will be many photo opportunities, including a photo booth run by Firefly, that will allow people to capture memories from what is sure to be an unforgettable night. The event is ages 21 and up and will start at 8 p.m. on April 28 .
Marlene McQuaig-Beck, a volunteer for Come Out With Pride who is helping plan the Pride Prom, explained the origins of this year's theme, Planet Evo: Evolution Is Inclusion.
"When we were planning (the prom), we were basing it around the science center… This is a long time coming for a lot of individuals to be able to celebrate prom and be their true authentic selves," McQuaig-Beck said.
"We're starting the groundwork for positivity and inclusion. Being trans-positive, LGBTQ-positive, can be evolutionary."
Rikki Loyd, a 30-year-old queer woman who has lived in the Orlando area for seven years, has attended a few of the events put on by the organization. She described the events as "very warm and welcoming." When asked why it was important to see LGBTQ+ events in Orlando, Rikki said, "we need things like this in our community where people can feel safe and respected."
Danny Woodard, an Orlando-based photographer who has volunteered with Come Out With Pride in the past, agreed that community events that promote inclusivity are important. "It comes down to representation," Woodard said. "As the years go by, events like this get bigger and bigger because people that are a part of (these) communities are getting more and more comfortable because there's more and more representation. It gets people excited to be themselves and show up."
Tickets are on sale now and can be purchased at Come Out With Pride's website.