SAGE Valencia Students Are Bound For Italy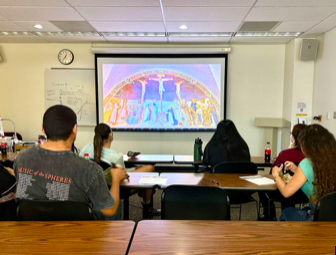 Thirteen students at Valencia College prepare for their trip to Italy in May as the SAGE office resumes short-term study abroad trips after COVID-19.
Accompanied by Valencia professors Jeremy Bassetti and Eric Wallman, the students will visit historic sites in Rome, Florence, and Venice as part of their HUM 2232 course curriculum. This is just one of the many study abroad trips offered by the Study Abroad and Global Experiences office this summer that Valencia students will embark.
"It's a curated experience," Humanities Professor Dr. Bassetti said when asked about the trip. "Students get credit for going to another country to learn about its culture and history firsthand."
The 13-day venture overseas is planned in full by the SAGE office, meaning that students only have to worry about meeting payment deadlines and completing the coursework. SAGE works to make these trips as accessible to students as possible. Valencia College stands out from other colleges by offering students financial aid for studying abroad. "We offer every single student a scholarship of $1,400 dollars. Sometimes it's more," SAGE Coordinator Vannia Ruiz said.
The HUM 2232 trip to Italy is the most expensive trip SAGE is offering this summer. Scholarship included, this trip comes at an estimated total of $2,604.18. This covers all transportation, hospitality, tours, attractions, travel insurance, and breakfasts during the near two-week trip. This means that students only have to take care of the rest of their meals and personal spending money while in Italy, however the first and last dinners of the trip are included as well.
Ana Henriquez, 25, A.S. Transactional Paralegal Studies, will be participating in this trip and says that SAGE recommended students to bring at least $500 with them for personal spending money. Money aside, Henriquez says she is fulfilling her dream of going to Italy through this trip. "Being able to see these works of art that were created so long ago, I think it's going to be amazing."
All SAGE trips are led by Valencia College faculty members who have completed professional development certification courses, Ruiz said. Destinations are then selected by these faculty members, who can only pick from countries that fall under levels 1 and 2 of the Department of State Travel Advisory.
In its first round of trips since 2019, SAGE will be taking students to seven different countries this summer. Included in this tally is the U.K., Italy, and Spain, which have shown to be the top three Study Abroad destinations for U.S. students, according to Spanish Studies Abroad. Each of these trips are paired with varying college credit courses, from information technology classes to culinary courses.
Studying abroad offers students many career and personal benefits. According to the Erasmus Impact Study, students who study abroad have 23% less chances of experiencing unemployment five years after graduation. Studying abroad can also enable Valencia College students to earn a notation on their transcripts as well as a medallion for graduation by completing the Global Citizen tier of the Global Distinction program offered by SAGE.
Students may also see personal growth through study abroad. "Students participating in these programs can improve their interpersonal skills and self-reliance." Ruiz said.
"You learn things about yourself that you didn't know," Eric Wallman said, who has traveled abroad himself as a student and now as a teacher. "For a lot of people, it's a dream come true," he said. "You just don't come back the same."