Celebrating Biotech Week: Learning from Robert Banks' Life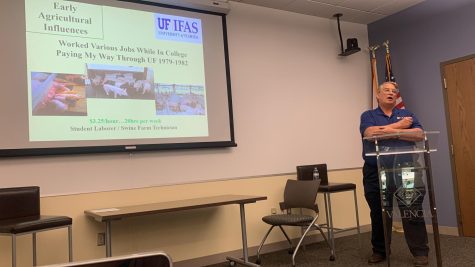 On Wednesday 29, Valencia College Lake Nona Campus hosted Biotech Week with a presentation by Robert "Bob" K. Banks to learn more about his life and STEM journey. During the last week of March, Biotech Connect and the Biotech Club organized a series of activities where the students had the opportunity to share science teaching and the opportunities that this program offers.
Biotech Week saw various activities hosted to include making a DNA necklace, enjoying career explorations, having the opportunity to meet influential people in the field, and, of course, pizza parties. Robert Banks' Wednesday talk focused on his experience in life working in the biology and veterinary fields, the jobs he had to do, and how he started on the path of success. Robert Banks discussed his family, education and career path. His dad, R.W. Banks, graduated from Auburn University in 1965. He was a veterinarian and his whole family were blood donors, including Nutt Nutt, the family clinic hound.
Banks found his inspiration from his parents. "My mother cared for me to be educated and not to give up, never quit. And my father was too, he was a veterinarian. When I was born, he [RW Banks] was making $65 a week as a cowboy and he decided to go back to school and become a veterinarian. I have a lot to show because of my parents."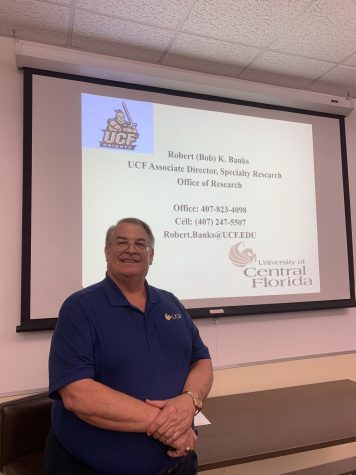 Banks worked various jobs while in college, starting at $3.25 per hour, 20 hours a week for 10 years. Among some of his worked at a summer internship at Williamson Ranch in Indian Town, Florida, where he built "15 miles of field wire fence." While he was studying at UF, the pre-veterinarian student had the opportunity to do different internships like Block & Bridal Club Vice President and as Ag Council. In his last semester in college, Robert was able to get a job on Beef Master Ranch where he "raised bird dogs for quail hunting, planted rye and oats." Each of the opportunities presented to Robert was building his academic path and working to achieve his goals.
Robert Banks advised, "Do not be limited by just your education. There are a lot of possibilities in the world and is up to you to find those possibilities when see it is the moment." He continued, "I had a couple of dreams; I always dream that I wanted to be a cattleman which I did as a young man, and I wanted to be a veterinarian. That did not work out, and yet I worked in an around veterinarian medicine almost my entire lifetime. I know more veterinarians than I know football players."
Chance can play a significant role and interfere with people's dreams, but Robert was able to achieve and fulfill his dream of being involved in the veterinary field anyhow.
Professor of Biotechnology at Lake Nona Campus, Susan Ingersoll says, "It is amazing how diverse his [Banks] experiences are. Just because you think you are doing one thing doesn't mean that is what you are actually going to be doing." 
Matthew Gray, 43, Biotech, says the presentation was invaluable. "I will remember that Bob Banks and my father lived a very similar life, taking care of animals and building fences. "Gray encourages, "Even though you start off on one journey, you will end up on countless other paths and there is no telling where science will take you." Science is an open field and there are many different careers in what many students practice. This week of learning for many was a great opportunity to learn other people's lives, and these presenters leave lasting marks in the minds of attending students. These meetings help create opportunities for Valencia College students. 
When it comes to opportunities outside the classroom, follow Banks' suggestion, "you have to think outside the box."