She Sells Market A Great Way to Support Women-Owned Businesses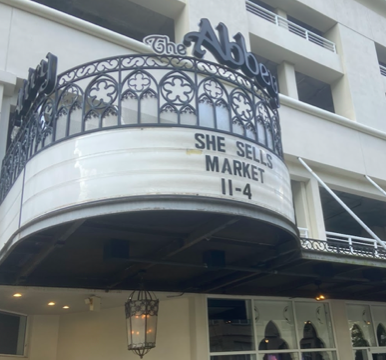 Once a month, over thirty women-owned local businesses set up shop at She Sells. market in Downtown Orlando's beloved venue The Abbey, 100 S. Eola Dr.
Neon pink lights lit up the atmosphere, contributing to the hyper-feminine environment dominated by women. Vendors sold a variety of crafts, consisting of quirky handmade jewelry, resin bookmarks, vegan haircare, and even homemade pierogis.
March is Women's History Month which celebrates contributions that women have made throughout history and modern society. Many events are popping up around Orlando commemorating the annual remembrance month. However, She Sells. supports women directly.
"It's a market that is geared towards showcasing female and LGBTQ+ small-business owners," said Jaslin Goicoechea, organizer of She Sells. and owner of Ouch. Plants That Hurt.
"There weren't enough markets catering towards women-owned businesses."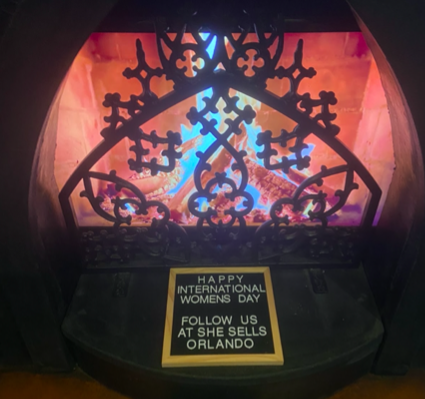 According to a 2021 Small Business Profile for Florida by the U.S. Small Business Administration, women own 45% of small businesses in Florida.
She Sells is relatively new having started last year as a Galentine's Day event back in February 2022. The market quickly grew in attraction with vendors on a waitlist to be featured. Space is a recurring issue.
"We get somewhere between 75-100 applications per event" says Goicoechea, "The toughest part is having to deny people."
Some vendors make light of this inconvenience. According to Rachel Burdzinski, graphic designer and owner of The Knockturnal Craft, "It's worth it because you're so close together that you get to know everybody. It's great."
She Sells doesn't fail to express themes of female empowerment and affinity. When asked if she would recommend She Sells to people, Charis Ortiz, owner of Bellamilanina stated, "I love the camaraderie among women helping other women."
Guests were able to shop from a variety of crafts, mostly including handmade jewelry. From pairs of earrings resembling nostalgic game consoles, rings made from silverware, and intricately-beaded necklaces, there is an incredibly unique range to select from for many audiences. The vendors rotate, so it is likely that there will be a wider variety of products next month.
Events such as She Sells are beneficial to all parties involved, especially during Women's History Month. Small businesses can be supported any time, as She Sells. occurs on a monthly basis. The next market will be held on April 9 from 11 a.m. to 4 p.m. at The Abbey.
When small businesses are supported so is the community.