East, Lake Nona Campus Provost Dr. Sobia Khan Faculty Spotlight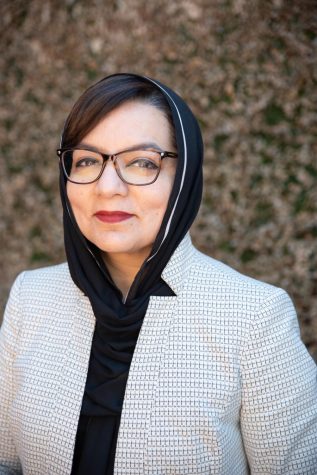 Last summer, the five newly-selected Valencia College provosts began their roles, including Dr. Sobia Khan, who serves as the East and Lake Nona Campus Provost. Khan has an extensive background in education, most previously serving as the Dean for Academic Success at San Antonio College, Texas. Throughout her academic and professional career, she has focused on advocacy and service alongside her interest in English literature and language. 
"I've always been a reader and a writer throughout high school. It was an escape, in the beginning, a form of escape into a fantasy world that didn't really exist but allowed you to dream," said the 2019 University of Texas at Dallas Arts and Humanities' Distinguished Alumni of the Year.
During her time at Collin College, Khan connected with the Journalism Department. She started as a reporter and later became a news editor. Furthermore, she got to work with the Dallas Morning News writers and reporters, who came in as volunteers.
"It was just the most rewarding experience as a college student. So much was always happening; there was just great energy. That's where I found my sense of belonging in college. I got to know people other than myself and got comfortable in a new environment as an immigrant to the US. I found my space," continued the former Dallas College English Professor.
At the University of Texas at Dallas, Khan earned her Ph.D. in Studies in Literature. With her background in writing and her later experiences as a faculty member, educator, and administrator, Khan went on to publish  "Beyond Equity at Community Colleges: Bringing Theory into Practice for Justice and Liberation" which discusses implementing theory within the college classroom, delving into how great thinking impacts action.
"My work as an English writer became just as important as being an advocate for students and community members because writing is about community, and being an educator at a community college is working in service to the community," said Khan. 
As provost, Dr. Khan has started strategic impact work with the Valencia College Deans, looking at short-term and long-term strategies to ensure they make an impact.
"My work really involves supporting faculty, deans, and students. My office is in support of everyone else. It's our job — the way I see it — to ensure that everyone has the tools and the resources necessary to ensure student success. Student success can only happen if there's faculty success," said the American Association of Women at Community Colleges (AAWC) member.
Today, Khan works towards providing the Valencia College community with opportunities to learn and succeed.