Fellow Student and Friend Remembers Miya Marcano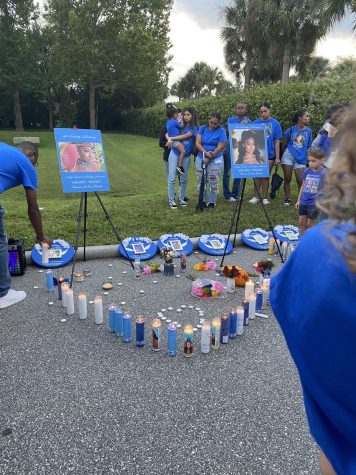 Opinion
This September 23 marked the one-year anniversary of Miya Marcano's passing. In honor of Miya's life, family and friends gathered again at Arden Villas to hold a candlelight vigil.  
In the last year, the Miya Marcano Foundation was established to raise awareness. On the website, their mission states, "The Miya Marcano Foundation has a mission to support, educate and provide resources to families of missing persons while advocating for the protection of students and our most vulnerable population."  
Following with the foundation, Miya's family have worked tirelessly to pass "Miya's Law". Miya's Law is a legislation ensuring higher level of security and safety on residential properties in Florida. This means stricter and higher measures of background checks as well as 24-hour notice to residents that property staff will be entering their household. During the remembrance, Jodi Lewis, a member of the Miya Marcano Foundation, celebrated the passing of "Miya's Law", which will go into effect January 1, 2023. 
I was a friend of Miya Marcano and while I only had the opportunity to know her for a short period of time, she has left a huge impact on the hearts of us all. Nothing so tragic as Miya's passing should happen. Her courageous family should not have spent and continue to spend the last year fighting to make the lives of us all safer. Although I and the likes of us all stand with Miya's Law, why should there be a law in the first place? No family and friends should lose a life so close to them because of negligence. This should have been instituted morally for the safety of those residing on property. Students and single-occupants shouldn't have to fight to make sure we are kept safe in our own homes. The staff employed where we reside should not be the one's to make our lives unsafe.  
I remember the last day I saw Miya. I was driving her home from Valencia's East Campus, and we spent the whole ride talking, never breaking the sound. She had a way of making you feel comfortable with her words. I recall talking about everything in the book and it felt like I knew her for years. She asked me about my living situation, and I told her I live on my own. I offered her to come over anytime when she felt alone, because I could use the company; I wonder if she took my offer that week, would she still be here today?