Muslim Ambassadors For Peace Club Spotlight
Muslim Ambassadors for Peace (MAP) is a registered student organization (RSO) at Valencia College's East Campus whose aim is to shed light on the issues of Muslim students on campus and advocate for their rights. The club's executive members have been dedicated to closely assisting Muslim students on campus and helping them navigate the trials of being a minority and, at the same time, the target for racism and islamophobia. 
MAP serves a similar purpose as an MSA (Muslim Students Association) ensuring Muslim students are given the liberties that they are entitled to as a religious minority and the freedom to practice without any harassment or intimidation. Also, coordinating Islamic worship and holy day services enable Muslim students to spend their holidays and special occasions with the Valencia family while being away from their homes. 
A number of Valencia students from Muslim countries found refuge in the club and were able to become more engaged in student activities, as well as get more involved with campus life. to join the events that are hosted by the club. MAP eagerly accepts all students no matter their background, as they are committed to diversifying their work environment and amplifying the voices of all students equally. The club is passionate about helping Muslim students reach their full potential and celebrating their personal development and achieve such a noble goal as to amplify the voices of these students by putting them in positions of power and responsibility where they can give back to the Valencia community.
The MAP board consists of young Muslim women who challenge the stereotypical image of the soft-spoken and timid woman of color. They are outspoken and brave in the defense of their rights and of the community that they belong to, and they are dedicated to fierce advocacy for spirituality and diversity.
MAP tabled Banned Book Week last month at East Campus. The members of the club discussed the importance of listening to all narratives and emphasized the danger of "the single story" which limits knowledge about certain communities and condemns people to ignorance. They introduced their club to students who were interested in learning more about MAP, and had an excellent range of book recommendations for the students who were drawn by curiosity to their booth. 
Edward Said's "Covering Islam" was one of the titles present at the MAP booth. The book discusses the narratives surrounding the Muslim identity and Muslims as a racialized and politicalized group of people, as well as the role that media outlets play when it comes to manufacturing this widely spread irrational fear of "the Other".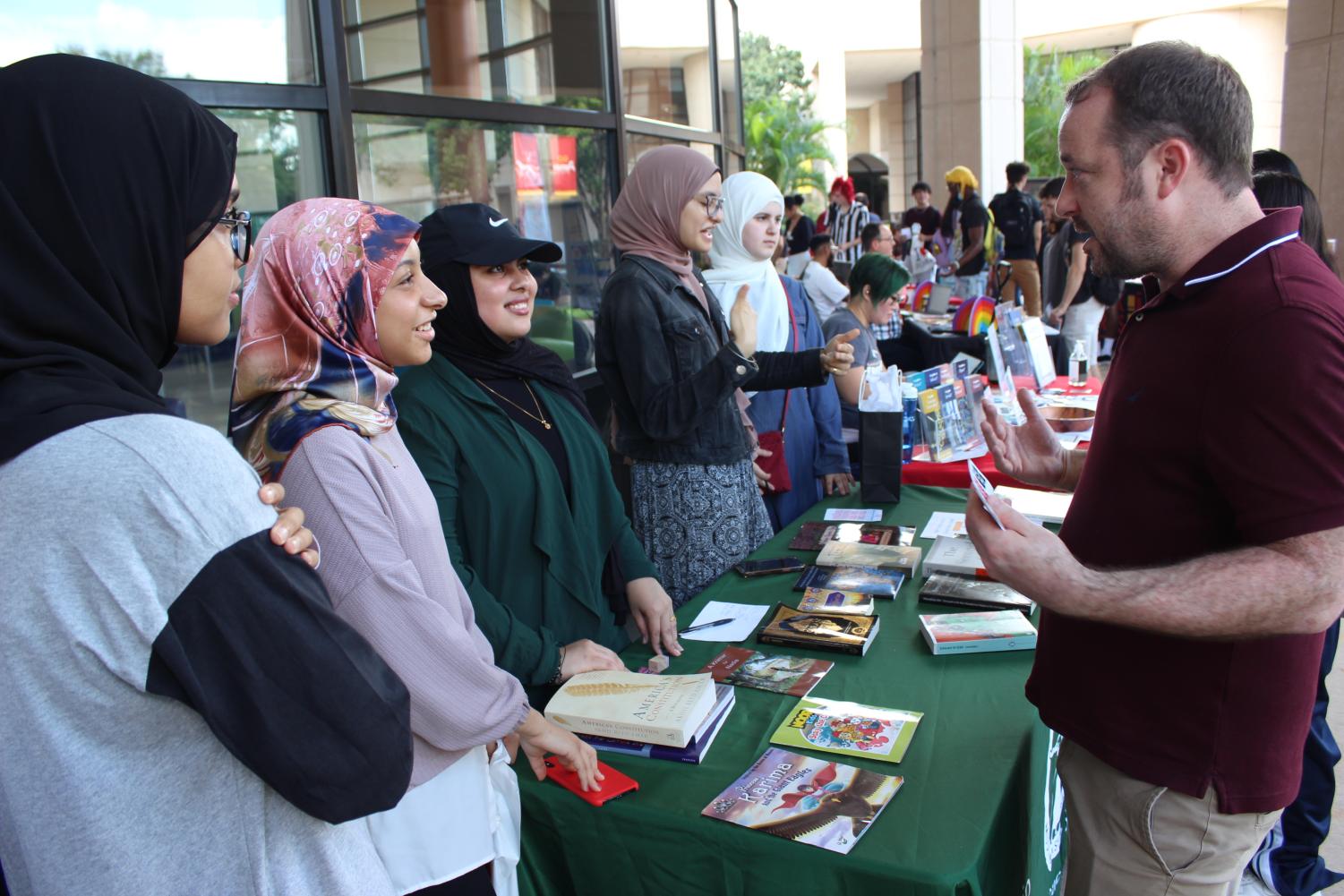 Valencia student, Malak Elsayed,17, Computer Science, is MAP's President and expressed her content with being part of the club. She says: "My involvement with the club has helped me work on developing a good résumé, accumulating service learning hours, and developing leadership and dispute resolution skills. It also made me feel a sense of community and belonging on Campus."
Abbas Kothawala, 19, Chemical Engineering, is another Muslim Ambassadors for Peace member who shared his experience being part of the MAP community. Abbas says, "The MAP club has given me the opportunity to observe the world with an open mind and talk about Islamic values and interact with people who share the same faith as me, as well as educate people about the diversity of our cultures and the beauty of our religion."
As for Aisha Fathalla, 19, Computer Science, MAP has been a very helpful and safe space where she was able to make new friends and expand her network and connections.
Shenin Sayeed, 22, an international student from Bangladesh, said that she got to meet new students at Valencia after joining the club, participate in events and learn about the different cultures of Muslims around the world. "I got the opportunity to meet Muslim girls from different countries and cultures. I was exposed to more diversity. This made me feel less homesick and isolated as a student living away from family", said Shenin.
Other Muslim students expressed their interest in joining the club but could not find the time to do so because of their busy schedules and lack of free time.
Muslim Ambassadors for Peace hopes that one day they will be able to host successful and frequent jummah prayers on campus and that they'll be able to complete their mission of raising awareness about the various struggles that come with being visibly Muslim on Campus.
The club will be hosting a variety of events and activities this year that are open for anyone who is interested in participating. For instance, "Taste a Piece For Peace" was hosted on October 19. Ethnic food was served at the event, and attendees were able to learn about Indian culture and the ongoing violence and persecution of Indian Muslims through presentations prepared by Dr. Yasmeen Qadri's students.